'The Voice' Recap: Rock the Vote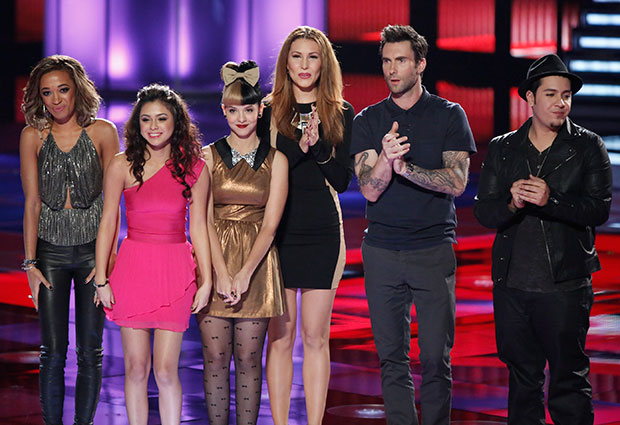 Hello, America. Hurricane Sandy is no more, and your faithful Voice recapper has WiFi once again. My New Jersey town loses power whenever someone drives 10 miles over the speed limit, so any legitimately severe weather event results in a Revolution-style return to the Dark Ages (that's right, free Revolution plug — send your girl some swag, NBC).
To recover from my week without electricity, I've spent the last 12 hours no more than three inches from my computer screen, consuming more cat videos and gamma radiation than any doctor would recommend — now I'm back, and more powerful than ever.
Last night's episode of The Voice began the live playoffs, the first round in which viewers at home have a say as to who stays and who goes. I'll be expecting my own miniature red button in the mail, thank you very much.
Audience votes will determine two winners from each five-person team, and each coach will choose an additional performer to save for the next round — with eight contestants to be sent home after the results show on Thursday. In this episode, Team Adam and Team Blake face off.
Team Adam opens the playoffs with Joselyn Rivera — Jesus, girlfriend sang "Love on Top" last week? I feel like a little kid who slept through Christmas morning.
It's important to note that, since the bygone days of the blind auditions, The Voice has seemingly upgraded its production budget by a factor of 10. The contestants now find themselves performing before comparatively enormous audiences on an expanded stage.
Joselyn half-heartedly interacts with the crowd as the camera swoops hyperactively around the venue. It's exhausting to watch. I'm impressed by the addition of a fuchsia streak in her hair that exactly matches her dress (which came first?), but Joselyn simply doesn't know what to do with herself.
Christina offers characteristically cryptic praise: "Walking down the stairs," she compliments Joselyn, "That's hard to do in high heels." The judges are also proud to learn that Joselyn brushed her teeth and zipped her coat up all by herself like a big girl, yes she did.
Only now do I realize that Joselyn's lipstick is also perfectly coordinated with her hair and dress — but that's still not enough to earn my vote.
Before he takes the stage, Team Blake's Terry McDermott comments wryly on the importance of his performance in the playoffs. "There's not much at stake: just my family's future, and my pride," he says, marking the first time a Voice contestant has said something intentionally funny.
Terry, King of Scots, performs Journey's "Don't Stop Believin,'" automatically guaranteeing him 90 percent of all votes cast for tonight's episode. This isn't his best performance, but even so, Terry's confidence and competence on stage vastly outshines Joselyn's.
Melanie Martinez, Team Adam's Great Indie Hope, unexpectedly covers "Hit the Road Jack." There's something to be said for her "subtle," "jazzy" take on the song, but Melanie overplays her voice's girlish, whispery quality — it's like she's doing a weak impression of Marilyn Monroe's infamous "Happy Birthday" to JFK.
I've been a fan of Melanie's all season, and this is the first time we've seen her falter. Here's hoping she'll have a chance to redeem herself.
As Blake's only remaining country artist, Liz Davis — who, may I remind you, has already won a reality TV singing competition — is under a lot of pressure to perform.
She rises to the challenge with a rousing version of Martina McBride's "Independence Day." "Perfect timing for that song," Christina notes, because in her world, this is apparently July.
I have waited until now to bring up the fact that Cee Lo is costumed as a heavier incarnation of Prince — wearing eyeliner and an impressive Jheri curl — because it took me this long to convince myself that it wasn't a hallucination brought on by all the generator fumes coming from the neighbors' backyard.
Former Hey Monday frontwoman Cassadee Pope is up next, singing "My Happy Ending" for Team Blake. My inner angry 15-year-old prefers the Avril Lavigne version, but Cassadee is clearly a pro — unconstrained by nerves, she capably delivers the dynamic energy this song requires.
Annoyed as I am by Bryan Keith's ever-present fedora, his coach may have actually outdone him — in rehearsals, Adam wears something that is more holes than shirt.
Bryan performs the Goo Goo Dolls' "Iris," and he's good — but his voice lacks the sweetness that made the original track so heart-breaking. Instead, he's all smirking, raspy attitude. Adam raves about Keith's "spirit and soulfulness," but I'm not feeling it.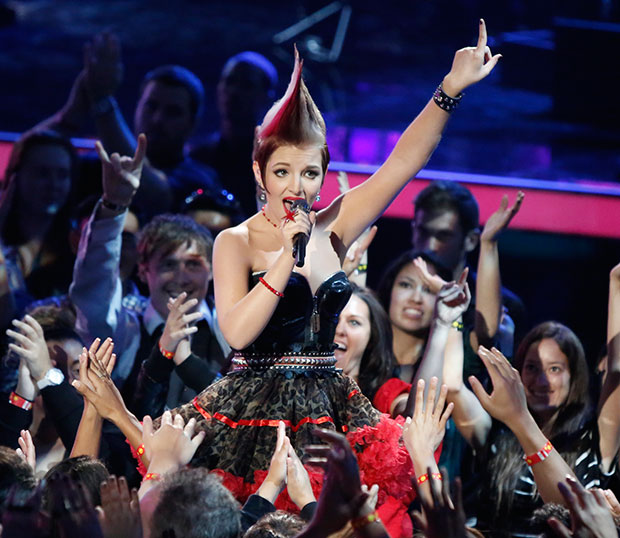 Michaela Paige, the mohawked teenage Internet radio host, sounds like a fictional voter I made up to frighten Mitt Romney. She takes on Neon Trees' "Everybody Talks" for Team Blake, igniting the crowd with her preternaturally strong voice.
In my estimation, life-size troll doll Michaela is far and away one of the best singers on the show, but I find her a little off-putting — if only because she's far more self-assured than a high school senior has any right to be (acne? prom? the Common App?).
My suspicions are confirmed when I visit her Facebook fan page and discover Michaela's (apparently unironic) description of herself: "Singer/Songwriter. Radio Show Host. Visionary. Philanthropist."
Julio Cesar Castillo returns to his Mexican folk roots with "El Rey," in the traditional mariachi costume of a leather jacket, tie, and sweatpants.
Though I like Julio a lot — and I appreciate that Spanish-language selections offer the added bonus of preventing most audience members from singing along — I don't particularly love this performance. The audience clearly disagrees, rewarding Julio (and coach Blake) with the first standing ovation of the night.
Adam readily acknowledges that Loren Allred has proved to be Team Levine's sleeper hit. It's clear that the producers didn't see her coming either — she's been featured by far the least of any of the remaining competitors.
Loren brings the sass on a solid but ultimately unexceptional cover of Lisa Stansfield's "All Around the World."
In Amanda Brown's pre-taped intro footage, Adam excitedly touts her choice of Aerosmith's "Dream On" as "probably the most iconic classic rock song of the night" — guess Blake hadn't warned him about the Journey.
But no matter, because Amanda's is easily my favorite performance of the night. She's powerful, sexy, and capable of some amazingly kick-ass lady-falsetto.
I exercise my right to vote for Amanda not once, but two times, because The Voice is twice the democracy that America will ever be.
The Voice returns Wednesday night at 8 p.m., and so will I, if I survive the impending nor'easter — and maybe even if I don't. (Ghosts?!)
Follow Molly on Twitter @mollyfitz.
[Image Credit: Tyler Golden/NBC (2)]
More:
The Voice Recap: I'm Going to Knock You Out
The Voice Recap: I Hate Myself For Watching You
The Voice Recap: Rosa-Biden 2012

Channing Tatum to Be Named Sexiest Man Alive by 'People' (REPORT)
(Celebuzz)