'The Voice' Recap: Rosa-Biden 2012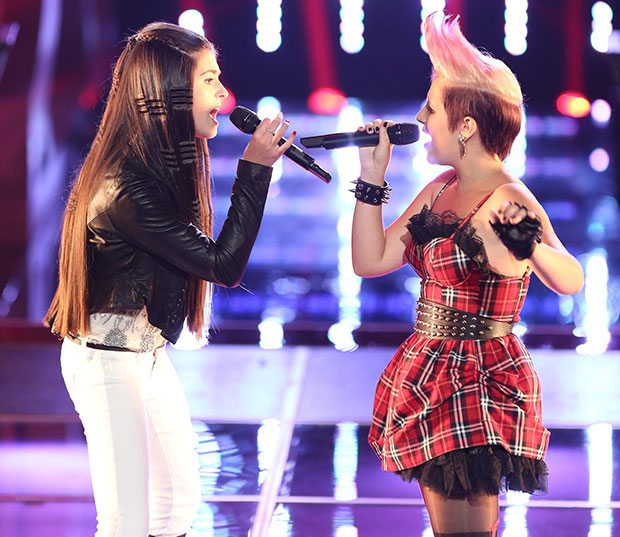 Last night's episode of The Voice was only half as long as usual, thanks to something the NBC schedule calls "2012 PRESIDENTIAL DEBATE #3," which I guess is a new Ryan Murphy show? Lame.
Team Cee Lo is up first, with New Orleans's Alexis Marceaux taking on Daniel Rosa, he of the perma-sweater (Daniel had his epidermis surgically replaced with Merino wool). Cee Lo chose the pair because of their "indie vibe" — at this point, virtually every contestant on the show has been praised for having an "indie vibe."
In rehearsals for Adam Lambert's "Whataya […] Want from Me," Alexis complains about the disadvantages of her "classical training," because hashtag firstworldproblems. Daniel has a raw, beautiful tone to his voice, but finds himself inhibited by performance anxiety. He claims to find the song's notes "scary," and I miss the rest of his sentence because I am too busy being angry that this is not a Halloween-themed episode.
Between ModCloth pin-up Alexis's characteristic style and Daniel's Brylcreem, tie, and (surprise, surprise) cardigan, the live performance feels very Revolutionary Road, like a duet between a dysfunctional, mid-century married couple. Needless to say, I'm into it.
But while Rosa's voice is full of body and emotion, Marceaux's is merely polish. Daniel makes it through to the knockout round, but Alexis is sent home. (Has she mentioned she's from New Orleans?)
Adam Levine pairs wise-beyond-his-years soul singer Brandon Mahone and Nicole Nelson, the self-proclaimed hippie who auditioned with "Hallelujah." I enjoyed Nicole's first performance, but hearing her try out "Ain't No Mountain High," I'm not sure I like her very much after all. Her power is impressive, but out of control: this woman is the Michael Bay of soul. As Adam advises her, "Less is more." Brandon, meanwhile, sounds as terrified as he looks.
In the heat of the battle, Nicole effectively bullies him into performing on her (loud) terms. As the intensity of the song escalates, she literally drowns Brandon out. Maybe I'm reading too much into this, but she even makes a point of singing the song's last note and dominantly grabbing Brandon's shoulder. I'm reminded of the way people interpreted the body language of the first presidential debate — Romney, the apparent winner, deliberately lingered on stage longer than Obama.
Adam predictably declares Nicole the winner. In the future, I'd like to see how she fares on a song where belting is out of the question — for whatever reason, "Tom's Diner" comes to mind.
Sadly, no one steals Brandon, though he dawdles in his final thank you to Adam like a death-row prisoner requesting a 30-course last meal.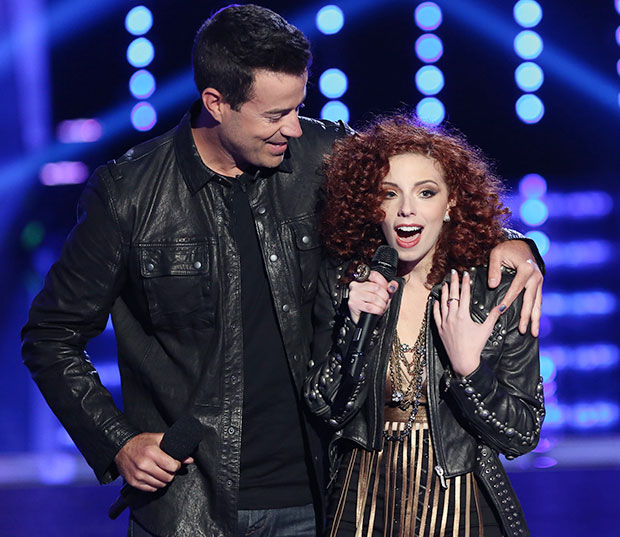 And now, the lightning round. Adam's Loren Allred, looking disconcertingly like Taylor Swift with crimped hair and vivid red lipstick, defeats single dad Brian Scartocci on Lady Antebellum's "Need You Now." (I'll bet you $5 that no one in Lady Antebellum can define "Antebellum.") Blake chooses Cassadee Pope over Ryan Jirovec, and Adam takes long-lost Jonas Joe Kirkland over Samuel Mouton.
On Team Christina, Devyn DeLoera battles MarissaAnn for the final showdown of the night on "Free Your Mind." At only 15, MarissaAnn is the youngest competitor on The Voice. In the all-caps format of the show's chyrons, her name is confusingly rendered as MARISSAANN, which looks like a drunk text from a snake. Both ladies can seriously belt — and I think Christina believes that Devyn is among this season's most formidable contenders — but I'm not particularly moved by either.
Devyn politely notes that MarissaAnn is doing "lots of stuff, vocally" in rehearsals. For the most part, that "stuff' seems to consist of pitchy, incongruous ad-libs. But Christina, looking like a background actor from Grease 2, doesn't call her out on it. Sometimes I wish everyone didn't have to be so nice on The Voice; I would trade five cameos by Cee Lo's cockatoo for a mere 30 seconds of old-school Simon Cowell bitchiness. (Team mentor Billie Joe Armstrong's inspirational quote of the day: "If you accidentally spit on us, it's okay.")
For their final performance, MarissaAnn has regrettably chosen to wear (or a backstage stylist has regrettably forced her into) some kind of horrible pleather capelet, while Devyn's butt is actively distracting. In what essentially boils down to an Xtina impression contest, both performers prove to be very capable, if kind of boring. Before tonight, I didn't know any of the words to "Free Your Mind," and now, I still don't.
After hailing both women as "true superstars," Christina saves Devyn (duh). But not to worry — stolen MarissaAnn will live to fight another day on Team Blake.
The Voice is back tomorrow at 8 p.m. In the meantime, find me on Twitter @mollyfitz.
[Image Credit: Tyler Golden/NBC (2)]
More:
The Voice Recap: 'We Are the Borg'
The Voice Recap: Blake and Julio Down by the Schoolyard
The Voice Recap: Beg, Borrow, or Steal
From Our Partners:

Jessica Biel Shows Off Wedding Ring After Marrying Justin Timberlake in Italy — PHOTO
(Celebuzz)

Kristin Cavallari Doesn't Want to Plan a Wedding Right Now, Says She's Focusing on Motherhood for Now — EXCLUSIVE VIDEO
(Celebuzz)