'The Voice' Recap: Stupid Cupid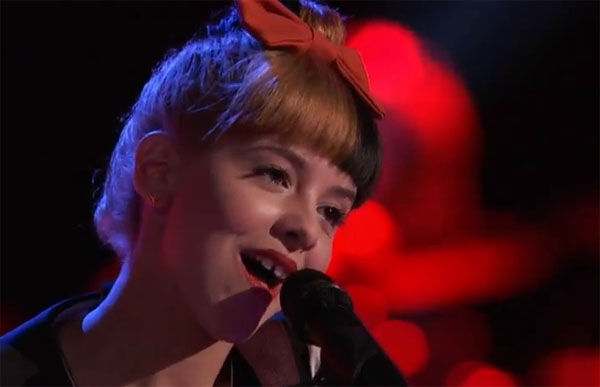 Welcome to The Voice, the reality singing competition show that's done for chairs what La-Z-Boy did for music. Christina Aguilera, Blake Shelton, Adam Levine, and Cee Lo Green are back to duke it out in the fourth installment of season three's blind auditions.
Throughout the episode, Blake giddily brandishes his Male Vocalist of the Year award from ACM, the Academy of Country Music (pro tip, Blake: if you need to explain an acronym four times, it becomes exponentially less impressive). He keeps his trophy tucked behind him as a bargaining chip, and one can only imagine that he's commissioned a specially designed nook for it in the shower.
Seventeen-year-old Melanie Martinez, our first hopeful, is a human cartoon character: half-Pebbles Flintstone and half- Sailor Jupiter, or maybe just a Tim Burton-redesigned Powerpuff Girl.She offers a completely unexpected cover of Britney Spears' "Toxic," playing guitar while keeping time on a tambourine with her feet (lending further credence to my Flintstones comparison. Her sexy, playful voice bears — as Adam says — some similarities to Björk's, and the judges praise her for sounding as unique as she looks.
Melanie's Result: Team Adam
Backstage, Cupid has dozens of contestants and their families line-dancing to his "Cupid Shuffle," the 2007 novelty song that crowned him king of bar mitzvahs and roller rinks across the land. "Does this whole idea of being a one-hit wonder just eat at you?" asks Carson Daly, whose community college Intro Psychology class is going well, thank you.
Despite The Voice's insistence on playing B-roll of him dancing alone in front of a mirror — something no human male has been able to pull off non-creepily since The Silence of the Lambs — Cupid seems like a kind, genuinely talented man, but sadly proves to be his own worst enemy.
Although he longs to be taken seriously, Cupid bizarrely chooses to audition with the "Cupid Shuffle" (forever the poor man's "Cha Cha Slide"), the very song that both "defines" and "confines" him.
Bad call, bro. Cupid's adequate performance draws no interest from the judges, but when their chairs turn, Cee Lo recognizes him instantly. "That's him, that's his actual song," Green cries, and the awkward, auditorium-wide silence that follows has permanently replaced the naked-in-front-of-the-whole-class scenario as my subconscious's go-to nightmare.
At Cee Lo's request, he sings something else — a fantastic a capella "Let's Get It On" — but Cupid's arrow has already missed its mark.
Up next on The Voice, Marcia Griffiths and Los del Rio.
Cupid's Result: Team Nobody
A single father, Brian Scartocci delivers a powerful, capable version of Stevie Wonder's "Isn't She Lovely" that's a little John Legend, a little Michael Bublé. I find him inexplicably annoying in spite of his obvious talent, mostly because he's wearing a scorpion belt buckle that is as hideous as it is large (very).
In wooing Brian to his team, Adam can't help but note that he has actually had the chance to meet Stevie Wonder, as well as to sing with Stevie Wonder, and has he mentioned that he knows Stevie Wonder personally?
Brian's Result: Team Adam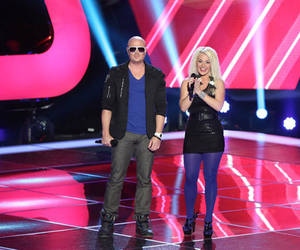 Married couple Shawn and Natasha perform together as Rhythm Amplitude — I mean, Tempo Bandwidth — I mean, Beat Frequency. With Shawn's shaved head plus indoor sunglasses and Natasha's crimped, bleached hair plus purple eyeshadow, it's like a celebrity look-alike agency sent over a third-rate Pitbull and a fourth-rate Xtina.
Some of Beat Frequency's harmonies on Katy Perry's "E.T." are gorgeous — in particular, Natasha's voice can soar — but Shawn's take on Kanye West's rap is downright cringe-worthy.
Beat Frequency's Result: Team Christina
College athlete Tyler Lillestol decided to pursue singing when he gave up on baseball — yup, that's the music business for you, good old reliable plan B.
Tyler recently sang the national anthem at Dodger Stadium. After his performance, Carson Daly appeared on the Jumbotron to invite Lillestol to the blind auditions, and then spent the next 10 minutes unsuccessfully soliciting someone, anyone, to appear on the Kiss Cam with him.
Tyler's "U Got It Bad" demonstrates a smooth, silky voice, but not one of professional quality.
Tyler's Result: Team Nobody
You can tell Liz Davis is a country girl because she likes "to get on the back of a four-wheeler and ride around for no reason," which is one aspect of Southern life that I'm pretty sure they glossed over in Gone with the Wind.
Despite being a pretty 25-year-old with kind of a young- Jean Smart thing going on, Liz belts "Here for the Party" like a brassy, middle-aged barfly — which is to say, exactly as the song is meant to be sung.
Liz's Result: Team Blake
(During the commercial, I discover through some characteristically neurotic Googling that Liz previously competed on something called P. Diddy's Starmaker, a reality music contest that she ultimately won — so I guess the show's title was a little misleading, am I right, guys?
But get this. Liz actually performed the same song on that other show. And that's not all. It turns out that Beat Frequency briefly appeared on The X Factor, singing — wait for it — "E.T."
I feel so dirty.)
Despite Senator Ted Stevens's (R-Alaska) infamous insistence that the Internet is but a "series of tubes," Anchorage native JR Aquino is a web sensation — his homemade music videos have logged more than 45 million views on YouTube, where he's one of the top 100 most-subscribed musicians in the world.
JR's beautiful falsetto sounds uncertain on the highest notes of "Just the Way You Are," but his voice has a sweetness that would make Bruno Mars proud.
JR's Result: Team Cee Lo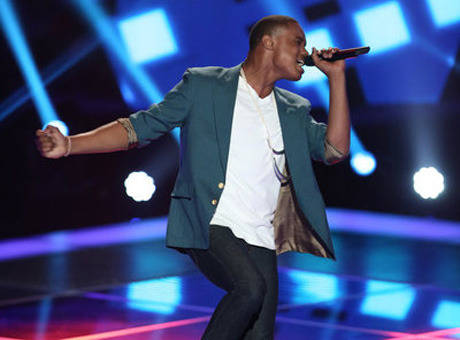 Carson surprises Agina Alvarez — not to be confused with her brother, Enis — with an invitation to the blind auditions while she folds towels at the tennis club where she works. Signed to Sony Records and then an indie label as a teenager, she released a Latin album before her second record company shelved her.
Agina's screechy disco voice brings lots of power to "Turn the Beat Around," but all in all, is far from the most pleasant (or least feline) thing I have ever heard.
Agina's Result: Team Nobody
Our next contestant is Nicholas David: stay-at-home dad by day, musician by night. Nicholas struggled with his drinking and his weight after college — ballooning to 300 pounds — but worked his way to back to health with the love and support of his fiancée. It's phenomenal that he was able to "shed the weight" and "shed the booze," but what about the facial bird's nest that he mistakenly believes to be a beard?
Nicholas's soulful, jazzy version of "Stand by Me" wins him a place on Team Cee Lo, though it's clear to me he's really a lost member of Dr. Teeth and the Electric Mayhem.
Nicholas's Result: Team Cee Lo
Alessandra Guercio is a 17-year-old LaGuardia student — that's the Fame high school, not the airport. LaGuardia Arts blends a normal high school curriculum with rigorous performing arts training, a drama geek wildlife preserve where no slushies are thrown (is it just me or does Alessandra have a little Rachel Berry going on in the face?).
Her cover of "The Climb" is impressively strong and controlled, but almost clinical — exactly as if she'd learned to sing in a classroom.
"It was just a great…vocal performance… It was just, like, awesome," Cee Lo stammers, presumably occupied with desperately trying to recall the age of consent in the state of California.
Alessandra's Result: Team Adam
Dancer Avery Wilson has never had a singing lesson. Turns out he was right to save the money — his panty-dropping "Without You" is unpolished but beautiful. His voice oozes with personality; Wilson is, stylistically, Alessandra's inverse.
Adam calls the crowd's boisterous response to Avery the show's "most spirited" yet. The judges are equally captivated, and Avery earns the episode's only four-chair turnaround.
Avery's Result: Team Cee Lo
The Voice is back tonight at 8 pm for more blind auditions. Will there ever be anything but blind auditions, or will this "season" end next week with each coach hosting a 16-guest musical sleepover?
Get at me on Twitter @mollyfitz.
[Image Credit: NBC]
More:
The Voice Nabs Shakira, Usher to Sub for Cee Lo, Christina
The Voice Shockingly Defeats The X Factor in the Ratings