'The Voice' Recap: Tears for Fears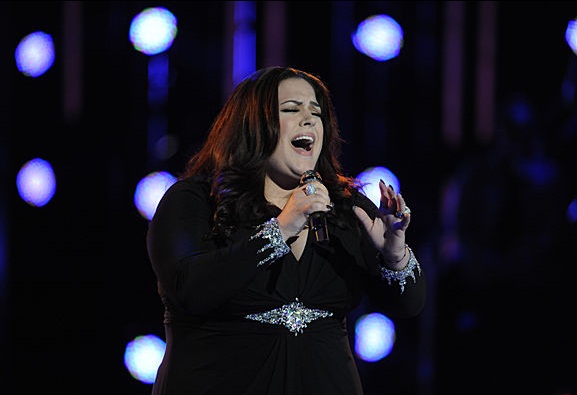 The semifinals are here! Unlike what Blake might say, it ain't "Over" yet. America, so much nearly lies in your hands. Can you believe it? We only have so many days left to savor Christina's bizarre headgear, Adam Levine's war on my dislike for him, Cee Lo's pussycat, and Blake Shelton's pointer finger. Now huddle in close, we'll get through this together.
Not afraid to be servicey, we've provided you with a team breakdown, In case you just woke up from a six-day coma:
Tony Lucca vs. Katrina Parker on Team I Love You, Man
Erin Willett vs. Jermaine Paul on Team Naked Cowboy
Jamar Rogers vs. Juliet Simms on Team Fancy Feast
Chris Mann vs. Lindsey Pavao on Team Toddlers & Gothic Tiaras
It's important to remember how little time we have left with the merry band of misfits NBC plucked up off the street and turned into shiny pennies to judge our musical orphans. There's only so much time for them to remind us that this is the actual, for real-time "go big or go home" moment. Not all those other times. This time is for real-real, not for play-play. Are we ready for tears, America? This is what we call (in the biz!) the waterworks episode.
First up is Tony Lucca, President of the Christina Aguilera Fan Club. He's singing "How You Like Me Now" by The Heavy. And, okay, yes, it is very strong. It all feels very Robert Palmer in a cool, updated way. (And I would just like to go on record that I TOTALLY wrote that last sentence before Blake Shelton said it. All of the original thoughts and ideas are actually mine.) Not that it even matters; he could sit on the stage in a diaper for two minutes and tweens the country over are going to be ripping iPhones out of the hands of strangers in order to maximize their dialing capacity. Everyone is into it, though. Even The Godfather catnip himself — pretty diamond collar and all! But still! Lucca held his own.
NEXT: Ave Guetta
I just want to say to America: Shame on you! Shame! It's so sad how you all just don't care about Adam Levine. He starts talking and it's like crickets in that room. I feel bad for the poor kid. It'd probably because he's so unattractive that people don't care about him. Life is cruel to the uggos.
After the commercial break, Erin Willett steps up to perform "Without You" by David Guetta. Erin starts off REALLY rocky. Surprisingly so. She's not strong on those low notes and it feels a bit out f range for her. But still, Erin is the silent favorite of the competition. The one people go, "Aw, yeah, I forgot I like her" after she sings.
However, this rendition is just not working. She's not connecting with the song and it all feels a little forced — which is so crazy when you think about how deep the chorus is. Youuuuuu. Youuuuuuu. Yooooouuuu should really be able to connect with that, Erin. Homegirl is crying afterwards — I think she knows she didn't capture Usher's essence, which is why she's sad. Right? Or maybe I'm just heartless and she's actually crying about her dad because the song is talking about living without someone. Yeah, okay, she's probably crying about her dad because she has feelings and emotions unlike some of us. Moving on! Is her risky take on a current pop hit enough to move her forward against teammate Jermaine? The judges all seem alright with it, but no one's blown away. That seems to be the general consensus this whole episode, though.
Chris Mann is up next, singing "Ave Maria" by former boyband 98 Degrees. Just kidding! It's Bach. And aww shucks, Chris brought his Bieber haircut with him to rehearsal! So cute and young and hip. I wish Christina would let him use her DIY red sex toy microphone stand to really emphasize the beauty of this operatic moment he's about to unleash on the world.
Imaginary visionary, Clarence St. Clair, was unafraid to pull out all the stops tonight for his favorite operatic snuggiebear, Chris Mann. All those fake tea lights in the audience? Both stunning and complying with fire safety standards. He's given us classic opera prima donna glamour with faux-candle realness. He said it came to him either in a dream or when he was watching the Celine Dion classic "It's All Coming Back To Me Now" in the green room while clutching the neon spandex onesie of last week's acrobat. Oh, Rocco. Sigh. A moment in time. Rocketing back to reality, teen girls are screaming for Chris in erratic bouts (totally not at all provoked by an audience coordinator or anything, right? NEVER!), even though they have no idea what he's singing. I find it really adorable when the bastions of youth culture pretend to have any idea what's going on when it comes to something not in their cultural zeitgeist. Let me tell you, Chris is going to do big things on the touring opera circuit, or opening for Josh Groban after he doesn't win The Voice. I think the judges agree.
NEXT: The Killers kill
Just in time to bring our IQs up a couple notches, we're back from commercial break with astrophysicist Christina Milian. We move on after a quick tutorial in the quantum logistics of star movement in relation to black holes.
Jamar Rogers is up, singing "If You Don't Know Me By Now" by Harold Melvin. Originally, it seemed like the song choice was an attempt to euthanize his chances with a song that is very much stuck in its time of origin, but Jamar tried his best to make it his own. His bottom notes are killer, but overall the song underwhelms. Jamar should be allowed to be unleashed at all times. Jamar is a DEFCON 12 MFer, you know what I mean? Christina Aguilera adjusts her tiara (it was made by Robert Smith and a bedazzler-sporting spider named Icarus), so the judges see she deserves to win Miss Congeniality this year (even though we all know Adam's a shoe-in for that award). She wanted to get up on stage and sing with Jamar, you see, because, you know, she hates the spotlight and attention. Everyone dug it — especially 1990s Will Smith, from whom Jamar stole his outfit for tonight's performance.
After the commercial break we're treated to Teams Adam & Cee Lo performing "All These Things That I've Done" by The Killers. Obviously Prom King & Queen Jamar & Juliet kill this tune because their wheelhouse was made upon the bones of Killers' past.
Another break because we haven't been serviced with enough advertisements yet. Christina Milian's bangs are getting photobombed by Chris Mann and it is everything good in the world. You know what? You're alright, Chris Mann. Unfortunately Christina's thesis on the monkey flu in third world countries completely overshadowed you.
NEXT: It's all kinda Fugee, isn't it?
Jermaine Paul is tasked with performing "Open Arms" by Journey because the entire state of New Jersey really needed a hug. He's surrounded by the ballroom from Beauty & The Beast (Clarence has always seen himself as modern-day Belle), on loan from France. Actually, Gaston is a close personal friend of Clarence's, so he just brought it over on his back. (Gaston is such a f**king showoff, isn't he?) Jermaine does a fine job shooting songs out of his vocal chords like lasers.
America, I think I have The Voice fatigue, because I just find so much of these disconnected and uninspiring. Is it just me, or do you agree?
Katrina Parker talks with Adam during rehearsal, yadda yadda, she's doing "Killing Me Softly" in the style of The Fugees. Katrina's voice was lovely, but it was a note-for-note duplicate. Somebody hit the snooze button! The judges are now doing this thing where they don't even compliment or critique the voices anymore, but rather just talk about their own existential crises.
Christina Milian is punk'd yet again by Chris Mann & a cut-out of Purrfect the cat. I think I am being tricked into being endeared to Chris Mann, you guys.
NEXT: Oh my lord, the brows!
Blake Shelton is up now to perform his new single "Over." And lucky for us, if you forgot that it was Mr. Shelton performing, Mr. St. Clair made sure to sneak Blake's name into the set. Otherwise Blake would've totally forgotten where he was and wandered off into the hills of Burbank searching for a horse. Thankfully, he is calmed by the false light of a neon sign drawing that says "free beer to-go."
Lindsey Pavao is here to be ~dynamic~ and show range by performing… "Skinny Love" by Bon Iver. Which… doesn't really show any range considering this song is in her vocal sweet spot. Maybe that's why they got the Chad Kroeger stunt double to play guitar, though. A range of tolerance! I really wish they didn't have back-up singers here, as it really takes away from the performance and the inherent delicacy of Lindsey's voice. She deserves to stick around over Chris, but we all know that moms love to vote for things and hate it when girls shave parts of their heads, so she's probably doomed.
But to get to the most important issue of the evening: Who let the blind drag queen do Lindsay's makeup?
Instead of discussing the performance — yet again! — the judges would like to take this moment to remind you that behind all the make-up, craft services, and money thrown their way, they're really just fans. And they love this show. I'm so glad they love the show, these judges. I was worried, so I'm glad they're constantly reminding us about how much they love this show. (Somebody must've just renewed their contract$.)
NEXT: Juliet Simms' murderous rampage
Last performance of the night, folks! Can you even stand it? Oh wait, you actually can't? Oh well, too bad! Because now it's time for "Edge of Glory," performed by Teams Christina & Blake. Look guys, they're matcherz! Denim glory! Did you hear that noise? That's the sound of a million girls pinning the s**t out of Lindsey Pavao's dress to Pinterest. It's easy to hear it, though, because 90 percent of the song is inaudible as the singers can't seem to keep the microphones up to their mouths so people can, you know, hear them sing.
Now it's time for professional girl crush, Juliet Simms, wailing away on "It's a Man's Man's Man's World" by James Brown. I like her sparkly claw in spite of its functionality in the regular world. She looks like an extraterrestrial Tom Ford model. And she murdered it. And me, consequently, as I am now a ghost.
Here was the moment the judges were waiting for — awoken from their trance of show appreciation and general musical fandom, they see that the show is actually fostering some talent here. Carson was roused long enough from his sleeping-while-being-awake stance remark "that's as loud as its ever been in this room. Ever."
Was Juliet's rendition of James Brown enough to take down Jamar Rogers? Does Katrina actually have the chance to defeat Tony Lucca? Can a skinny love beat out an operatic heavyweight? Does anyone actually believe that Blake's team of perfectly adequate, lovely people with very nice singing voices will win this thing? Does someone actually tie Christina Aguilera down to her chair to keep her from jumping on stage to perform every 20 seconds? Leave your thoughts in the comments, we'd love to hear them!
Check back here tomorrow to find out all this and where Christina Milian keeps her Nobel Prize for Science!
Follow Alicia on Twitter: @alicialutes
More:
The Voice Recap: The Hardest Part of Breaking Up
The Voice Recap: Hit Me Baby With One More Set Piece
The Voice star Adam Levine Beaten & Bloody in New Video — PIC