'The Voice' Recap: The Judges Prepare for Battle (Rounds)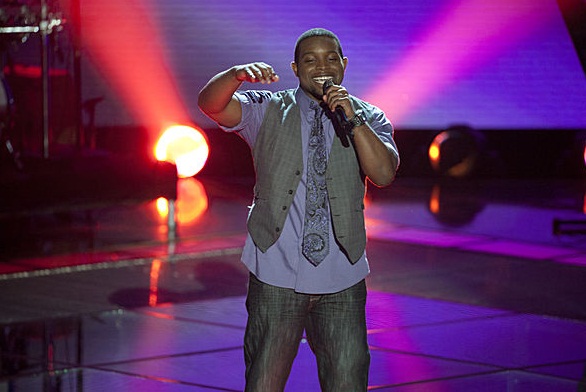 S2E5: The teams are set and the competition is on! Last night was the final round of the blind auditions on The Voice and we saw all four coaches add some key talent to their diverse squads. Two singers also made noise going home, one was a Memphis blues legend (Preston Shannon) and the other was just a legendary tool bag. What's up next? The battle rounds, where the coaches slim down the teams to six each before the live contest, when the world will vote to decide the next winner of The Voice. Let the BATTLE (rounds) begin!
"The thing that I really, really loved is the fact that you made me forget that it even was an Alicia Keys song." – Christina
It was a family affair with our first singer of the night, Whitney Myer, who started playing music with her father and uncle from the ripe age of 14. Myer just wants to make music a real career and after her rendition of "No One," she has a real shot to do just that by getting all four coaches to take notice. It was a civil battle among the fantastic four with no low blows. In the end, Adam telling her she could win the whole damn contest sealed the deal as she went with the Maroon 5 frontman.
"You need to be with Cee Lo." – Blake
The Shield Brothers looked like they should be in a Jack Black movie but these two farms boys who resemble a bulky Napoleon Dynamite brought their A game with "Dancing With Myself" and Cee Lo was thoroughly impressed. I might have been nodding my head a little too. What? They are catchy and I didn't want to get punched in the face by Rock N' Roll like they had threatened to do earlier. Adam showed some interest but it was too late and Cee Lo has a duo on his team. It will be interesting to see what Cee with do with these crazy brothers, who accomplished their mission and smacked us all in the face with some good old Rock N' Roll!
The stories on The Voice never seem to amaze and impress me. Chessa, a native of Hawaii, came next and told the world of moving to Los Angeles with her family as a little girl, then giving up her room to help pay the mortgage after her mother literally started an elderly care facility from their home. She came in wanting Cee Lo, no shocker there, and got him after belted out a worthy version of "If I Were a Boy." She started off really, really deep then suddenly was possessed by the spirit of Beyonce, hitting all the high notes. Where did that come from? Cee Lo started cursing when he thought the song was over and he had missed out. But, to his surprise there was a little left and he got his girl.
"I'm just going to not waste time arguing with them and just start coaching you" – Adam
Lex Land, a volunteer music teacher and jazz singer, came next with "I Can't Make You Love Me" and brought soft, sultry tones that were comforting to the ear. Carson said backstage she sounded nervous but we couldn't tell as she killed it and had everyone but Christina picking the 24-year-old Texan. She was smoky like Adele at times, something Adam said he wanted her to get away from. But Blake used his sensual breathing to get her to commit to his team. Miranda Lambert (Blake's wife) is one lucky lady!
"Gosh dang man, Adam … before you sang, he (Adam) could tell you were good" – Blake
Blake was right as Adam buzzed in before Orlando Napier could even get going. (He's not complaining) Orlando, an LA guy whose mother left when he was just 13, started partying as a young teen and eventually landed in jail after a serious bar fight. His dad now plays sax in his band and Napier said his goal is to get pops on stage if he makes it far enough. Napier's take on "Waiting on the World to Change" was really special and fresh, as he added a Southern feel and draw to the song. With that selection, Adam was the first to call it a day.
Team Adam is complete!
"How are you not a woman?" – Adam
With the best quote of the entire season, we introduce the aforementioned tool bag who came and went next.
Cameron Novack
who was so high up on himself because of his hip-hop and opera skills, looked like an anorexic Vanilla Ice but surprisingly decided to sing the "You Oughta Know" — the ultimate chick song by Alanis Morissette. The guy called himself a "triple threat" and even started beat boxing midway through his song. I have never been happier to see a guy go home. He even started to rap to the crowd when he wasn't picked. I started to cringe when Cee began apologizing and saying he made a mistake. Adam then tried to get the panel to change the rules and let Novack on Cee's team. No! Thank the Lord this didn't happen. Cee Lo, no mistake here, this was the best non move of your career.
"Your voice, it spoke to me." – Christina
After Mr. Novack, I needed a feel-good story and I got on in Lee Koch, a singer who recently turned to baking to pay the bills. He was ready to give up his dreams until The Voice, and after singing Dylan's "Like a Rolling Stone," maybe he won't have to. It took until he busted out his harmonica for Christina to select him but I smiled a bit at that moment. I also second her sentiments about being excited for the battle rounds.
We had a youngster up next in Wade, 19, who brought us an R&B infused version of "Rehab" by Amy Winehouse. The young man had so much range that Adam thought it was a duet. Cee Lo buzzed in late but was still able to snag Wade for his eclectic team. It seemed as Cee Lo was touched by Wade's song selection, adding that he was about to work with Winehouse right before she died.
Team Cee Lo is complete!
"You have chops." – Christina
"What does chops mean?" – Blake
"See, you don't know because you're not a real vocalist." – Christina
We saw low blows from Christina trying to secure Adley Stump, a sorority girl who just started singing 10 months ago. Blake and Christina almost dared each other to hit their buttons towards the end of her song and then the two fought over where to take Stump's music. Blake wanted her to be a true country artist, while Christina wanted to bring out her strong voice. After Xtina's harsh words, Adam had Blake's back calling him a damn good vocalist. Then things got weird as the two exchanged proposes of love and sexual innuendoes. But Adley went with Blake.
Team Blake is complete!
"I just wanted to grab a mic and get up there and sing it with you" – Christina
After denying a few singers, Christina went with Sera Hill, who works at a hotel and sings to guests at check in, to complete her team. It must be so weird having just one coach to impress, but Hill did a fantastic job giving us her take on "I'm Going Down." She did such a great job that Christina jumped on stage and sang the chorus with her. 
Team Christina is done!
Well, all the teams are in and now after all that suspense and drama, we get to see half of those singers go home just as fast in the battle rounds. We saw a teaser of what's to come and some of the guest coaches coming on like Ne-Yo, Kelly Clarkson, Lionel Richie and of course Miranda Lambert. It will be really interesting to see who stays and who goes because all the singers are so unique. I'm still sticking with my selection from the very first show of the season Mr. Tony Lucca, who is still the man to beat with his intimidating voice and experience. I've probably just jinxed and ended this man's career, but we will just have to see next week.
What do you think of the teams? Who do you want going home next time? Let us know with some comments below and find me on Twitter @TheRealRothman.