'The Voice' Recap: The Power of 12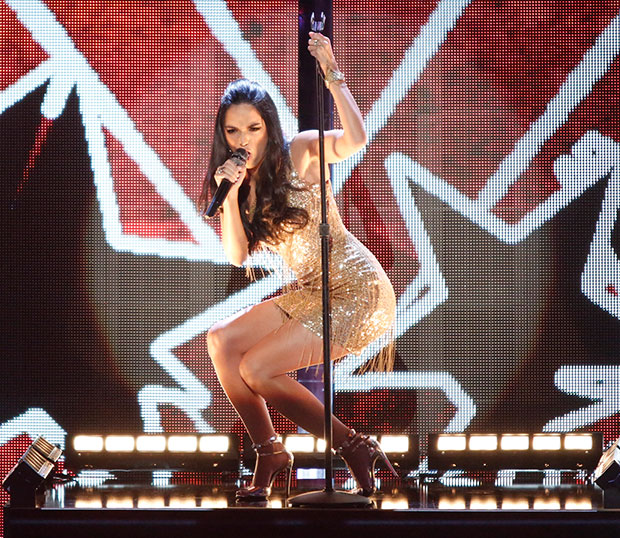 Welcome to The Voice quarterfinals, everyone — and boy what a journey it's been. These 12 remaining contestants have come a long way from their days of singing to the backs of revolving chairs. Now they're singing directly to America for their votes. In other words, our babies are all grown up!
But with great vocals come great responsibility. Now that we're getting down to the nitty-gritty of the competition every moment counts, leaving very little room for error. And in a surprise twist, it's revealed that no coach is guaranteed to have a contestant of their own in the finale, which means it could be anyone's game. Yup, it's survival of the fittest, my friends, and these guys are looking for your votes now more than ever. So who could (and couldn't) handle the pressure? Find out below!
First up to the mic was Michaela Paige, who sang a solid rendition of Pink's popular hit "Blow Me (One Last Kiss)." She looked like a rock star, she sounded like a rock star, and she'd probably party like a rock star if it wasn't for that pesky drinking age (she's only 16, remember!). Basically it was an all-around impressive performance, forcing me to overlook the fact that Glee covered that exact same song just last week (I liked her version better, by the way). And it seemed like the judges did too. Christina complimented her on her vocal strength and energy while Blake praised her dedication and pleaded for America to send votes her way (of course, he's probably a little biased on that matter). So good for her!
Next on deck was Dez Duron, who proved that he's way more than just a pretty face while singing "Can't Take My Eyes Off You" by Lauren Hill. It's sweet and soulful and makes my inner-teen heart soar. (Seriously, I'm just a few steps away from putting this guy's face all over my bedroom wall. Don't judge me.) Sure, he may not have the extensive vocal range found in some of his fellow competitors, but he's definitely making himself be heard in all the right ways. Cee Lo called him the total package and Adam remarked that this was his best performance yet. No doubt about it, we're not taking our eyes off of this one anytime soon.
Adriana Louise was up next and sang "Good Girl" by Carrie Underwood. The song was fine — complete with all the Christina Aguilera essentials (runs, pitch inflections, vocal belting, etc.) — but the moment that got everyone's attention was when she seductively strolled over to Adam Levine's seat and began serenading him. Seriously, she was only inches away from his face! You guys, I haven't been this jealous since I discovered that Channing Tatum is a married man. It's just not fair! Needless to say, the judges loved it, so at least we know this girl's feminine whiles are strongly in tact.
Meanwhile, Cody Belew got in touch with his diva side by belting out a powerful rendition of Tina Turner's "The Best," sending both the crowd and judges into squeals of delight. Blake remarked that he's meant to be on stage, which is certainly true. He's great at energizing a crowd, but I fear his vocals just aren't strong enough to be a frontrunner in this competition. (It is called The Voice, after all.) But he's certainly a lot of fun to watch.
Then came Amanda Brown's performance of "Spectrum (Say My Name)" by Florence and the Machine. This girl is hard not to love simply because she puts so much emotion and feeling into everything she sings. However, I'm not sure if this was necessarily the right song choice for her (she sounded a little pitchy during her A Capella transitions). But if we're looking with her track record overall, I'd say she has the potential to be a true superstar. When it comes to singing shows like this, I try not to judge too harshly on one bad song choice. Let's just hope America feels the same way.
Bryan Keith put on a soulful rendition of Amy Winehouse's popular hit song, "Back to Black." It's a new, refreshing sound that we really haven't seen from Bryan before, but I absolutely loved it. He reminded me of a suave, raspy, modern-day Frank Sinatra. Our generation could really use a cool music style like that, so I hope this guy is around for keeps. Christina and Blake were so impressed with his performance that they named him the new lead singer on Team Adam. Looks like someone's got the moves like Jagger Sinatra! (I should really start patenting this stuff).
Cassadee Pope put her vocal chops to the test singing, "Behind These Hazel Eyes" by Kelly Clarkson, but her hard work more than paid off. She managed to hit some incredibly challenging notes, making the crowd go wild. Between the vocals and her purple hair streaks, it honestly felt like I was witnessing a real life, professional rock concert. Christina called it her favorite performance from Cassadee thus far while Cee Lo awkwardly shared his affinity for hot chicks with guitars. Moving on…
Then came Trevin Hunte who sang, "When a Man Loves a Woman" by Percy Sledge. Even before he started singing you knew Trevin was going to kill it out there. And he did. Like always. There's really nothing else to say at this point other than once again point out what an incredible voice Trevin has. And he's just as lovable as he is talented (like one of those big teddy bears that you just want to squeeze and never let go). No one deserves to be in the competition more than this guy. I would even go so far as to call him Cee Lo's secret weapon and could very well go on to win this competition entirely.
Melanie Martinez was up next and performed "Cough Syrup" by Young the Giant. This just goes to show how important song choice is. It fit perfectly with her vocal range and really highlighted the beautiful quality of her raspy, unique sound. I liked it so much I didn't even mind the bow in her hair this week (which is really saying something). And the judges had very similar opinions. Blake commented that she has the most unique voice in the competition while Christina gave her props for not going over the top with her performance to try to impress people. That's certainly true, but didn't it seem a little ironic coming from Christina? Either way, it was definitely the best performance we've seen from her so far.
Next up was Nicholas David who has always been a source of confusion for me. I guess I've really just never understood his appeal. He doesn't have a bad voice by any means, but it's not one that I can see folks lining up to listen to in concert. Last night, he chose to sing "Power of Love" by Huey Lewis and the News, which led to pretty lackluster results. It seemed like he was having a hard time keeping up with the song itself, making it one of the least impressive performances of the night. But since the judges are pretty much only handing out compliments at this point in the game, they chose to give him nothing but positive feedback — aside from calling him strange (helpful!). Regardless, I'm not sure how much longer this guy will last in this competition.
There are just some songs contestants should never touch — Celine Dion's "My Heart Will Go On" being one of them. I mean, it's practically the Titanic theme song, so you're just asking for your performance to sink (sorry, I just couldn't help myself). But in all seriousness, you just shouldn't mess with a Celine classic. However, apparently nobody gave that particular memo to Sylvia Yacoub, who tackled the song the best she could. It was an admirable attempt, but can in no way compare to its predecessor. Sorry Sylvia, but America will never let go of the original.
And last, but certainly not least, came Terry McDermott who belted out yet another great performance, this time singing Boston's "More Than a Feeling." As usual, it was fantastic, which is something I've come to love about this guy: he's always so dependable. He knows what kind of singer he is and he sticks with it (don't mess with a good thing, right?). He's a classic rock star and deserves to make it to the finals. Plus, I haven't had my fill of that adorable Scottish accent yet.
But like it or not, two artists will go home Tuesday night regardless of what team they're on. From here on out, the judges will play absolutely no part in the decision process whatsoever. It's completely America's call. So what do you think, folks? Based on last night's performances, who deserves to be in the Top 10? Sound off on your thoughts in the comments below and be sure to tune in Tuesday night for the live results show!
Follow Kelly on Twitter @KellyBean0415
[Photo credit: Trae Patton/NBC]
More:
The Voice Recap: Hit the Road, Jack
The Voice Recap: How Am I Supposed to Live Without Trevin?
The Voice Recap: Rock the Vote

Selena Gomez Flies Out of Los Angeles Following Justin Bieber Split (PHOTOS)
(Celebuzz)