'The Voice' Recap: 'We Are the Borg'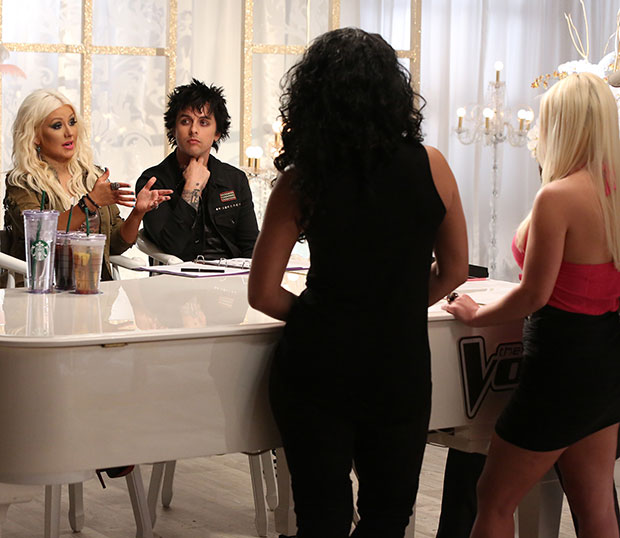 I'm not sure if last night's episode of The Voice was particularly surreal, or if that was just a side effect of the massive dose of cold medicine I took right before it started. Either way, the fun is contagious (and the next time I'm tempted to make a terrible pun, I promise I'll just cough on you instead).
For Team Blake, Nashville veteran Liz Davis battles Nicole Johnson, a less experienced country performer. Blake coyly assigns them "Baggage Claim" by Miranda Lambert (that is, Mrs. Shelton). The coach also offers a bizarrely intense commentary on 25-year-old Liz's fading (?) career prospects: "This needs to happen now, if it's ever going to." He's right, girl — hurry up before rigor mortis sets in.
The ladies ultimately turn in a polished duet, but Liz's sultry, gritty edge wins her the battle. Backstage, poor Nicole tears up, but Blake chases her down with a comforting goodbye hug. D'aww.
Adam and mentor Mary J. Blige — by the way, the requisite footage of contestants reacting to how impressive their coaches and mentors are and oh my god what huge influences they've been has officially gotten old — pair performing arts student Alessandra Guercio and Kayla Nevarez, both 17. As they rehearse "Wide Awake," it occurs to me that the girls kind of look alike, and also both look a little bit like Katy Perry — but don't put too much stock in that, because it's probably just the NyQuil talking.
Both singers are undeniably talented, but Kayla has — I can't believe I'm saying this as compliment — a Disney quality to her, an ingénue sweetness that I find endearing. Despite Alessandra's superior power, her performance feels artificial. My general impression of Guercio is a 37-year-old performing in a 17-year-old's body.
It's close, but Adam picks Kayla. After a confusing (if predictably narcissistic) digression about her time in the Mickey Mouse Club, Christina claims Alessandra — her first steal of the season!
A few excerpted battles flash by: Cee Lo's Mycle Wastman knocks out Ben Taub on that song from the Internet Explorer commercials. On team Adam, Michelle Brooks-Thompson defeats Adanna Duru on "Crazy in Love" (how dare you play me only an abbreviated version of a Beyoncé song, producers — how dare you?). Christina pits married duo Beat Frequency against Latin pop singer Laura Vivas on "Poker Face." Thankfully, Laura wins, but I'm disappointed we didn't get to see more of my favorite freak show of a double act — plus, I would have been legitimately curious to witness the three-person rehearsal dynamic in action.
For the episode's final battle, Cee Lo's Emily Earle faces MacKenzie Bourg in a rare co-ed duet/romcom premise. If you're reading this, Tom Hanks and Meg Ryan, give me a call.
With the pair's "youthfulness and energy" in mind, Cee Lo asks them to perform Owl City and Carly Rae Jepsen's "Good Time." Emily stresses about leaving her country comfort zone, while MacKenzie is nervous to perform without an instrument to occupy his hands (the masturbation joke is almost too easy — on second thought, it's just easy enough).
In rehearsal, MacKenzie dons a hideous "Navajo"-print polo, but soon outdoes himself with a pair of suspenders in the live performance. As much as hipster Harry Potter's fashion sense irritates me, I really do like his voice — plus, Owl City perfectly suits his style. Emily's performance is good, but sounds too much like a country artist's novelty version of the song.
Resistance is futile — Cee Lo submits to the Borg. In the audience, MacKenzie's bald, comically bro-y Dad turns out to be Hank Schrader, shouting "THAT'S MY BOY" at the top of his lungs. (MacKenzie doesn't perform rock, dammit, but minerals.)
Tune in next Monday at 8 p.m. as The Voice's battle round continues. In the meantime, follow me on Twitter @mollyfitz.
[Image Credit: NBC]
More:
The Voce Recap: Blake and Julio Down by the Schoolyard
The Voice Recap: Beg, Borrow, or Steal
The Voice Recap: Terry McDermott and the Sundance Kid
From Our Partners:

Kristen Stewart and Robert Pattinson Cuddle at Chateau Marmont: 15 of the 'Twilight' Couple's Most Romantic Date Nights — GALLERY
(Celebuzz)

Reese Witherspoon Debuts Post-Baby Figure Two Weeks After Giving Birth — PHOTOS
(Celebuzz)