'The Voice' Returns Tonight — Will You Be Watching? — POLL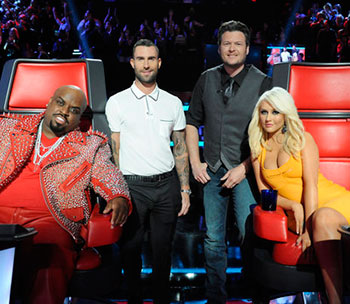 Nope, your TARDIS hasn't launched you forward to Spring 2013 — The Voice is making its season three debut tonight, in its first ever fall showing. This week's blind audition round will run over a whopping three days (sorry, X Factor), and we're more than curious to see how this week's ratings pan out. The Voice's unique format and charismatic mentoring panel has led to high numbers in the past, but X Factor has Britney Spears now. So.
It's definitely going to be an interesting season for The Voice — four nights a week is a huge commitment for singing-show fans, so we're betting that many will eventually choose between X Factor and The Voice. Also, it's entirely possible that reality singing fatigue has finally set in — The Voice's ratings fell last season, X Factor's debut season failed to live up to Simon Cowell's sky-high expectations, and even American Idol suffered its lowest-rated finale in the show's history. So, we have to ask — will you be watching The Voice this season? X Factor? None of the above? Vote in the poll below, and defend your pick in the comments!
<a href="http://polldaddy.com/poll/6525042/">How likely are you to tune into 'The Voice"s fall season?</a>
Follow Shaunna on Twitter @HWShaunna
[PHOTO CREDIT: NBC]
MORE:
'The Voice': Christina Milian Grills Production Designer on Coach Style — EXCLUSIVE VIDEO
'The Voice' Shows 'X Factor' Some Teeth: Why It's All About Britney