'The Voice' Season 3 Winner Is…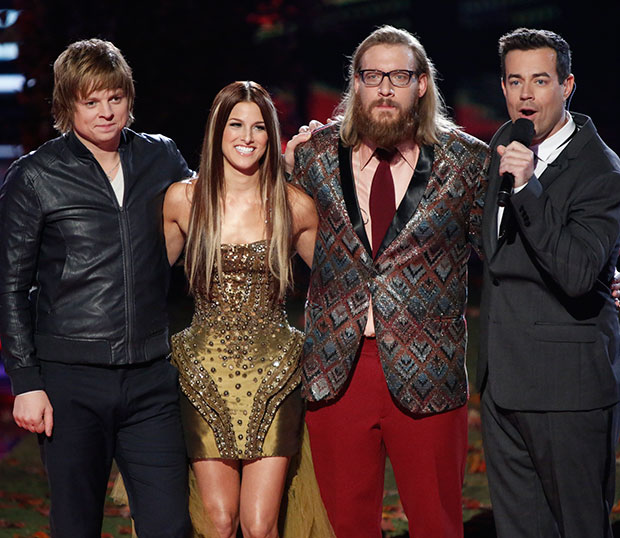 The results are in! After 14 weeks of competition, America has finally crowned the winner of The Voice Season Three. So, did Cassadee Pope, Terry McDermott, or Nicholas David take the title?
Pope is your Season Three The Voice champion. For the first time in the NBC singing competition's history, a woman won. Pope was overcome with emotion after her win. "I feel amazing," she told host Carson Daly before thanking the fans and crew of the show. David came in third, while McDermott was runner-up.
The two-hour finale was jam-packed with performances from former finalists to pop music superstars. Rihanna and Bruno Mars each played their new singles ("Diamonds" and "If I Was Your Man," respectively), while Kelly Clarkson, The Killers, Avril Lavigne, Peter Frampton and more joined the three finalists for duets. The four judges, Christina Aguilera, Ceelo Green, Blake Shelton, and Adam Levine, performed together for the last time before Aguilera and Green leave to tour (both are sitting out for Season Four).
The two runners-up didn't walk away empty-handed: each of the top three singers were awarded a brand-new Kia. Not bad for a parting gift!
What did you think of what Carson Daly called "literally the best season yet"? Did the right person win?
P.S. How much did you love the first promo with new judges Shakira and Usher joining Shelton and Levine? It actually makes total sense that the only song that would unite the four very different artists is "Total Eclipse of the Heart," because that song is amazing.
Follow Jean on Twitter @hijean
[PHOTO CREDIT: Tyler Golden/NBC]
More:
The Voice Recap: The Final Countdown
The Voice Recap: Of Moonshine and Men
The Voice Recap: Bublé, Please Come Home

'The Hobbit' Cast: A Who's Who New Character Guide (Moviefone)

'Les Miserables' Unscripted: Hugh Jackman, Anne Hathaway On Singing And Being Modest