'The Voice' Season 4: Shakira Owning & Extended Eps Are in Store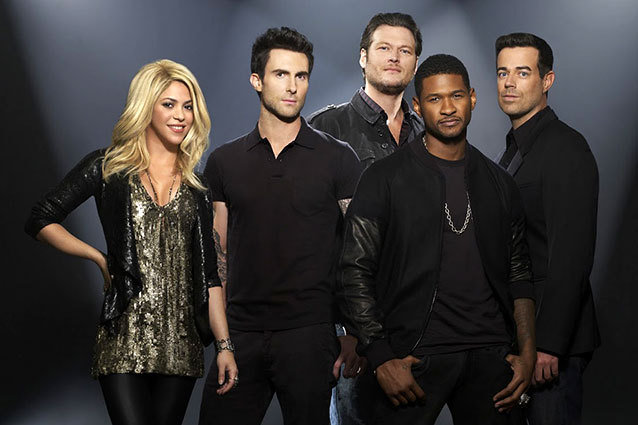 Christina who? That's exactly what you'll be thinking to yourself when you watch the Season 4 premiere of The Voice next Monday. Newbie coach Shakira may not have the same musical gravitas as former Voice coach Christina Aguilera, but the Latin crossover pop star far surpasses her when it comes to being a likable, humble reality star. If you're looking for divas, you might have to tune to the other singing shows — The Voice is going big on charming, lighthearted stars. 
Hollywood.com got a chance to watch an early screening of the premiere episode of the NBC series, and our first impression was that the new arrangement of coaches with newcomers Shakira and Usher (taking over for Christina and Cee Lo Green, respectively) along with Voice vets Adam Levine and Blake Shelton make for the best compilation of reality judges out there. 
RELATED: Adam Levine Opens Up About Shakira and Usher on 'The Voice' 
Now, we'll miss Christina's sparkly UFO hats and Cee Lo's cat Purrfect as much as the next Voice fan, but after watching the new foursome's rapport, we can report that sometimes change is good. While the fellas all have a pretty similar M.O., especially when it comes to female contestants (Blake and Adam's flirting may only be trumped by Usher's charms and smile with the ladies), Shakira will be the heart and soul of coaches row. 
Yes, the coaches still fight over contestants (see the video below, in which all four vie for superstar-in-the-making Judith Hill) and Adam seems to be public enemy no. 1 with Shakira, but it feels… fun. So often with Christina, you felt like she legitimately hated Adam, whereas Shakira can dish it out with him as well as she can take it. I hope the show doesn't do a constant musical spinning chairs with judges, not only for the sake of the show (that's where American Idol ran into heaps of trouble), but because these four click together so well. Hell, they even pull off covering the sacred fab four The Beatles together with flying colors in the premiere. 
RELATED: Singing Showdown: 'The Voice' vs. 'The X Factor' 
In addition to the effortless melding of new and old coaches, Season 4 of The Voice will also have a pair of two-hour Tuesday broadcasts (beginning at 8 PM ET) on both April 30 and May 7 to cover the essential knockout rounds on April 30. The live do-or-die playoffs episode will be on the May 7 show. The following night (May 8) will be an hour-long live episode in which the final top 12 artists will be revealed. 
The Season 4 premiere of The Voice premieres on NBC at 8 PM ET. Hollywood.com will have full recaps of the entire new season, so stay tuned! Check out this snippet from the premiere here: 
Follow Aly on Twitter @AlySemigran
[Photo credit: NBC]
---
You Might Also Like:


Topanga's Revealing Lingerie Shoot: Hello '90s!


25 Stars Before They Were Famous