'The Voice' Season 4: The Coaches Talk Bieber, 'Killer' Competition, and Why Shakira is Terrifying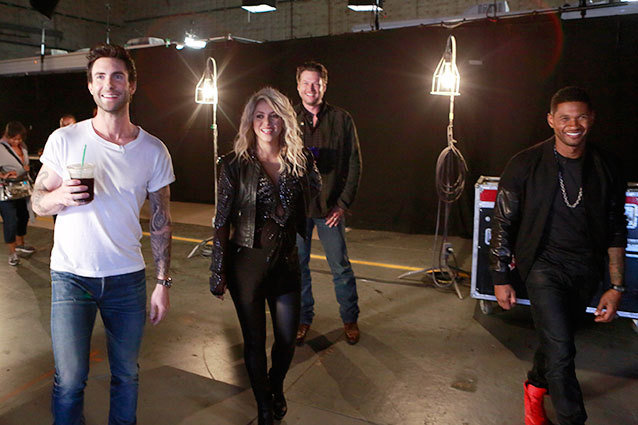 The season four premiere of The Voice is just hours away, so to help refresh your memory from all of those music-free months, we've compiled a perfectly pitched catch-up guide! We also used our powers of penmanship to create a list of the top five things you need to know about the new panel of coaches, and why Season 4 is going to be the best one yet. Hollywood.com caught up with Adam Levine, Blake Shelton, and new coaches Usher and Shakira to bring you all the details and drama for what's to come this season on The Voice. Read on for all the competition-filled fun below!
RELATED: 'The Voice' Season 4: Shakira Owning & Extended Eps Are In Store
Where We Left Off: Blake Shelton was victorious for the second time, making him the first coach to have back-to-back winners. His protégé and season three winner Cassadee Pope was the first female to win The Voice. Way to go girl!
Biggest Let-Down of Last Season: Christina Aguilera constantly fanning herself — it can't be that hot in there X-Tina! Also, the fact that the always-eccentric Cee Lo Green's cat and bird were not in each and every episode.
What We Ultimately Want to See: What makes The Voice so different from all the millions of other reality shows is the fact that we see the unique and personalized hands-on coaching that the mentors have with their mentees. We'd like to see more of these candid moments and how the judges are helping their singers find their voice.
What Would Make Us Turn Our Backs: One of the most annoying things of the past few seasons was watching miss D-I-V-A Aguilera get genuinely pissed at the other judges. True, they tried to pass it off as fun and games, but you could tell that if the cameras weren't rolling there would be a lot less smiling and a lot more screaming. The Voice is the one show where it seems like most of the judeges/coaches are actually friends, so if the competition between the coaches stops being heathly and starts being personal and vindictive, we're ready to give up on singing competition for good. Also, save the hometown sob stories for Idol — we're over it.
5 Reasons You Should Keep Watching:
RELATED: 'The Voice': Adam Levine Opens Up About New Coaches Shakira And Usher
1. Changed For The Better: With the switch-a-roo of Shakira and Usher, the coaching dynamics are naturally going to change — luckily, it's definitely for the better. "It's two different personalities," Shelton explains. "I would say the competitiveness is up somehow. CeeLo was always just so laid back anyway. He's kind of been the quiet killer in this thing. So we've replaced CeeLo with somebody that's just that much more aggressive. And Christina was always competitive — now you've got four killers up here." Levine playfully boasts that Shakira is just as competitive as Christina. "And now you have a pregnant, hormonal Colombian," he says. "Shakira is ready to bust some heads. She ain't messing around." Hell hath no fury like a pregnant woman scorned!
2. The Steals Will Stay: Last season the powers-that-be at The Voice introduced a vital and exciting new element to the competition: Steals. During the coveted battle rounds, other coaches have the opportunity to steal the eliminated artists out from underneath their competitors. Executive producer Mark Burnett assured reporters that the stealing element will definitely return this season. "We learned in the earlier seasons, in the battles, some fantastic people went home that could have easily won any other music competition," he says. "To give people a chance to stay puts more pressure on these guys. When you're deciding on a battle and sending someone home, there's three other people sitting there waiting to take that person. Who knows — maybe someone that gets stolen ends up winning the whole thing."
3. There's a She Wolf in Your Chair: Watch out boys, because there's a new girl in town and her hips don't lie! Replacing Aguilera is the one and only Shakira, and according to Levine, this Colombian cutie is ready to play as many cards as she can to get ahead. "She plays the female card quite a bit," he says. "That's one thing we can't compete with really, so she's smart… Watch out for her. She's so sweet and she smiles, but she's not that sweet." Shakira then revealed her secret weapon that will help her dominate the competition this season. "I focus on the detail," she says. "I don't know if it's because of the female condition, but men are more focused on the general aspects, and women tend to focus on details a lot. So when I'm giving directions to my contestants I'm particularly focused on details."
RELATED: A Singing Showdown: 'The Voice' Vs. 'the X Factor'
4. A True Belieber: Taking over for Green and filling the slot for coolest guy in any room is the smooth-moves R&B icon Usher. The main goal of the The Voice is for these judges to discover and mentor young unknown talented artists and turn them into superstars — and this is exact same thing that Usher did with a young man turned world-wide phenomenon, Justin Beiber. Levine reluctantly praised his fellow coach, saying, "As much as I hate to say this about [Usher] in the beginning… but Usher has done what this show has yet to do. [He has] launched a superstar, and that's our goal… that's something we want to do as an institution."
5. Veterans vs. Newbies: All compliments aside, Levine stressed that he and Shelton did not go out of their way to help the new coaches learn the ropes of the competition. "There are many advantages to being the season veteran, starting with we've seen about 4,000 more auditions," he says. "We fell into the traps that the new bloods will fall into, and [they will have to] dig themselves out of. They are strong, and they will survive, but we know from experience." The Maroon 5 frontman adds, "But these guys are smart quick studies, so they are probably going to get better quickly, and it's going to suck for us because then they will probably win this damn thing."
What are you most looking forward to this season on The Voice? Sing your thoughts in the comments below!
Follow Leanne on Twitter @LeanneAguilera
[Photo Credit: NBC]
---
You Might Also Like:


Topanga's Revealing Lingerie Shoot: Hello '90s!


13 Most WTF Fan Tributes