'The Voice': Shakira and Usher Are Livin' in a Powder Keg and Givin' Off Sparks — VIDEO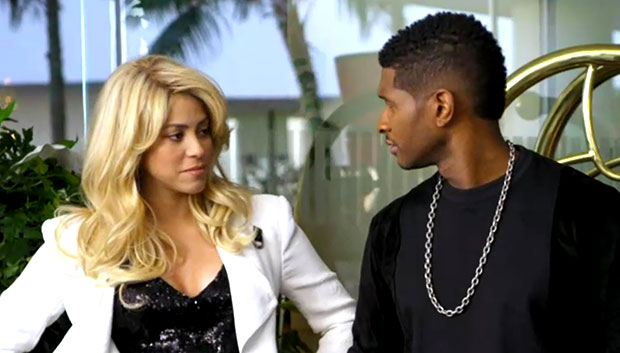 The scariest job in the world — more frightening than firefighting, military service, or sword-swallowing (I grew up in Agrabah) — has got to be substitute teaching. You step into an unfamiliar ecosystem, filled to the brim with the most vicious species known to man (children), hoping both to maintain the established modus operandi while still dreaming of bringing your own talents to the equation, possibly to the point of improving what already exists. Forthcoming The Voice hosts Shakira and Usher are kind of like substitute teachers: they're stepping in for Christina Aguilera and Cee Lo Green (who'll be taking the next round off), hoping to get along with the high school clique that consists of Blake Shelton, Adam Levine, and T.A. Carson Daly, and striving to keep the show's standing charms while, possibly, giving it an extra kick that only they might be able to supply.
The below promo features Shakira and Usher joining along with Shelton and Levine in a musical road trip that culminates in the one song these dissimilar icons can agree upon: "Total Eclipse of the Heart" which, traditionally, is the only song that any large group of people will all be satisfied listening, and subsequently belting their souls out, to. Watch below, and find out who won this season of The Voice here.
[Photo Credit: NBC]
More:
'The Voice' Season 3 Winner Is…
'The Voice' Recap: Of Moonshine and Men
Michael Kors Leaving 'Project Runway' Season 11: Auf Wiedersehen!

'Jack Reacher': The Beginner's Guide To The New Tom Cruise Movie

'Les Miserables' Unscripted: Hugh Jackman, Anne Hathaway On Singing And Being Modest