'The Voice' Shockingly Defeats 'The X-Factor' in the Ratings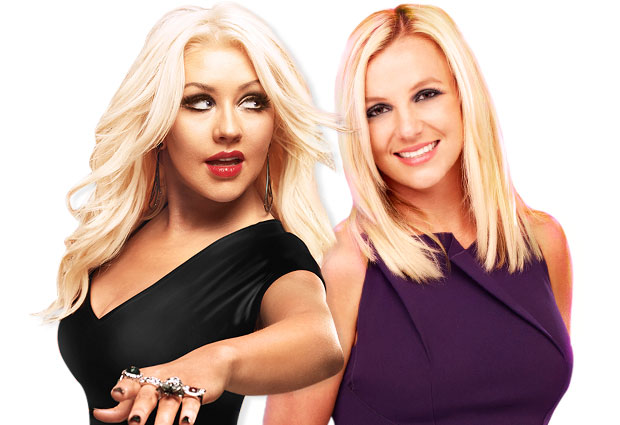 Roe Vs. Wade, Godzilla Vs. Mothra, Coke Vs. Pepsi, Britney Vs. Christina: these are the great rivalries of our day and one was finally decided last night when Britney Spears made her debut on Fox's The X Factor and Christina Aguilera continued to show off her voluptuousness on NBC's The Voice. Yes, it was "Genie in a Bottle" and "…Baby One More Time" all over again, except it was on your TV, it was in prime time, there was no awkward punctuation, and everyone was about 20 pounds heavier.
Well, Christina pulled out an underdog victory when The Voice beat The X-Factor when the programs went head to head at 8 PM. According to TV Guide 10.7 million viewers watched Christina and Co. swivel around in their chairs while only 7.5 million were curious about how much of a mess Britney would be. Boom! We have a winner. Maybe it's because it turned out that Britney wasn't much of a mess at all.
But that is only when both shows were on together. Since The X Factor was on for two hours, the show averaged 8.5 million over its whole run (which is still shy of The Voice's number). That is down significantly from the 12.1 million who watched the show's debut last September. Still both shows tied with a 3.3 rating in the 18-to-49 demographic that advertisers crave.
There are are still a lot of episodes left in the season for both of these shows (and honestly the chair flipping on The Voice is usually more exciting than what comes later, where the opposite is true of The X Factor) but it looks like the Britney Spears curiosity factor has proved to be a non-starter. We can't wait to see who wins the next round.
Follow Brian Moylan on Twitter @BrianJMoylan[Photo Credit: AP Photo]
More:
'The Voice' Recap: Domo Arigato
'X Factor' Premiere: It's Britney, [And She's Kind Of A] Bitch
'The Voice' Shows 'X Factor' Some Teeth: Why It's All About Britney