'The Voice' Shows 'X Factor' Some Teeth: Why It's All About Britney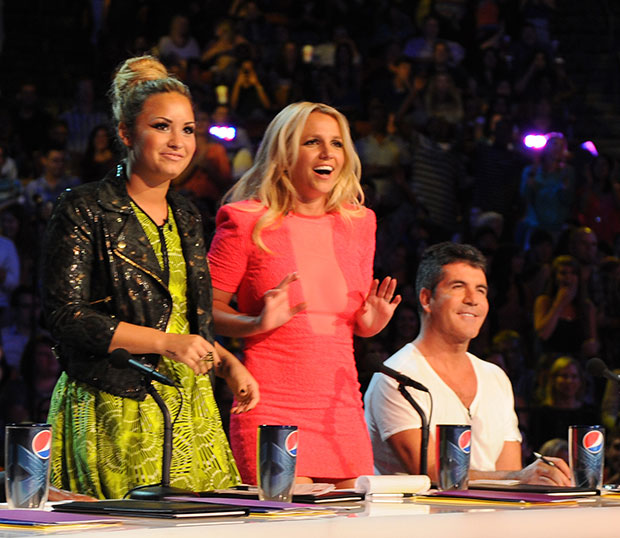 Simon Cowell, L.A. Reid and the rest of the X Factor gang couldn't have been happy when The Voice announced their first-ever fall season — the much-beloved, "mentor" driven show has been NBC's (only) ratings behemoth since its April 2011 premiere, and it had previously only been Idol's problem. But at least until yesterday, the two shows would always air on different nights, never technically having to split viewers. Then, a measly week before both shows' launch, NBC announced that The Voice's fall premiere would be spread out over a whopping three consecutive nights, the latter being the same night as X Factor's premiere. Ouch. Way to stomp on the little guy.
NBC says expanding The Voice's premiere week was not a tactical move, but Cowell told Hollywood.com during a conference call on Thursday that the Peacock knew exactly what it was doing. "I've seen the first [X Factor] show," Cowell said. "It's sensational. The girls do a great job, the contestants are great, and the show looks different to anything else we've ever made. I think this is the reason why NBC decided to put The Voice up against us. It's a spoiling tactic. It's very simple — they don't want people to see this first episode."
This is pretty big talk coming from Cowell, who just last year faced some embarrassment when he promised 20 million viewers a week with X Factor, which ended up delivering closer to ten. But this year, he does have a pretty legitimate argument — because he has Britney Spears. The Voice's success is almost inarguably due to the chemistry between its four celebrity mentors — Adam Levine, Christina Aguilera, Cee Lo Green, and Blake Shelton — and if the new Spears/Reid/Cowell/Demi Lovato panel on X Factor ends up being more dynamic or buzzworthy than the third go-around for its NBC counterpart, it could spell trouble for NBC. But, again, this is entirely up to Britney. Cowell's big talk is exactly that — just talk.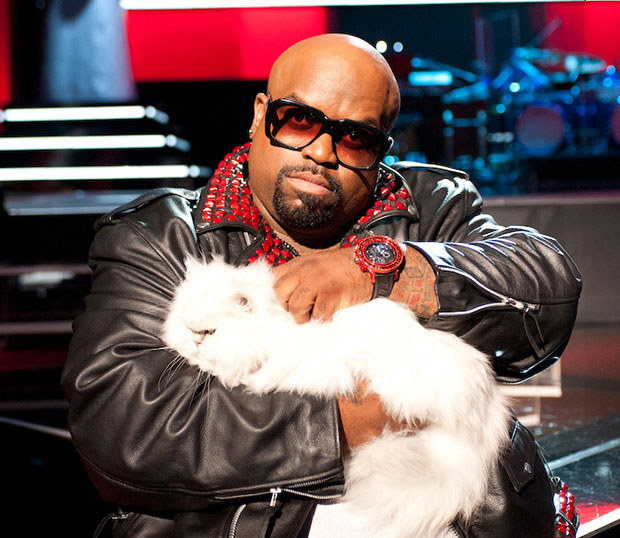 If last spring's ratings prove anything, it's that viewers are finally beginning to tire of the tried and true singing show format. Duets was a failure, The Voice lost a lot of steam after its Super Bowl-boosted blind audition round, and even Idol faced its lowest-rated finale of all time. It's not like these shows are turning into Community, but they're not the sure-fire successes they used to be. But nabbing Spears, a fascinating and notoriously well-protected pop-star with a tumultuous past, would garner any of these shows millions upon millions of premiere viewers — and pitting her against her supposed career-long rival Aguilera is just icing on the pre-show buzz cake.
But that's all it is right now — a lot of blind excitement. Because no one, I mean no one, knows how Britney will behave on television. She could be a dead-eyed disastrous dud like she was during her MTV VMA "comeback" performance, or she could completely kill it, leaving viewers wanting more. Or, probably worst of all, she could be somewhere in the middle. A Randy Jackson, we'll say. Her mental health and behavior are what people really want to see, and next week — Wed., Sept. 12 to be exact — they will. Then, they'll make their decisions — Is she interesting enough to justify tuning in to yet another singing show? Do they want to devote four nights a week to reality singing programs, or would they rather stick to two?
If the answer to that second question is "no," which we predict it will be for many people, (because who wants to spend all of their primetime on amateur singing when there's so much quality out there?) then one of these shows is clearly in trouble. And both parties know it. Everybody already loves the gang from The Voice, so it's arguably their ratings game to lose if Brit isn't an insta-hit. If The Voice had been on last fall, X Factor would likely have floundered with its boring Paula Abdul/Nicole Scherzinger combo.
But this year is different. A successful Britney-led X Factor panel would be something new, and something that could potentially dominate fall TV ratings. NBC knows this, which is why we happen to agree with Cowell — adding the third night last minute was a calculated move. The more eyes they can move from Britney's big comeback to the magnetic panel from The Voice, the better. Viewers will have already had two nights to get sucked in to The Voice's mentors and the contestants' sob stories, making it hard to turn away from night three. I mean, they'll need to find out who joined Team Cee Lo.
"I think it's mean spirited, and I hope and I pray that it backfires on them," Cowell said. "I am pissed off about it, because I think there was a Gentlemen's Agreement [about scheduling, between the networks]. You have to rely that the viewers will make the right selection…There's a lot of interest, rightly so, in our show, because of Britney, Demi — so we're going to see what happens. I've learned, don't make too many predictions."