'The Voice' Sparks Country Feud — Blake Shelton & Miranda Lambert Respond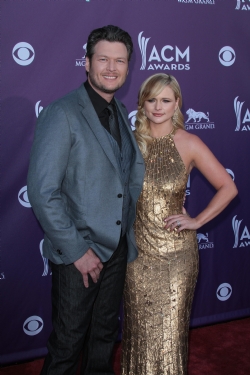 A feud broke out today regarding The Voice, and for once it had little to do with the show's arch rival American Idol. In the latest issue of Rolling Stone, country star Eric Church declared that the winners of singing competition shows like The Voice shouldn't call themselves artists, and said signing on to judge the shows taints a musician's legacy. Apparently he forgot that he's toured with Miranda Lambert, who became famous on the show Nashville Star, is married to Voice judge Blake Shelton, and isn't shy about picking fights with other celebrities.
Church told the magazine, "Honestly, if Blake Shelton and Cee Lo Green turn around in a red chair, you got a deal? That's crazy … I don't know what would make an art­ist do that. You're not an artist." As for the judges, he added, "Once your career becomes about some­thing other than the music, then that's what it is. I'll never make that mistake. I don't care if I starve."
Both Shelton and Lambert gave Church a piece of their mind on Twitter. Shelton linked to the article and commented, "I wish I misunderstood this . . ." Then Lambert wrote, "Thanks Eric Church for saying I'm not a real artist," adding, "You're welcome for the tour in 2010."
On Tuesday Church apologized for his remarks, and explained that he's miffed that the shows don't portray the hard work that goes into being a musician. "The comment I made to Rolling Stone was part of a larger commentary on these types of reality television shows and the perception they create, not the artists involved with the shows themselves," Church said. "The shows make it appear that artists can shortcut their way to success. There are a lot of artists due to their own perseverance that have gone on to be successful after appearing on these shows, but the real obstacles come after the cameras stop rolling. Every artist has to follow up television appearances with dedication towards their craft, but these shows tend to gloss over that part and make it seem like you can be ordained into stardom."
He went on to apologize to the numerous country stars who got their start on singing competitions. "I have a lot of respect for what artists like Carrie Underwood, Kelly Clarkson, and my friend Miranda Lambert have gone on to accomplish," he said. "This piece was never intended to tear down any individual and I apologize to anybody I offended in trying to shed light on this issue. I am grateful for all of the artists and fans that have supported me along my journey and certainly did not mean for my comments to undermine their talent and achievements."
More:
'The Voice' Recap: Tears for Fears
'The Voice' Star Adam Levine Beaten & Bloody in New Video — PIC
Adam Levine's Nerdy Past Before 'The Voice': See the Pic!