Did Usher and Shakira Spell Ratings Success For 'The Voice'?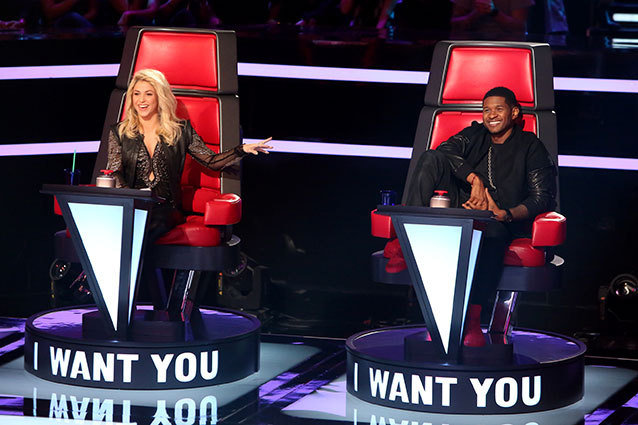 Let's play a little game of good news/bad news. Let's go with the bad news first: NBC's The Voice, which debuted Monday night with two new judges, Shakira and Usher, was down 30 percent from its Spring season Monday night debut in 2012. (Oh yeah, because there's also a Fall season of this never-ending reality show.)
RELATED: How Did the New 'Voice' Judges Do?
But wait! There's good news: that figure is a bit inflated because the 2012 Monday debut aired the day after the Super Bowl, also known as the night NBC forcefed its drunk, hot-wing-laden football fans the series premiere and hooked a whopping 37.61 million viewers. It's no wonder the second night brought along a few Super Bowl friends for an audience of 17.84 million.
If we're looking at March 25's Season 4 of the series, The Voice is actually doing rather well, especially considering it just swapped out two original judges, Christina Aguilera and Cee Lo Green, for Usher and Shakira. The NBC reality staple roped in 13.4 million viewers, bested only by ABC's Dancing With the Stars with 14.1 million viewers. But NBC had the right demo in their grasp: The Voice scored a 4.7 in the 18-49 demo while DWTS only had a 2.3. NBC's lucky star was the winner of the night by a mile, not even the runner-up, CBS's 2 Broke Girls could keep up in the demo rating (2.9). 
The Voice may not have given us a viable winner in three seasons, but that doesn't seem to matter to the viewers at home.
Follow Kelsea on Twitter @KelseaStahler
[Photo Credit: Adam Taylor/NBC]
---
You Might Also Like:


Topanga's Revealing Lingerie Shoot: Hello '90s!


13 Most WTF Fan Tributes