'The Walking Dead' Casts New Role: (Spoiler) Revealed in Season 2 Finale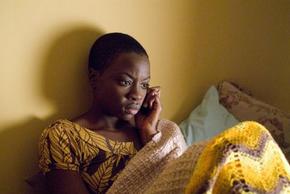 The Walking Dead's epic season finale not only brought an onslaught of walkers to Hershel's farm, but the first appearance of a new character. Be aware, this article contains finale spoilers and potential Season Three spoilers.
Michonne, a mysterious woman armed with a katana and flanked by two armless, chained walkers like a pair of aimless bloodhounds, finds Andrea (
Laurie Holden
) in the woods in the final few moments of the season finale, and according to AMC the character will play a larger role in Season Three. Actress
Danai Gurira
(
Treme
) takes on the role, about which comic readers are sure to have many stalwart opinions. 
In the books, Michonne is a tomboy of sorts who lost her children when the apocalypse took hold. She's a solitary character, wandering the wasted landscape alone except for her boyfriend-turned-walker and his undead best friend who she drags along on chains. She removes their arms and lower jaws so they can't attack, but their presence deters other walkers. But beyond the details of her character, Michonne's presence definitively signals one very important fact: the group is headed for The Prison – something die-hard comic fans have been eagerly awaiting. 
Michonne is a main character in the Prison plot, so while some of the other characters involved in her comic-book Prison story line aren't present, the action is sure to escalate from here. And if her mere presence isn't enough to convince us of that, showrunner
Glen Mazzara said
"The pacing of Season Three will feel like a freight train." And now we can move forward knowing there will be one more passenger aboard that locomotive.