'The Walking Dead': Get Up To Speed Before Sunday's Premiere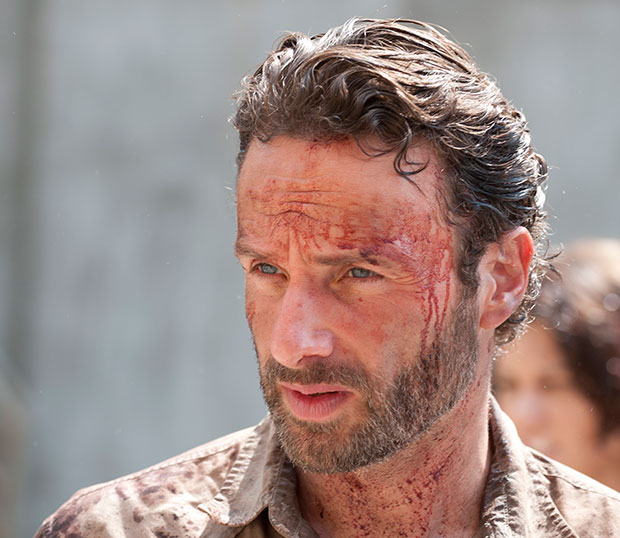 Returning Series: The Walking Dead

Premiere Date: Sunday, Oct. 14 at 9pm ET
Number of Seasons On the Air: This will be The Walking Dead's third season on the air, but so far we've only seen a few episodes with new showrunner Glen Mazzara. 
You'd Like It If…: You don't mind depressing, post-apocalyptic scenarios. You find dystopias to be fascinating. You enjoy the intense, morally ambiguous debates about how to govern a government-less society on shows like Fringe and Battlestar Galactica, but think both of those shows would benefit from more gore.
You'd Hate It If…: You like all of your zombie fare to be as fast-paced as, say, 28 Days Later. Walking Dead can be a slow burn. Also, if you're not a horror fan.
Walking Dead's Formula: Day of the Dead's zombies meet Battlestar Galactica's band of lost, aimless misfits meets Dallas' southern accents meets The Road's horrifying portrayal of human-on-human post-apocalyptic violence.
Ratings: Pretty damn sexy for a cable series. Last year's finale brought in 9 million viewers, which is like four times the amount of your average NBC comedy.
Accolades: None of the actors have received any Emmy love, but the series has won for its makeup and prosthetics two years in a row. In 2011, Walking Dead received a Golden Globe Best TV Drama Series nom. Not bad!
Where The Walking Dead Left Off: Phew. Got a sec? After an attack on Hershel's farm (which resulted in the deaths of a few of his many family members), Andrea was separated from the gang, and eventually teamed up with badass newcomer Michonne. Rick told the rest of the Grimes Gang — who congregated on an abandoned highway — that he had killed Shane, and that the walker virus had infected all of them. In Walking Dead speak, that means that even dying a natural death will turn people into zombies. Not. Cool. As the show faded to credits, a large prison was shown, looming in the background.
Where The Walking Dead Is Headed: To prison! Most of the Grimes Gang will battle walkers in the aforementioned prison, where they'll find, at least temporarily, some cots, food, and protection. Andrea and Michonne will eventually meet up with the mysterious new villain, the Governor, who has developed some sort of utopian village amidst all of the chaos. Of course, nothing in the village will be as it seems. We still don't know when these two plotlines will intersect, but Norman Reedus told us that they definitely will at some point this season.
Cast: Where do I start? We have Brit Andrew Lincoln as Rick, the former Sheriff charged with making most of the impossible moral decisions on the show. Sarah Wayne Callies is his pregnant wife, Lori, who had an affair with Rick's recently deceased, former best friend Shane. Chandler Riggs is their son Carl, who wears a stupid hat and does stupid things. Steven Yeun is the priceless Glenn, Lauren Cohan is Glenn's new ladylove, Maggie, Scott Wilson is Maggie's dad, Hershel, and Emily Kinney is Maggie's frequently suicidal sister, Beth. Laurie Holden is the long-suffering Andrea, who has teamed up with newcomer Danai Gurira's Michonne. Rounding out the gang are IronE Singleton as T-Dog, who maybe has one line per episode, and Melissa McBride as Carol, who lost her daughter Sophia after a painfully long search last season. David Morrissey will join the cast later this season as The Governor, one of the comics' main antagonists, who leads another pack of survivors. Oh, but wait, and am I forgetting someone? Oh yes, Norman Reedus stars as Daryl Dixon, the most badass, wonderful, crossbow-wielding character on the show. We love him. We love him so much. 
High Point: The final three episodes of last season, which almost made up for the torturous pace of the entire first half of the season (see below). First was the impossible debate over executing teenage prisoner Randall, then there was the heartbreaking death of father figure Dale. That was week one. Then came Shane's final betrayal — convinced that he would be a better father and leader than Rick, he led him into the woods for a good old fashioned murder. Rick got to him first, stabbing him to death. Rick's young son, Carl, was watching the whole time, and when he shot the newly zombie-fied Shane in the head, a massive number of walkers headed their way. Eek! This led to an epic finale, where the gang (arguably) won the battle at Hershel's farm, and learned that they would all be walkers one day. Rough. 
Low Point: The first seven episodes of last season. We love Frank Darabont, but dedicating seven episodes to the search for a minor character — while nothing else happened — was an epic fail. By the end, the reveal that she was a zombie in Hersel's barn the whole time wasn't even that shocking.
Who To Watch It With: Your significant other, because you might need someone to cuddle up to during the scary parts. If you don't have an SO, I'd recommend buying a teddy bear.
Who Not to Watch It With: Frank Darabont.
Appropriate Food and Beverage Pairing: You might want to avoid food for this one, as some of the walkers on this show are pretty vomit-inducing. (See: the "well walker" below.) As for beverages, I'd go for a nice, cold beer — there won't be many after the zombie apocalypse!
Cringeworthy moment: Try to forget the well walker. We dare you.
Cast Member to Root For: Daryl Dixon. We're a sucker for this occasionally profound, fiercely loyal redneck with a heart of gold. His kind words for Carol last season were pretty heartbreaking, and he's not afraid to do what needs to be done — even if that means shooting a beloved character (Dale) in the face.
Cast Member to Root Against: We hate to say it, but Lori. The female characters on this show don't get a lot of love (though we do like Maggie, Carol, and occasionally Andrea), but Lori is just the worst. She's a classic damsel in distress type on a show that really just needs some badasses. Also, she slept with Shane, which is pretty gross.
What You're Most Likely to Yell at the Screen: "BEHIND YOU!"