'The Walking Dead' in Talks to Hire New Boss Scott Gimple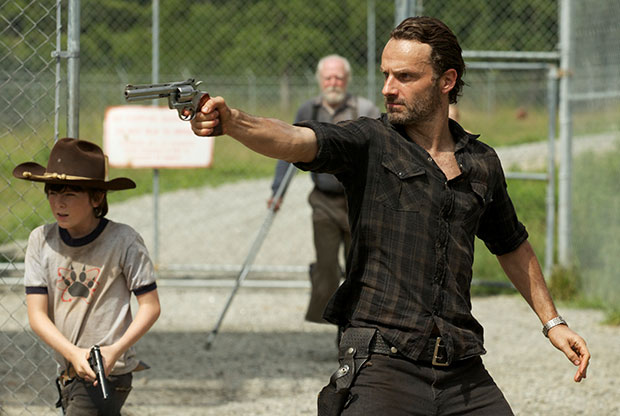 The winds of change are always blowin', especially on the set of AMC's monster hit The Walking Dead. Deadline reports that Scott Gimple — a supervising producer on the series — is finalizing a deal to become the third showrunner in as many years on the internally troubled show, replacing the ousted Glen Mazzara.
Mazzara's unceremonious exit from the show came as a shock to viewers, as the show began to really come together after he took the reigns from Frank Darabont in the middle of Season 2. Mazzara's departure was supposedly due to pressure from Walking Dead executive producer Robert Kirkman, on whose comic the show is based. 
AMC is yet to provide comment on the switch, but fans of Mazzara's artistic direction should feel somewhat satiated knowing that the network is going with a guy who has written episodes of the show under Mazzara's reign.
Follow Shaunna on Twitter @HWShaunna
[PHOTO CREDIT: Blake Tyers/AMC]
MORE:
'The Walking Dead' Shocker: Show Will Get Season 4, But Without Boss Glen Mazzara
'The Walking Dead': When The Dead Come Knocking
'The Walking Dead' Recap: Killer Within

Megan Fox's 12 Hottest Moments (Moviefone)