'The Walking Dead's' Best Brain Busters
Now that The Walking Dead's inaugural run has come to close, it's time to take a look back at what drew us to its gory shores in the first place. While many of us stayed past episode one because it proved its ability to toe the line between emotional turmoil and pure blood and guts so successfully, we can't forget that the blood and guts part is what makes it stand apart from its AMC cohorts like Mad Men. Without the disgustingly realistic brutality, The Walking Dead wouldn't have a leg to stagger on. So without further ado, please enjoy (or tolerate, depending on your stance) the best brain busting moments from season one.
Moments of Pure Badassery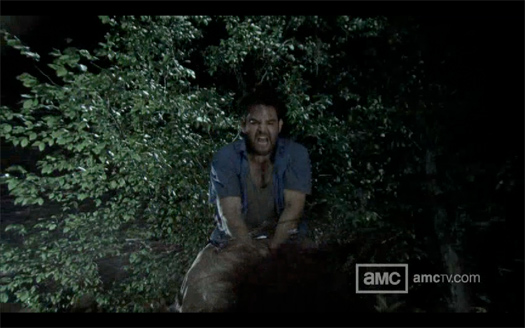 Morales' Baseball Bat to The Brain
Gore Factor: 7
Shock Factor: 5
During the walker attack on the survivor camp in episode four, the men defend themselves with shotguns and axes. Morales is without such fancy weapons and takes down walkers with brute strength and a baseball bat, finishing with this shot where he spills gushing brains as they explode onto the camera lens.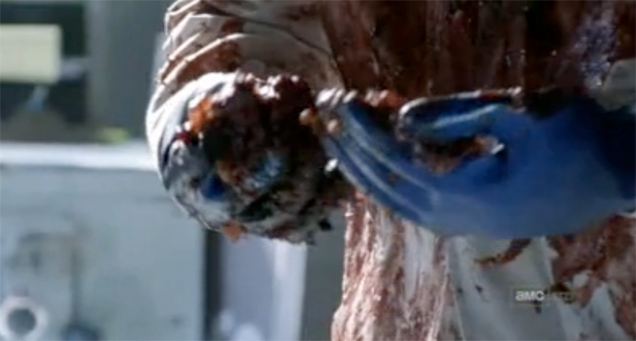 Glenn and Rick Wear Walker Guts
Gore Factor: Infinity
Shock Factor: 10
Even though spoilers warned us this moment was coming, I don't think anything could have truly prepared anyone for what eventually hit the screen in only the second episode of season. The scene is relentless, first forcing us to bear witness as they hack their walker "organ donor" to bits and second as they then smear those bits all over themselves, saving the intestines and other body parts to don as talismans in case the first layer of guts wasn't enough.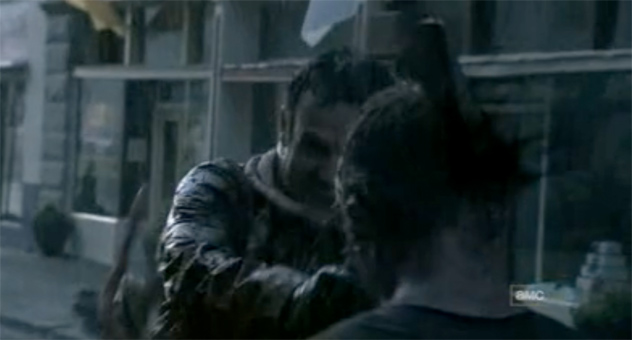 Rick's Skull-Splitting Axe Wielding
Gore Factor: 8
Shock Factor: 7
After making zombie gut suits it seemed unlikely that anything would top that moment, but when the rain came and the undead smell washed away Rick and Glenn were smack dab in the middle of a walker parade and that's when things got awesome. Rick armed with only a fire axe and his bloody suit, whips around as the first walker attacks and with extreme precision and speed splits his skull in two as the others descend. If that's not the epitome of badassery, I don't know what is.
Guts In The Name of Gore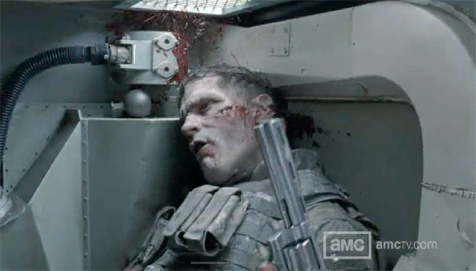 An Undead Soldier Loses His Mind
Gore Factor: 7
Shock Factor: 5
After miraculously escaping into a dormant tank in the midst of a zombie stampede in downtown Atlanta, Rick finds himself shacking up with an undead soldier. Whoops. Before the walker can sink his teeth into his tasty, tasty flesh, Rick grabs his gun and blasts a bullet through his head, splattering decaying brain matter all over the inside of the tank. Try sitting in close quarters with that guy now.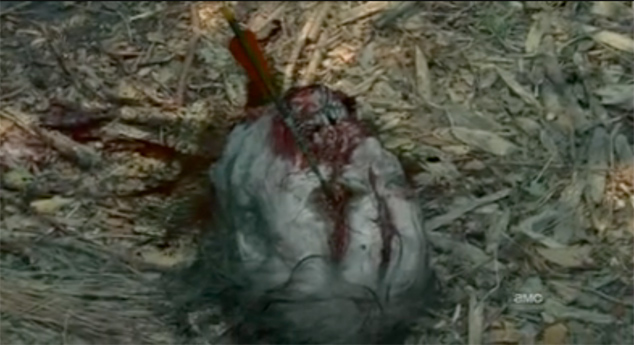 An Arrow In The Eye
Gore Factor: 6
Shock Factor: 8
The shocking part here isn't the way in which Daryl kills off the walker, it's the fact that despite being beheaded, the brain still manages to lust after flesh causing the bodiless, decaying head to chomp and growl at the air hoping to catch some yummy flesh in its mouth in the process. Daryl finally shuts it down, using his crossbow to land an arrow right in the eye – the perfect location for maximum blood spatter.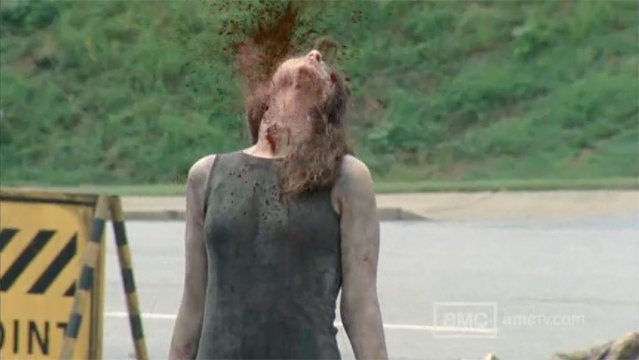 Walker Blood Bath at The CDC
Gore Factor: 9
Shock Factor: 8
In the season finale, we're itching for at least a little walker action and when we finally get it, it's brief but intense. The survivors run from the impending explosion of the CDC building, mowing down the undead in the bloodiest fashion possible. This headshot is probably the most gruesome execution of the bunch, but the scene also treats us to some Viking-eqsue axe action from Daryl who effortlessly beheads a walker and sends his head flying.
Shockers and Emotional Wrecks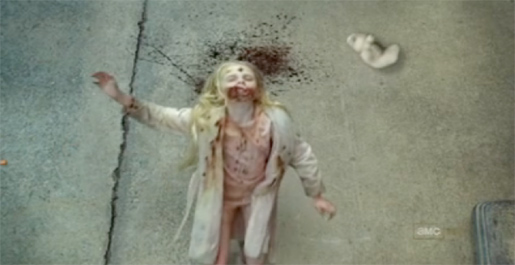 Goodnight, Little (Undead) Girl
Gore Factor: 7
Shock Factor: 8
While I lamented in my first recap of this episode that Rick should have known better when he found this little zombie girl traipsing along the deserted scene, it doesn't mean that watching a child(even if she was undead) in a nightgown holding a teddy bear getting her brains splattered onto the pavement isn't at least a bit shocking. It was from this initial moment that we became forcibly aware that The Walking Dead was not planning on going easy on us.
Carol Bids Adieu To Her Husband
Gore Factor: 10
Shock Factor: 7
After the walkers made out at the survivor camp buffet, the remaining living have to dispose of the bodies and ensure that they can't come back as the flesh-eaters. This means, they have to destroy the brains of each of their friends. Daryl's all about it, working out his disturbing frustrations, but Carol insists that she take care of her husband Ed's body herself. In a mix of anger for his brutality against her and tears for the love she still bore him, Carol takes a pick axe to his head like it's a watermelon at a state fair, and we see every gory detail up close and personal.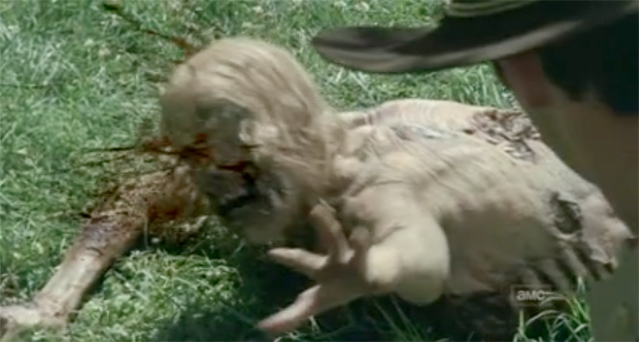 Rick Finishes Off A Half-a-Zombie
Gore Factor: 7
Shock Factor: 5
In the first episode, Rick is on his way to Atlanta but before he can head into the city he must pass a personal test to make sure he survives. He returns to the helpless half-a-zombie he encountered in the first moments of the episode and follows her out into a field. He stops, hesitant to end her, and gives a heartfelt, sympathetic apology for what her life has become and for what he must do. Just when you think he's lost his nerve and he'll leave her to rot in the field, he whips out his pistol and blasts crimson bloody brain matter all over the fresh green grass.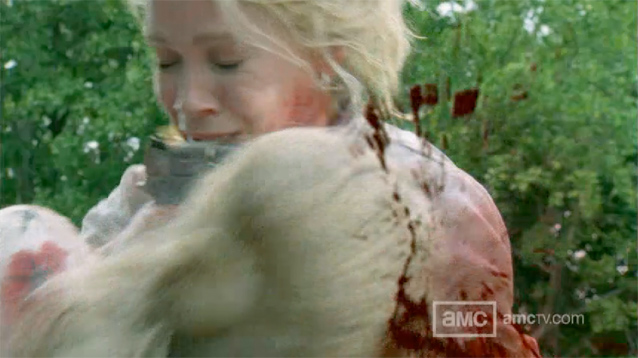 Andrea Saves Amy From a Flesh-craving Fate
Gore Factor: 6
Shock Factor: 10
Andrea spends almost 24 hours at Amy's side once she's over taken by walkers during the onslaught at the survivor camp. The others are worried she won't allow them to "take care" of her sister before she becomes a walker and they're right. Andrea's still got her arms around her sister, stroking her hair when Amy groans back to life and gains her lust for human flesh. The entire camp inches toward Andrea as walker-Amy cranes her neck towards the perfect bite. It seems like Andrea's done for as she hugs her blood-thirsty former sister to her chest, but she raises a pistol to Amy's head and discharges her brains despite the closeness of her embrace in what is arguably the most shocking moment of the season.