'The Walking Dead' Star Norman Reedus: Get Ready for 'Bouts of Rage'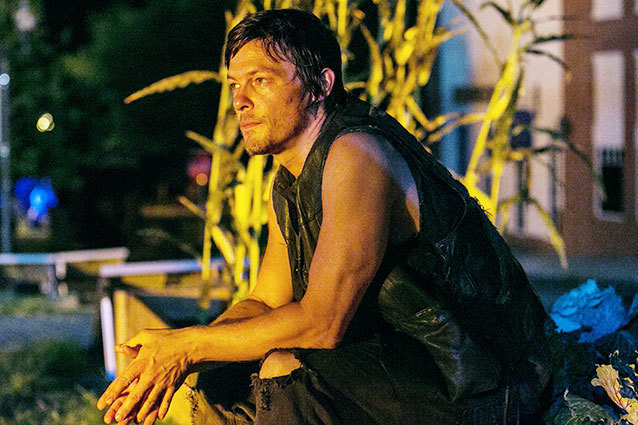 First off, we can all now breathe that collective sigh of relief — after a three month hiatus from The Walking Dead, it has been confirmed that Daryl Dixon, exploder of ovaries (just ask him), lived through the "fight to the death" with Merle. Unfortunately, Merle did too. And now, #TheWalkingDixons are on a path through the Walker's Woods, away from the Grimes Gang and Woodbury, with no one to lean on but each other (which is rather unfortunate for Daryl, as no one wants to lean on Merle). What's next for the crossbow-wielding redneck heartthrob? A lot, according to actor Norman Reedus.
RELATED: It's Daryl's Time to Fight on 'The Walking Dead'
"Daryl has it in him to just want [The Governor] dead," Reedus says. "Daryl is the type of guy that, when he gets his mind set on something, he's just going to make it happen. He's more than capable of having bouts of rage. I don't know that [the rage] would break him, but it would make him hell-bent on getting revenge."
Good! Because when the Governor (David Morrissey) put Daryl and Merle (Michael Rooker) in that death pit, it set in motion the events that would inevitably lead Daryl away from his Grimes Gang. But don't count on them being apart for long — Reedus makes it clear that, despite his actions during tonight's episode, Daryl's heart is still very much with the group.
"Daryl has become his own man, now," Reedus says. "He was destined to become another Merle. I've always played him like he was embarrassed about who he was going to be, and he was trapped in that world. This is [Daryl's] opportunity to become somebody new, in a way — he didn't plan on it, but having this world around him has given him a new sense of self-worth that he wouldn't have gotten otherwise. He's a different guy now."
RELATED: 'The Walking Dead' is Deadliest Show on TV
Which doesn't necessarily mean that he'll take over the group — even though Rick is bananagrams insane (did you see him talking to that zombie-fied invisible Lori?), Reedus says that Daryl is not quite ready to make that step. "Daryl doesn't want to take over the group," he says. "He doesn't want to take on that responsibility. He doesn't want to sit around and talk to people about their feelings, and make plans, and have that on his head."
But does Daryl want to do… you know… with Carol? After tonight's episode, her feelings are pretty clear. But Reedus doesn't feel that his character has enough game to make it happen. "If [Daryl and Carol] hook up, she's got to make the first move," he says. "I don't want to play that like, 'Hey babe, come here.' I'd rather play it like, 'What are you doing? Stop!' That'd be super interesting. All of the ovaries [would explode.]"
Err, let's take a step back. Because a moment before, Reedus and I had been talking about that infamous moment where he held baby Asskicker, which has become an Internet meme, and may or may not be my Twitter background. Reedus, who previously did not really understand the world of memes, and who largely relies on costar Chandler Riggs (Carl — the child) to help him out with technology, was surprised by all of the attention.
"People freak out when you hold a baby," he says. "I've seen a bunch of pictures of that — [women talking about] the ovaries exploding, and all that stuff." [Ed. note: Weird.] "The thing about that character is he wears his heart on his sleeve. He trusts people. The guy cares. He's never had an opportunity in his life to care before. I think that maybe that comes through, and that's why these so-called memes happen, and stuff like that… but, I don't know." [Ed. note: I think your biceps may also be involved.]
In conclusion, Reedus wanted me to relay that the second half of the season would continue at the breakneck pace of the first — in fact, he says things get even faster now that the Dixons have left the Grimes Gang. "It's a crazy ride," he says. "The rest of the season is mind-blowing, what we get away with. Hold on to your ovaries!"
RELATED: 'The Walking Dead' Star Lauren Cohan Says There's Trouble for Glenn and Maggie
Um, gross. To get that image out of your head, or to stop your ovaries from exploding, we will leave you with one final plea from the man, the myth, the meme behind Daryl Dixon: Leave Carl alone!
"He's a kid, growing up in a zombie apocalypse," Reedus says. "Cut him some slack. We did that to like, Anna Nicole Smith. We hated her and made fun of her, and then she died. And it's like, 'Look like we did.' And I love Chandler. He helps me with my electronic stuff. I'm like, 'How do I get this app to work?' and he's 'Ugh, give me it.'"
Follow Shaunna on Twitter @HWShaunna
[PHOTO CREDIT: Tina Rowden/AMC]
---
From Our Partners:

Young Han Solo Movie: Dave Franco to Star? (Moviefone)

40 Hottest Celeb Twitpics of the Month (Vh1)

'Sports Illustrated' Swimsuit Issue: A Visual History (Celebuzz)