'The Wire: The Musical': A Review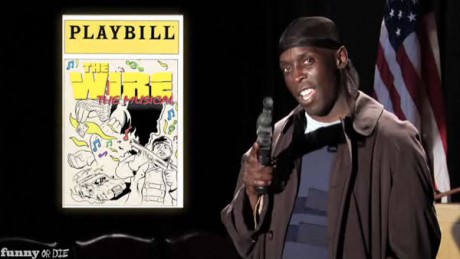 From the company that brought you such productions as the spirited Drunk History and the thought-provoking Between Two Ferns comes the latest masterpiece from Funny or Die: The Wire: The Musical. Based on the groundbreaking HBO series that your friend borrowed on DVD and never gave back, this way off, off, off-Broadway production (Baltimore, to be exact) is Sondheim meets the barrel of Omar's gun. 
Whether you're already a fan of The Wire (in which case, you're in for a real treat as original cast members Michael K. Williams, Sonja Sohn, Andre Royo, Felicia Pearson, and Larry Gilliard, Jr. all reprise their roles from the drama) or know nothing of the complexities of the inner workings of decaying American cities, you're in for a real treat! With such toe-tapping numbers as "Omar's Coming," "Chess is a Metaphor For Drug Deals," and "I'm Just a Burner," this family-friendly musical is for theatergoers who loved Rent, but wanted some more depressing urban issues to sing about. 
While the absence of the real Jimmy McNulty (
Dominic West
) is felt and the exclusion of singing extraordinaire
Lance Reddick
is downright baffling, this may just be Funny or Die's finest work yet. You'll laugh! You'll cry! You definitely won't see David Simon in the audience! Watch the preview for
The Wire: The Musical
here: