'The X Factor' Bootcamp Recap: Battle Round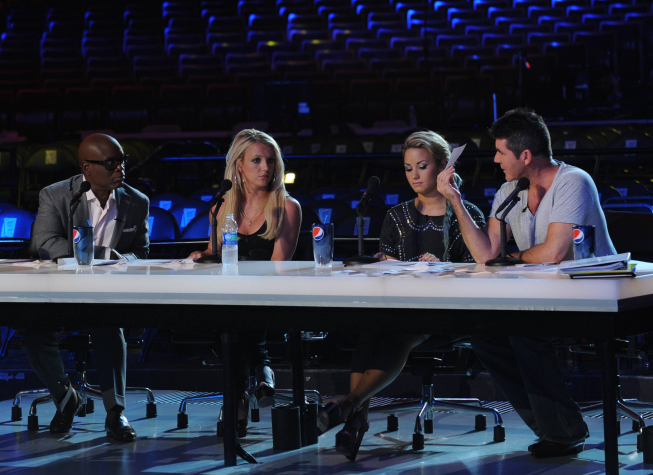 And just like that, it's time for bootcamp — round two! I'm going to keep this one short(ish) and simple since I thought we'd narrow it down to the final 24 at the end of the episode and we didn't, so I'm mighty pissed. Also because I have a fever, so excuse me if none of this make sense. But this is The X Factor, so when does it ever? Life is chaos, and there is no God. Carry on, then.
We began at Miami's Mondrian hotel which, if it's anything like its Los Angeles counterpart, means house music, $15 cocktails, ping-pong and luxurious all-white suites with tons of amenities, like cocaine mirrors. It's really fun, you should totally stay there. Britney Spears does all the time.
Tonight the assignment was torturous for the artists, meaning it was kind of fun for the viewers: They all had to compete in pairs, singing the same song, that they would choose themselves. "It's a nightmare, this task," said Simon Cowell with glee. At the end of the day Next week 24 acts would remain, all of them headed to the exquisite rented mansions they call the Judges' Houses. "Forget about friendships, forget about nerves," Simon said. "It's one-on-one." Britney agreed: "The battle is on for a place at the judges' homes." Well, alright then.
The Battles:
Tara Simon vs. Jennel Garcia: "I'm not the girl who has to try hard single every time," said Tara Simon, before the battle began. Um, I think you're supposed to? Tara basically picked a soft folk ballad to totally f*** over rocker Jennel Garcia, who is about ten years younger than her. It was mean, and I hope it eventually bites her in the ass. The song was "Landslide," and Tara looked like a smarmy biotch when the judges were a little bored by Jennel's understated performance. Then she came out and vamped it up, X-Tina style, while Jennel looked completely miserable. "I don't know why you chose that song, either of you," Simon said. "I'm going to guess, Tara, you chose the song. I feel really bad for you, Jennel." Winner: Draw.
Carly Rose Sonenclar vs. Beatrice Miller: The adorable tweens sang "Pumped Up Kicks." Beatrice's voice was beautiful and understated, while Carly goes went for a more soulful approach. I thought they were both good, and Simon agreed. Winner: Carly, by a hair.
Vino Allen vs David Correy: The two friends/roommates sang "What's Going On" by Marvin Gaye. Their voices are so different, so it was tough for me to judge, but L.A. Reid was having a blast during Vino's rendition. The intense Vino thought he screwed up, and totally melted down offstage. "I just f***ked up, seriously," he wailed. The judges (and his friend David, who actually seems really sweet) disagreed, but Britney wasn't happy with his tantrum. "He scares me a little bit," she said. Winner: Vino, despite the tantrum.
Diamond White vs. Dinah Jane Hansen: Diamond and Dinah, who is 16 but looks 25, sang "What Doesn't Kill You" by Kelly Clarkson. Dinah was a bit too… breathy for my taste. "I loved them both," Britney said, even though Dinah apparently messed up the beginning of the lyrics. Winner: Diamond.
Sister C vs. Lauren Jauregui: The soloist and the sister-trio both sang "These Arms of Mine." Britney thought Sister C were annoying and likable, while L.A. found their harmonies to be "special." Simon agreed. "I think it's safe to say that you two girls don't want them, and they don't want you," Simon said. Winner: Sister C. 
Brandon Hassan vs. Reed Deming (AKA, the "Next-Bieber-Off"): Both boys sang a boring rendition of One Republic's "Secrets." They both impressed the judges, but… Winner: I don't care.
Julia Bullock vs. Ally Brooke: Both girls, who we hadn't seen much of until now, sang "Knockin' on Heaven's Door." The judges said there was one clear winner, and I agree. Winner: Ally Brooke.
Willie Jones vs. Tate Stevens: Willie and Tate, who is about 20 years Willie's senior, sang a country rendition of "Nobody Knows," and Willie forgot the words. Like, all of them. It was awful, because I really like him. Tate was good, if a little bit boring. L.A. asked Willie if he knew the song, and he said he did not — Tate had picked it because he knew it in the '90s, which is, ugh, such a d*** move. Willie was super classy about it, too, but the judges could see right through it. "I think Tate knew what he was doing," Britney said. "I think there was an agenda," Demi Lovato agreed. Winner: Tate, because he knew the words.
InTENsity survivor Arin Ray vs. Normani Hamilton: Arin and Normani — the only boy/girl battle we saw — formed a romantic bond, but InTENsity survivor Arin was careful not to let things get too far. "Maybe afterwards something can happen, but I've gotta work right now," Arin said. So, no hanky-panky behind the scenes (right). They sang "What Makes You Beautiful." Normani has a pretty voice, but she didn't wow me. Arin did better and will probably get through, because he's got that "next Usher" thing going on. Not Chris Brown. I will never say Chris Brown. Winner: Arin. 
Jillian Jensen vs. Latasha Robinson: Bullying-victim Jillian seemed very intimated by Latasha going in, while Latasha was pure bravado. They sang "Stay" by Sugarland, but Latasha totally lost it and forgot the words. "I'm sorry, I can't do it," she cried. Jillian then sang beautifully, while Latasha broke down in the background. It was sad, but we've been told to root for Jillian since episode one, so it wasn't that sad. "I'm so sorry, I knew all the words back there," Latasha cried, when all was said and done. "She really did," said Jillian. "She really did a great job with it." The judges just sort of… stared at her, and Latasha knew it was over. Sad. Jillian was really sweet and supportive, so that's just one more reason to root for her. Britney was in tears at this point. Winner: Jillian.
Freddie Combs vs. Jessie Bryant: Both of them forgot the words. Aww. "Simon just looked like he was disgusted," Jessie said. "All my eggs was right here, man," he said. Winner: Neither.
Paige Thomas vs. CeCe Frey: The main event! Before the big battle, we were treated to a shot of CeCe painting her signature leopard print all over her legs. The ladies sang "Secrets" by One Republic, which Paige was NOT happy about. I felt for her — but you have to be more assertive about your song selection if you're in a contest for $5 million. The judges asked both of them why they deserved to move on. "I don't fit anywhere else except for the spotlight," Paige said, already in tears. "I want to succeed, as bad as I want to breathe," CeCe added. "I want this like the very oxygen that is in my lungs… I will make a believer out of you." CeCe cried fake-looking, Lindsay Bluth-style tears. God, I love her. Paige did well despite not knowing the song, but CeCe was just a little bit better… again. "They look exhausted," Simon said, as the girls walked offstage. "I've never seen anyone look so tired in my life." Britney liked Paige, but Simon liked both of them. "If they have to choose one of the two of us, it has to be me because she messed up," CeCe said. "I didn't — that's great." Winner: CeCe.So, X Factor fans — who do you think won the battles? Who will fight it out at the judges' house round? Let us know in the comments!
Follow Shaunna on Twitter @HWShaunna
[PHOTO CREDIT: FOX]
MORE:
'The X Factor' Bootcamp Recap: CeCe Frey and a Ballad of Broken Dreams
'The X Factor' Recap: A Very Special Episode