'The X Factor' Bootcamp Recap: CeCe Frey and a Ballad of Broken Dreams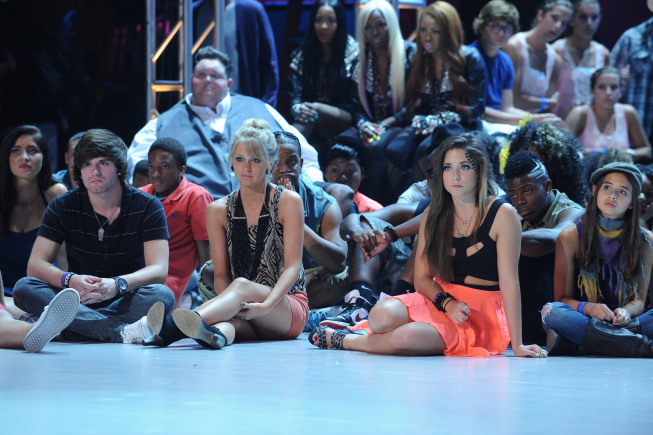 Well, the good news is that the live auditions are finally over. The bad news is that about 100 innocent souls who spent weeks (months?) riding the high of their first audition, thinking they had real, megastar-worthy talent, will have their dreams squashed and never be seen nor nor heard from again. Glass half full! For the sake of full disclosure, I must say that I attended X Factor bootcamp last year, and can confirm that it's a hot, bloody mess. It's the judges and some publicists and a few (lucky?) reporters sitting in a giant auditorium for 16 hours, as countless stressed beyond belief singers belt out R&B hits in the bathrooms, in the hallways, just everywhere. It's like the final moments before opening night of a Lima, Ohio high school musical on meth. There's crying, there's panic, there's judges needing to take a million breaks. It's also kind of boring, because hearing 120 auditions in one day is a lot. Anyway, let's put the Simon Cowell "that's enough" hand up on my rambling and do this thing.
The episode opened up with an at-home montage of the singers that will probably end up making it to the judges' house round, because why would they waste our time? 17-year-old Willie Jones was feeling the nerves in Shreveport, Louisiana, as was 18-year old rocker chick Jennel Garcia in Rochester, Mass. "It's time to grow up," she said. Totally! X Factor bootcamp auditions are right up there with going to college, realizing that boys aren't very nice after you sleep with them, and buying your first car. We all go through it.
We also saw 39-year-old Vino Allen, who I think took the subway to Miami, in New York, and the Cali bros from Emblem3 surfing in Huntington Beach. That's some X Factor juxtaposition for you. Then there was the adorable gay Jason Brock, sexy vocal coach Tara Simon, next-Whitney candidate Diamond White, InTENsity survivor Arin Ray, and bullying victim/ugly-cry aficionado Jillian Jensen. "It's your time now," Jillian's mom ugly-cried. "Do it!"
That's what's so sad about this — each and every one of these contestants, at least the ones under 30, think it's "their time." Because they're young, they're innocent, they haven't been exposed to the gentle indifference of the universe just yet. For many of them, today will be that day — the day they discover that life is chaos, and no matter how much they pray, God simply does not care if they win — even if they were bullied in high school, or share a room with 27 siblings. The world is not the delicious oyster described by their pre-recession-era parents, it's more like a rancid salad prawn that you just have to tolerate. First you have to accept the crappy-ass prawn, then you can go on an existential quest to find meaning and order within the prawn. Did that metaphor make sense? No, it did not. Either way, I hate seeing devastated people on TV. Then why do you recap a singing competition show, you ask? Because I'm trying to sort out my prawn, that's why.
Anywho, the cattle arrived in Miami, and we were treated to a montage of sexy youngsters gettin' their tan on at their luxury resort. Suspiciously, the morbidly obese wheelchair-bound pastor was not included in this shot. Hmmm. Once inside the arena, we were told that half of the contestants would go home by the end of the night. There were currently 120, so in case you're not into the maths, that means 60 dreams would be broken that day.
Next: People sing, people go home. CeCe Frey wins best bitch-face.
First up was 13-year-old cutie pie Diamond White. She sang "I Have Nothing" by Whitney Houston, and my new favorite person ever CeCe Frey looked like she wanted to cut a b***h. It was that good. 21-year-old single mom Paige Thomas admitted that she was afraid to follow that act. But alas, she did't have to. We breezed through probably 50 auditions, and again were only given approximately three seconds with Sister C, who I still think sound pretty good. But according to Britney Spears' face, I am wrong:

We saw a few more rando auditions before the infectiously enthusiastic Jason Brock killed it again, which briefly thawed my icy hard heart. Ditto for middle schooler Carly Rose Sonenclar, who really freaked out that (I'm sorry) AWFUL little girl who sang "Tomorrow" last week. You know, the one with the pigtails and the pink and the sparkles and the alcoholism in ten years.
22-year-old Jessica Espinoza, who wowed the judges with her version of Pink's "Nobody Knows" during the live auditions, was clearly very nervous — and Demi Lovato wasn't helping. "You are one of the only people in this competition that I remembered their first and last name," Demi announced. ("F*** you," replied everybody else.) Pressure! Jessica sang that Whitney/Mariah song from the 1998 animated flick The Prince of Egypt, and this time judges' reactions were less enthusiastic: Britney made her signature stink face, and Demi claimed to be disappointed. "She wasn't as good as I remember," Demi whispered to her cohorts. Ouch! This just goes to show, yet again, that the wrong song choice can ruin everything.
Jennel Garcia, who I still think is our front-runner, showed up on stage wearing what I think was the same fringe-tastic, totally age-inappropriate outfit from her first audition. Her second audition was great, if a bit oversexed. "Crazy sex appeal," said the judges. They were right — I mean, just look at Simon's face:

Also, to get a sense of how the female competition felt about her performance, please see HBIC CeCe Frey:

Next up was Josh Krajcik Vino Allen, who sang beautifully and wowed everyone but Britney. Then we were treated to a montage of sadness, as Johnny Maxwell forgot his lyrics, Jordyn Foley — the "Annie" reject — sang horrifically, and Manny Acosta just blew it. Same goes for Trevor Moran, the fresh-faced youngster who sang "I'm Sexy and I Know It" last week. Aw. I expected great things for him.
But wait, it gets worse: A 12-year-old boy forgot the lyrics and melody to "Total Eclipse of the Heart" and just totally broke down, and the cameras followed him for an insanely insensitive amount of time. "My nerves took over," he said as he stood there, petrified. "I want my mom," he later cried offstage. Oh my God, this is totally the Rachel Crow-cident of 2012. He should probably go to Jillian Jensen for some advice, as every kid he goes to school with will see this, and kids are jerks.
On a lighter note, Emblem3 were confident to the point of laughing at every boy band that went before them, and then they had the nads to come out and sing their take on the freaking Goo Goo Dolls, who just so happen to be one of the worst bands of all time. Demi LOVED their performance, and Simon said that "the guy in the hat" was by far the best singer. Bet he's feeling pretty good about himself tonight. Before Tara Simon hit the stage, we were shown this weird clip of her dancing on a pole and just generally trying to be sexy, and then she showed up wearing a completely unflattering leopard-print dress. She writhed around on stage and vamped her way through "Somebody to Love" and Britney and Demi were… not impressed:

Finally, it came time for what's going to end up being the big, bodacious bootcamp battle of 2012: Paige Thomas versus the aforementioned CeCe Frey. Both girls picked Whitney Houston's "I Will Always Love You," but one was significantly more confident in her abilities than the other. "This is my jam, and I'm going to go out there and work it," said CeCe. "The pressure just makes me perform that much better." It's on! From my perspective, Paige — who went first — struggled a little with the high notes, but it was still a good audition. "The only thing that could potentially get in her way is a comparison to another performer who looks similar," mused L.A. Reid.
That's so funny! Because, conveniently, here she comes — CeCe, whose confidence on a scale from one to ten was at a 25 (her words), came out and proudly announced that she too would be singing Whitney. "OOOOOHHHHH" said everybody. Sing-off! CeCe ultimately sang it better, in my opinion. Her voice had more… texture to it, and she didn't falter at all on the high notes. "One of you actually nailed it," Simon said. He never told us which one, but CeCe had an inkling. "I'm about to bring the CeCe thunder here at bootcamp," she said. Okay.
Then, unceremoniously, it was time for cuts. They played the Requiem For a Dream song while the judges made their choices, which shows you exactly what kind of show X Factor is — a modern-day incarnation of the theatre of the absurd. X Factor cuts are heroin-addict levels of serious. So they split the contestants into three groups, and you know the rejects knew they were doomed as soon as they saw that they were with the kid who forgot the lyrics to "Total Eclipse of the Heart" and cried. The first group had Jennel, Jason Brock, Diamond White, and Paige Thomas, so you knew they would be safe. Simon did his usual "it's bad news" schtick, but I don't even think they fell for it. So 2002, Simon. Group B had Jessica Espinoza, and also that "Annie" girl, so it was a no. Britney was crying, "I'm Sexy and I Know It" Trevor Moran was crying, and it sucked. It always sucks. But X Factor would never end on a bad note (hah), so out came Group C, with CeCe Frey, the morbidly obese guy (Freddie Combs), Johnny Maxwell, Tara Simon and Jillian Jensen. They all went through, and the world would remain their oyster for at least another day.
Follow Shaunna on Twitter @HWShaunna
[PHOTO CREDIT: FOX]
MORE:
'The X Factor' Recap: A Very Special Episode
'The X Factor' Recap: Miss Independent