'The X Factor' Recap: A Diamond Is Forever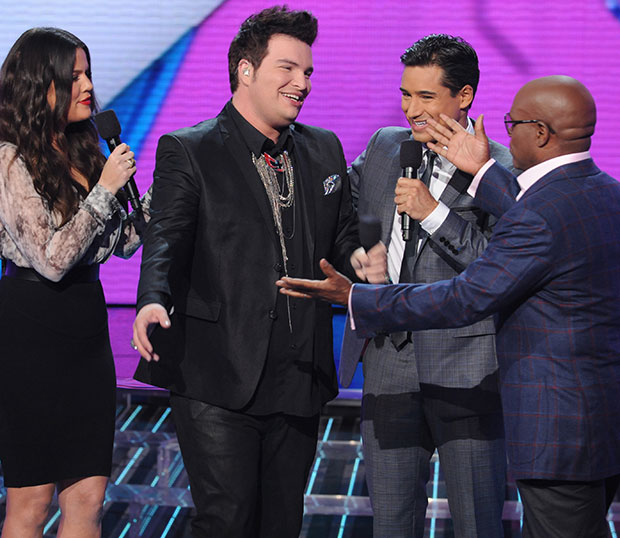 Reality competition results shows can be pretty tedious. The X Factor's results show more so than most–especially when we now know that any eliminated contestant can be brought back at Simon Cowell's whim. But two glorious things happened last night that made the stars in the reality TV firmament shine a bit brighter.
First, we witnessed the return of Pop Tart Britney, as she rocked a spangly, midriff-baring top that made us feel like we were back in the heady days of 2000. And second, Cowell was stumped. I mean, truly puzzled. That's because America voted…and judged his favorite boy-band wannabes, Emblem3, to be as middling as they really are.
Yeah, so that's the big game-changing twist that X Factor's been touting all week. For the first time in singing competition history, we didn't just learn who was safe and who was eliminated. We had the entire lineup ranked based on the number of votes they'd received from the American viewing public. And mostly, I think America got it right. Sure, I might not be a huge fan of gravel-voiced country crooner Tate Stevens, who placed first–I just keep getting visions of Scotty McCreery. Ah!!! The Blandness!–but he clearly deserves a few more weeks in the competition before going back to his day job of laying asphalt. And I certainly enjoy a good Bon Jovi cover as much as the next guy born in the '80s.
To Simon's shock, however, Emblem3 ended up ranked sixth. In an already boy-band saturated music marketplace, his "boys," as he so lovingly called them last week, just kind of fade into all that (literally) white noise. Case in point? The single most successful lad group ever to emerge from any X Factor franchise, One Direction, performed two songs during the results show ("Live While We're Young," and the Ed Sheeran-written "Little Things"), and popped up liberally during the commercials and one queasy skit involving New Orleans Saints' quarterback Drew Brees as the ousted sixth member of the band. Tween girls have only so much lung power, though. Fox, how can you expect them to scream and squeal that much over barely pubescent boys? Obviously, the vote for Emblem3 had been decided well before One Direction hijacked the results show last night, but it's easy to assume that people are just getting tired of guys who can't yet legally drink pop-n-locking their way across a stage.
Of course, Simon was stunned. But not deterred. You could practically see the man who gave us Il Divo mentally going back to the drawing board after Emblem3's poor showing. "I think it's for me," he said of the disappointing results for the chesthair-free group. "Now I've got information and have to change styles." That's right, Simon. It's not your boys' talent deficiencies that are the issue, it's the packaging. Let's see what shiny bow you have them tied up in next week.
Speaking of packaging, the third iteration of The Artists Formerly Known as LYLAS, did quite well, considering their complete lack of creative focus. Now called Fifth Harmony, they placed one above Emblem3 at No. 5 in the rankings. A good name really is everything. And I'm not saying that Fifth Harmony is a particularly good one–it sounds like the name of a forgotten Lou Pearlman-produced group whose sales would have burned bright and brief at Virgin Megastores everywhere in 1999–but it's still infinitely better than their previous picks LYLAS and 1432. The Fifth Harmony girls are cute, but, really, when's the last time there's been a successful girl group? Destiny's Child? If you're willing to stretch the definition of successful, Eden's Crush? Their long-term prospects seem hazy to me.
Then we come to that sparkly-eyed pixie who, like Tinkerbell, gets saved if you clap for her: Diamond White. Seriously, every time I hear that name, I think she's stolen it from a dancer at Tampa's Mons Venus strip club. But even after Cowell brought her back on Wednesday, Diamond only placed fourth! And this is the girl whose elimination Simon said last week was as unfair as Jennifer Hudson's on the third season of American Idol. Well, if it doesn't work out, hopefully she can at least get a job as the new spokeswoman for the late Elizabeth Taylor's White Diamonds perfume.
Perhaps the least surprising thing of all was who actually got the boot. In a total diva-off, guyliner aficionado Jason Brock belted out Bonnie Tyler's "Total Eclipse of the Heart" against CeCe Frey's take on Cher's "You Haven't Seen the Last of Me." Brock was really passionate in the song, but not in a good way. He was more like Meat Loaf singing "America the Beautiful" at a Mitt Romney rally. And so Brock got the boot. "I did it for the gays…and Japan," he said, proving that he only appealed to two of three sectors of the Tastemaker Trifecta–the third being hipsters, who sadly have no interest in Brock and would never have watched X Factor, thus dooming his chances from the start. 
That's about it, folks. Here are the full rankings for your reading pleasure.
1. Tate Stevens
2. Carly Rose Sonenclar
3. Vino Alan
4. Diamond White
5. Fifth Harmony
6. Emblem3
7. Jennel Garcia
8. Paige Thomas
9. Lyric 145
10. Beatrice Miller
11. Arin Ray
12. CeCe Frey
Happy with the outcome?
[Photo Credit: Fox]
More:
'X Factor' Recap: And Then There Were 13
'X Factor' Recap: Behold…the Top 12
'X Factor' Recap: It's A-Live Show!

Lady Gaga Dons Strapless Bikini Top, Waves to Fans in Brazil (PHOTOS)
(Celebuzz)