'The X Factor' Recap: A Very Special Episode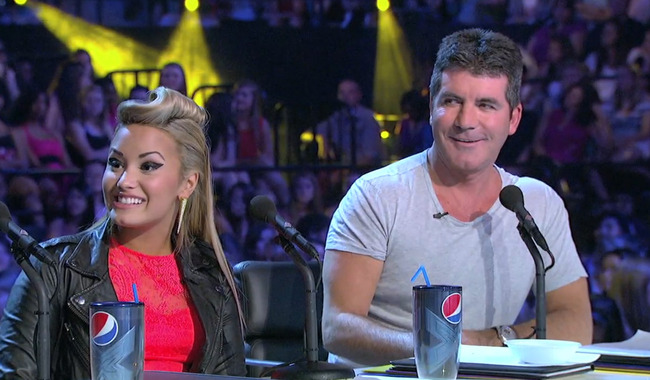 There's a chance that Thursday night's X Factor was secretly written by Nicholas Sparks. Along with showcasing a slew of talented singers, the episode — set in North Carolina — introduced a handful of tear-jerking back-stories.
The night doesn't even ease into the drama: the opening scenes feature 13-year-old X Factor competitor Trevor Morgan unconscious from dehydration and being tended to by paramedics just before he was set to perform. When he finally does take to the stage, Trevor offers an age-inappropriate yet judge-wowing rendition of "I'm Sexy and I Know It," by LMFAO. Yeses across the board, with Simon Cowell even professing that Trevor would "be remembered for this performance."
Following the endangered child story is another Sparksian staple: young love. Sixteen-year-old Owen Stuart, a Buffalo native who has traveled down south to make it big as a singer, pledges his undying devotion to the girlfriend he left back in New York. Owen vows to become famous so that he can make a great life for himself and his lady friend, serenading the judges with "Airplanes" by B.o.B. Stuart receives particular praise for his skilled melding of rap performance and singing, earning three yeses — from Simon, L.A. Reid, and Demi Lovato — but a no from Britney Spears. Says the pop artist, "It was a really good performance, but you didn't wow me." On his way off the stage after the victory, Owen gallantly promises to impress Britney the next time around. A charmer, this one.
And then the real hard-hitter of the night: wheelchair-bound Freddie Combs, weighing 540 pounds (quite a drop down from his all-time high of 920), moves the judges with a story of his near death. Following a heartfelt expression of gratitude for his wife, Freddie belts "Wind Beneath My Wings," written originally by Jeff Silbar and Larry Henley, but most famously performed by Bette Midler. Not only do all four judges offer a resounding yes, but Simon takes things a step further: he encourages a journey for the both of them — he invests his trust and passions in Freddie so long as he is dedicated to one day walking again.
Following Freddie is a talented 16-year-old girl named Lauren, whose rendition of "If I Ain't Got You" by Alicia Keys is perhaps the greatest performance of the night. Still, the sentiment in the stories of her peers help them to stand out more than she does. Despite Lauren's tremendous skill as a singer, viewers will likely walk away from this episode thinking more about some of the other performers.
But back to Simon's profession of dedication to Freddie. You don't generally see a great deal of warmth come out of Simon Cowell — the man has made a lengthy and prosperous career out of a frosty exterior. But if this episode of The X Factor is any indication, he's either softened organically with age, has come to a point in his career where he's comfortable enough with his established fandom to drop the hardass shtick, or is perhaps concerned that the whole motif no longer works — the ratings of this program might well indicate that. As such, Simon seems quite the softy this time around. He's kind and supportive to young Trevor, is complimentary and encouraging to the romantic Owen, and goes above and beyond the requirements of his judging position to reach out to, connect with, and call for more than just a performance from Freddie. Simon seems genuinely interested in the betterment of this man's life, through song or otherwise. It's sweet, and even more so when you consider the source's historical screen presence.
However, he's not still without the edge that built him. The final act of the night faces Simon with an alleged arch nemesis of his: "Tomorrow" from the musical Annie. Twelve-year-old Californian Jordyn Foley claims the stage in a Punky Brewsterian getup — pigtails and all sorts of funky attire — beaming with a childlike merriment that Simon has no real hesitance in deterring. Before she can even name her song choice, he takes a stab at guessing, and is correct. But instead of allowing her to begin her performance unscathed, Simon openly declares his hatred for the song. Not exactly fair to admonish an aspect of a competitor's performance before he or she even begins — that shattering of confidence is bound to affect everything to come.
But Jordyn is no worse for wear. Despite Simon's insistence on harping negatively throughout the number, Jordyn delivers an audience- and judge-wowing rendition of the Annie showstopper. Britney, Demi, and L.A. afford her confident yeses. She will be advancing.
Such is the turnout of Thursday night's X Factor. Who was your favorite act of the night?
[Photo Credit: Fox]
More:
'The X Factor' Recap: Miss Independent
'The Voice' Recap: That'll Do, Pig
'Dancing With the Stars: All-Stars' Recap: Cheetahs and Sequins and Bieber, Oh My!