'The X Factor' Recap: Behold…The Top 12

Actually, Rod Stewart was wrong. The final cut is the deepest. That's what Simon Cowell, L.A. Reid, Demi Lovato, and Britney Spears discovered last night on The X Factor. They pared their teams down to three apiece in anticipation of America getting the right to vote for their favorites on the Fox singing competition next week.
And these cuts were painful. "They're like my children, so it's going to be very hard to choose which one of my children will go home," Spears said while displaying one of her many agonized faces. It's fascinating to see how quickly she's softened since the first few episodes, when her judging style bordered on the witheringly dismissive and monosyllabic. Demi Lovato, on the other hand, has totally embraced her inner Anton Ego, even drawing a rebuke from Simon for her criticism of his teams on Wednesday night. Lovato responded, "I'm not going to apologize, because it's criticism."
No matter what, America needed a Top 12, so each judge had to bid one of their mentees farewell. Here's how they decided.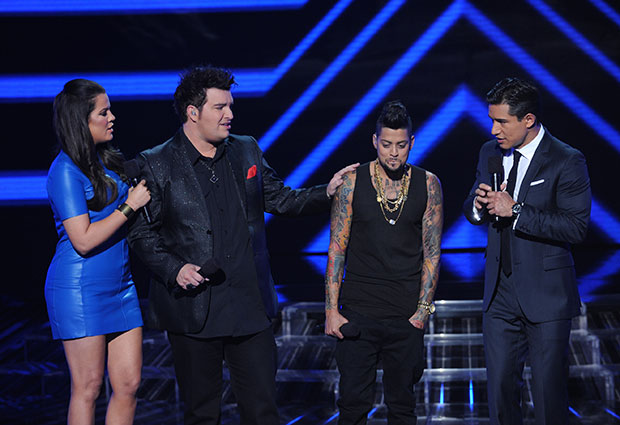 TEAM LOVATO
Demi really got her glam on last night with her 17-24 set. She quickly saved "Don't Call Her Sassy!" Paige Thomas and Bonnie Tyler-esque belter Jennel Garcia.
You know what that meant? CeCe Frey and Willie Jones had to duke it out. Frey performed Irene Cara's "Out Here On My Own," delighting fans of Fame everywhere. Even Cowell, who said that Frey "looked like a clown" on Wednesday, admitted that a day had made all the difference and she had improved tremendously. Gold-chain-bedecked Willie Jones performed Eddy Arnold's standard "You Don't Know Me." And after that forgettable performance, no one ever will. Demi sent him packing.
TEAM REID
So the Epic Records honcho finally admitted that giving J. Lo's "Dance Again" to Adam Lambert wannabe Jason Brock wasn't quite the match made in heaven he intended it to be. But though Reid chose the song, Brock still had to deal the consequences: battling for his continued existence on the show. That's because Reid saved country-twanger Tate Stevens, who really, really doesn't want to go back to his day job pouring asphalt, and also Vino Alan who lashed out at Spears for calling him "boring" and declared his crush on her to be "officially over." Take that, Britney! All you have now is your millions of dollars, your legions of fans, and your youth.
Brock had to battle with David Correy. Folks, this one was decided in the song choices. Brock chose Whitney Houston's Seoul Olympics anthem "One Moment in Time," while Correy chose an eerie, slowed-down take on Kelly Clarkson's "Since U Been Gone." Bye, David.
TEAM SPEARS
Britney didn't have to think too hard about her decision. The audience, chanting wiildly for 13-year-old Carly Rose Sonenclar, pretty much made it for her. She also picked Beatrice Miller, the crimped-hair Jersey Girl chanteuse who seems to have become her personal favorite.
That left Arin Ray, whose heart had already been broken last season on X Factor as a member of the group InTENSity. And Diamond White, who gives Gabby Douglas a run for her money in the pluckiness department. Again, Whitney Houston settled the decision. White's rendition of Elton John's "Sorry Seems To Be The Hardest Word" was no match for Ray's take on "I Look To You." Spears saved all her love for Ray.
TEAM COWELL
Cowell was pretty much rubbing his hands together with dollar signs in place of his pupils Wednesday night after he saw wannabe boy band act Emblem 3. He even called them "boys" backstage! And Cowell doesn't just get chummy with anybody. So they were a lock for a spot. And so was the group Lyric 145, maybe the best act of the competition.
Left to spar against one another were country crooners Sister C and the group 1432, hereby also referred to as The Artists Formerly Known as LYLAS. How could an aspiring music group swamp one incredibly lame name for an even lamer name? But they did. At least their choice in songs is better than their choice of monikers. While Sister C chose the Miley Cyrus ballad "When I Look At You," 1432 chose a harmonized cover of Lovato's own "Skyscraper." "I don't know who that song is by, but you did better than the original singer," the judge said.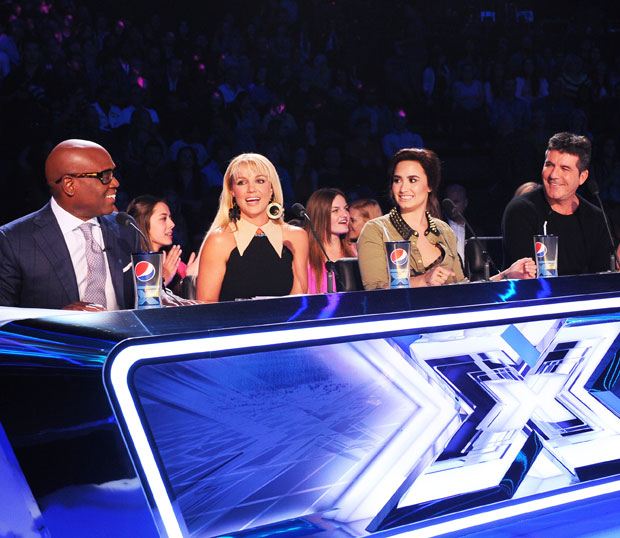 And that's a wrap folks! Here's this season's Top 12:
Vino Alan
Jason Brock
Emblem 3
CeCe Frey
Jennel Garcia
1432
Lyric 145
Beatrice Miller
Arin Ray
Paige Thomas
Carly Rose Sonenclar
Tate Stevens
Now vote in our poll!
<a href="http://polldaddy.com/poll/6658539/">Are you happy with the Top 12?</a>
[Photo Credit: Fox (2)]
More:
'The X Factor' Recap: It's A-Live Show!
X Factor To Hit Us (Baby) One More Time With a Third Season
The X Factor Recap: Who Lived? Who Died?
X Factor: Khloe Kardashian Odom, Mario Lopez Announced as Hosts

Country Music Association Awards 2012: See the Best-Dressed Stars of the Night (PHOTOS)
(Celebuzz)