'The X Factor' Recap: Groups and Young Adults Get Judged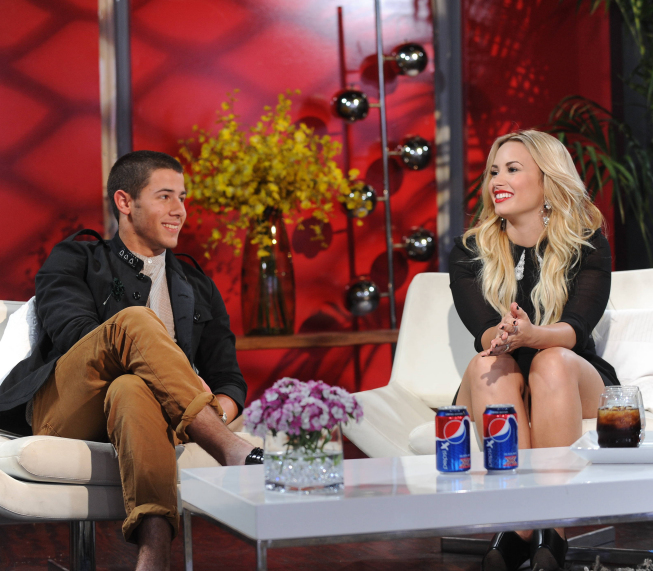 Hello, X Factor fans! Your beloved recapper Shaunna is otherwise engaged this evening, so you're all going to just have to deal with me (Alicia) this evening. So, if my opinions are different and the tone is completely inconsistent with what you're used to, you're just going to have to deal. I promise that I'll try to make it good for you guys though, okay? Let's get right down to business. Music business!
THE CONTESTANT CUTS
The show got started with a symphony of melodrama. The gaggle of folks we knew before had to face the music and brace for the final cut to make it to the judges' house. Everyone was sad! Everyone was nervous! Dreams were in peril! So, of course, the producers decided to spend about 59 years dissecting all the nerves. Overall, the judges seemed to be on the same page, though judge Britney Spears seemed a bit surprised from time to time when Simon Cowell and Demi Lovato didn't agree. No one is really all that surprised by L.A. Reid's crazy hissy fits though, huh?
The singing categories were broken down as such: The Fetuses (Teens), The Incorrigible Youths (Young Adults), The Olds (Over 25), and the groups.
YOUNG ADULTS:
CeCe Frey (duh)
Willie Jones (and his fly ombre jeans)
Fennel Jennel Garcia
Nick Youngerman
Paige Thomas (and her Lauren Conrad tear.)
Jillian Jensen
OVER 25s:
Jason Brock
Daryl Black
David Correy
Tara Simon
Tate Stevens
Vino Alan
TEENS:
Beatrice Miller
James Tanner (what the what is this Baby Bieber doing wearing his sunglasses inside?)
Carly Rose Sonenclar
Diamond White
Reed Deming
Arin Ray
GROUPS:
…and here's where the TWIST THAT'S NOT A TWIST AT ALL happened! They're calling people back to make some GROUPS. Three originally made it as-is, and the last three groups were created by the judges. They are:
Sister C
Dope Crisis
Emblem 3
Playback (new all-boy group)
LYLAS (new all-girl group)
ONE4FIVE with Lyric
So there are our top performers! So now it's time to run over to each judge's not-actually-their-own-house-house to perform and meet their judge and mentor. First, the groups show up at Simon's Miami abode (on a boat!), and some of them even think they're at an imaginary home that people can't actually own. (Fact: they just make these houses for show and they sit empty!) Their mentor is… Marc Anthony? Random-seeming, but okay! Moving on.
For the young adults in LA, everyone is talking about how much they belong in Hollywood! LA the dream-maker, rump-shaker. You know. Demi's fake downtown LA apartment is so edgy with its exposed brick and sparse layout. She's so cool and hip and understanding of the youngs. And Nick Jonas is their mentor. [Insert screaming girls here.] The tweens are off to Britney's house and OMG LOL! Welcome to the 'bu (sorry, Malibu). Who was there to greet them? Mentor and part-time space DJ Will.i.am, y'all! What… a letdown. (Yeah, I said it.)
Now onto the olds heading to L.A.'s house in the Hollywood Hills. And this one is sure to be hilarious because L.A. is P-I-S-S-E-D that he has the non-young, non-sexy, non-easily-marketable group (because the music industry sucks the blood of its young. People over 25 should basically just go live in retirement homes rather than try to be in the music industry. Duh!). Not one to shy away from his feelings, L.A. quickly tells his group about how disappointed he has to pretend he wants one of them to win. Ugh! What a drag! To calm his nerves, L.A. Reid has brought the Biebs himself — aka Justin Bieber for you olds out there — in his corner as mentor. Phew! For a minute there we were all afraid L.A. was going to run off to a nursery school to stave off the vapors.
NEXT: The Performances! So now it's time for our fair singers to sit around looking nervous while Coldplay plays in the background and voiceovers speak to nerves and dreams. The two categories performing tonight include the young adults and the groups. The best part is everyone can either hear and/or see the other performers, so they're all sizing each other up and stressing each other out. Drama is a wonderfully hilarious thing, is it not?
Young Adults:
Jennel: "I Kissed A Girl" by Katy Perry: Prior to her performance, Demi told her not to over-perform. She was alright, though! Nick liked her, but Demi tis afraid her advice "dimmed" Jennel's light.
Willie Jones: "Nobody Knows" by Babyface: An yes, the song he bombed at bootcamp. It's much better this time. Yay Willie! Nick and Demi both think he's a star, but he has to figure out if he's R&B or country. Why can't he be both? Sing some R&B with some twang and I'm on board, y'all. It's original, and I think Willie is just that.
Jillian Jensen: "Gravity" by Sara Bareilles: Jillian and Demi have a connection that we all saw before, but she still feels like she needs to prove herself. Her rendition of "Gravity" was emotional and lovely at points, but hokey and try-too-hard at others. Nick thinks she sexy (cue fainting, jealous teen girls everywhere), but Demi thinks Jillian over-did it and that her performance didn't feel genuine.
Nick Youngerman: "Tick Tock" by Ke$ha: Lord forgive me, but I find this kid smarmy and just generally sort of annoying. He is like a mosquito in the ear. Somehow, Nick enjoyed it, though? Demi couldn't tell if she loved it or was annoyed by it. (The right answer is "annoyed" girl, c'mon.)
Paige Thomas: "Turn Up the Music" by Chris Brown: Paige is wearing what can only be described as a blue bow diaper and is really amping up her Rihanna schtick. Her slowed-down rendition of "Turn Up the Music" is dramatically different, but reeked of insecurity. Demi explains to Nick that at first people were blown away by her, but now she's insecure and people don't like it. Nick encourages Demi to try and get that old Paige back.
CeCe Frey: "Sexy and I Know It" by LMFAO: Her version of this song is downtempo and kind of weird? Maybe even awkward? (Forgive me, I'm one of the olds and so I barely understand these LMFAO characters.) But Nick and Demi both seem to like it, especially since CeCe really took Demi's advice to tone down the confidence to heart. But is it enough? CeCe's not sure and she's just tired of holding it all in YOU GUYS. Life is very hard for CeCe.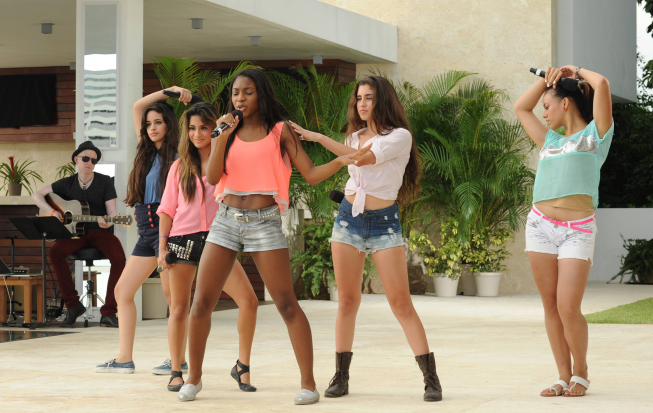 Next up are the groups. Simon and Marc are just chilling by the pool, watching all the very tanned people of Miami zip around on their jetskis. That's all you're legally allowed to do in Miami. At least that's what I've heard. From time to time, though, Marc and Simon take a break and watch the groups perform! It all seems very relaxed and lovely… until you have to actually listen to the groups, and you realize there's basically two good ones total. Let's just say that the top bananas were pretty obvious.
Groups:
Playback: "Rich Girl" by Hall & Oates: Marc is not amused of the tiny boys who showed up and butchered such a quality song. "I just found myself looking for planes," Marc quipped after to explain his pure and utter boredom. Did I mention they rapped at one point, too? Yep. They rapped a verse of "Rich Girl" because young people. (Damn it, these f**king KIDZ! I AM OLD, WHATEVER.) Simon disagrees though, and Marc is all "IS THAT RIGHT?" in a very hilariously confused manner. I am on Team Marc on this one, y'all.
Emblem 3: "Every Little Thing She Does" by The Police: Nice harmonies from the world's most Californian boy band. Also, was there a memo I missed that required every single f**king song to have a rap in the middle? WHY WHY WHY, AMERICA? Why can't a song just be a song? Am I 900 years too old to be recapping this? This is a fun song, it doesn't need a rap! Mine ears! Poor Sting is going to have to tantric sex himself into a coma to recover from this. Simon flat out told the group that they "lost their way." The shirtless dude-wonder-brah messed up. Woops. Marc likes them, though? Confusion abounds.
Sister C: "Leavin'" by Shelby Lynne: Britney had previously said that she thinks they're annoying and, sorry, but I totally agree. They're like Minnie Mouse's traveling sister country act. The guys like them, though. Because blonde. Their voices are fine in that "they sound like every other middle of the road country girl" sort of way. Am I being too harsh? Woops. Simon worries if anyone would vote for them (No, probably not.)
Lyric and ONE4FIVE: "Party in the USA" by Miley Cyrus: This pairing was a masterstroke on Simon's part. The performance is fun! It's breezy and interesting, but not without talent. I worry about Lyric ruining her eyesight wearing that eyepatch all the time. I hope she visits her optometrist regularly. Marc and Simon think she's a star. They are probably right.
Dope Crisis: "Super Bass" by Nicki Minaj: This is just weird. It wasn't bad, it wasn't good. It was just a thing that happened for a few minutes. "Can you imagine if that's all they had?" Marc quipped after Simon commented that he thought the group gave their all.
LYLAS: "Impossible" by Shontelle: Now, world's dumbest name ever, right? Lucky for these ladies, we can let it slide, since they were definitely the best singing group of all of them. Marc and Simon have a flicker of excitement in them that they didn't have for any of the other groups at all. It's crazy that Simon could just tell these girls would be great together. It should be really interesting to see how they evolve.
So that's your Wednesday night of The X Factor! What did you think of the performances? Agree or disagree? Sound off in the comments!
[Photo Credit: FOX]
Follow Alicia on Twitter @alicialutes
More:
'The X Factor' Bootcamp Recap: Battle Round
The X Factor' Bootcamp Recap: CeCe Frey and a Ballad of Broken Dreams