'The X Factor' Recap: Heartbreak All Around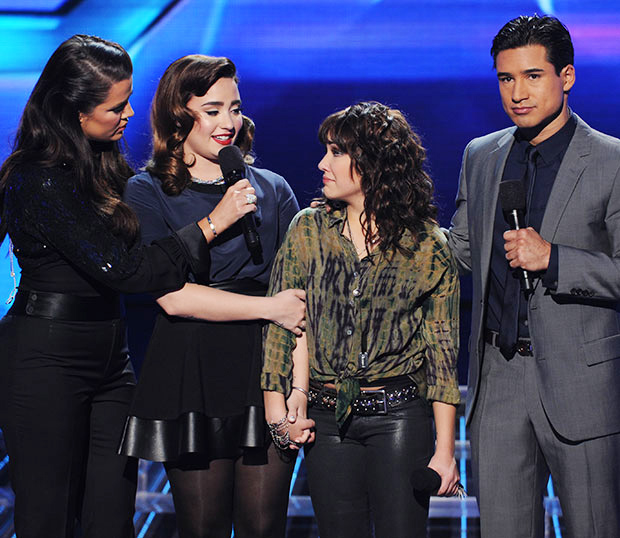 Oh, how cruel the singing competition gods are. Not only did their wrath result in the elimination of a relatively promising crooner and a horribly mismanaged group last night, but with his exit last week they denied Jason Brock the opportunity to shine his brightest in a themed night all but tailor-made for him on Wednesday: Diva Night. Somewhere in a more guyliner-friendly alternate universe he totally rocked the house, placed high in the ranking, and emerged as a new contender to win it all. Instead, we're left to settle for fifth-place finisher CeCe Frey, who previously seemed one pitchy note away from elimination, for our power-ballad fix. Sigh.
It's fascinating to see how Simon Cowell's priorities have changed in the decade since American Idol first launched. Now, you could easily argue that the black T-shirt aficionado has always been more a marketer than a producer, more interested in the packaging of his artists than their actual talent. But back in the early days of Idol, he'd routinely diss packaged popstars like Jessica Simpson, and even his current judging partner Britney Spears, for being all-style, no-substance products. Now he seems to have little to no interest in vocal skill at all. Exhibit A: His shameful choice of Paige Thomas over Jennel Garcia.
But I'm getting a bit ahead of myself. First of all, Lyric DaQueen and her funky crew, Lyric 145, got the ax. This is a perfect example of how out of touch Cowell & Co. really are when it comes to hip hop. When Spears made her introduction to television reporters earlier this year and talked the music biz, her declaration of love for rap at the time sounded as if there hadn't been any evolution in the genre since Cypress Hill. Sure, the very concept of a rapping girl-group may be inherently anachronistic, but Cowell seemed hellbent on reinventing Lyric 145 as a '90s Salt 'n Pepa-style troupe. If Don Cornelius hadn't passed away last year, he'd undoubtedly have loved the result. So it was obvious that, in the era of motor-mouthed rappers like Nicki Minaj, Lyric 145 seemed hopelessly out of date. Maybe they should next try out for amateur night at the Apollo.
It didn't help that, according to Lyric DaQueen, the group's original number was unceremoniously nixed at the last minute by Fox. Instead, they ended performing an oh-so-obvious medley of Queen's "We Will Rock You" and Katy Perry's "E.T." Ooh, they both have a stomp-stomp-clap beat, so they're just begging for a mashup, right?! "We didn't get the opportunity to show what we really had," Ms. DaQueen said. "We had original lyrics, and we had a hip-hop song that got snatched away from us at the last minute."
That left Demi Lovato's mentees, Paige Thomas and Jennel Garcia, to fight for their X Factor lives. Okay, it didn't help Garcia that she sang Hoobastank's "The Reason," while Thomas belted Coldplay's "Paradise." But in every respect, this was a vocals vs. marketing matchup. A showdown between art and product. And product, Thomas, won. Reid and Spears quickly decided to send Garcia home, but Cowell, though he knew his decisive vote would assure her exit, decided anyway to put pressure on Demi to make the reality TV equivalent of Sophie's choice. And she chose…wisely. Recognizing more actual singing ability in Garcia, Lovato chose to send Thomas home. Not that it mattered, because Simon declared Thomas to have more "star power," and cast the deciding vote that sent Garcia packing. Considering that peoples' career aspiration were hanging in the balance, it seemed like a cruel and unnecessary stunt–but sadly that kind of thing seems to be X Factor's stock in trade.
In the midst of the heartbreak, Taylor Swift unfurled her whole cheerleaders-and-unicorns thing by performing "State of Grace." If only Simon had listened to Swift, when she said, after Mario Lopez asked her for her take on reality TV show judging, "No matter how tired you are, or how bad a day you have, be nice to people."
And that's a wrap, folks. Here's the current rankings of the Top 10.
1. Tate Stevens
2. Carly Rose Sonenclar
3. Vino Alan
4. Emblem 3
5. CeCeFrey
6. Fifth Hamony
7. Diamond White
8. Beatrice Miller
9. Arin Ray
10. Paige Thomas
Like me, were you disappointed with the outcome last night? And can anything stop Tate Stevens from winning it all at this point?
Follow Christian Blauvelt on Twitter @Ctblauvelt
[Photo Credit: Fox]
More:
Britney, Demi, Simon, and Chloe on the Emotional Night at 'X Factor'
'X Factor' Contestants Emblem3, Vino Alan, and More Talk Female Fans, Love, and Relationships