'The X Factor' Recap: It's A-Live Show!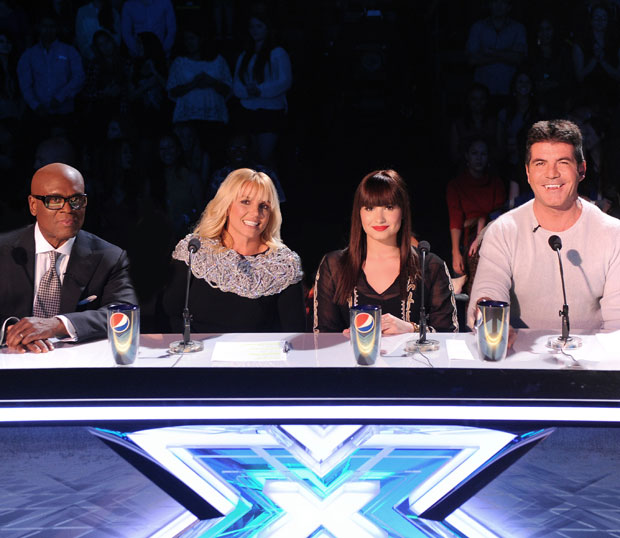 While most of the world is out celebrating Halloween and working their way into a serious candy coma, I am sitting here at home on my couch watching the very first round of live performances on The X Factor (or as my friend Dr. Frankenstein would put it — "It's A-LIVE show!).
So now that we've established how super cool I am, let's break down just how well the Top 16 contestants fared this week under the pressure of a live studio audience and Simon's fake vampire fangs. (Now that's spooky.) And hey — fans were also given their first look at the show's new hosts Mario Lopez and Khloe Kardashian. And Khloe was actually really good. (Even spookier.)
Find out how your favorites stacked up below:
Paige Thomas (Young Adults – Team Demi Lovato): Kicking off the night was Paige, who decided to sing "What is Love" by Haddaway in keeping with this week's incredibly vague theme "Made in America." (???) So I guess everything except the Macarena is fair game. Demi wanted to shave her head to make her look "more adventurous." She also referred to Paige as being "not the best vocalist," which – call me crazy – but that doesn't inspire much confidence in a singing competition, right? Regardless, she received a great deal of praise from the judges, who admired her confidence and edgy look. Britney even said, "I think you're a true star." Of course, Paige probably had Britney at the whole head-shaving part.
Arin Ray (Teens — Team Britney Spears): Next up was Arin, who sang "You Keep Me Hanging On" by The Supremes. It wasn't terrible by any means. In fact, the guy definitely has some great singing potential — however, it felt more like an attempt at a Chris Brown impersonation more so than anything else. He's trying, but he's just not quite there yet. Simon felt Britney put too many distractions around him for his first time out (i.e. the sexy set of girl dancers). But overall, he thought Arin possessed a great deal of swag and was very impressed.
David Correy (Over-25 — Team L.A. Reid): David chose to sing, "Your Love is My Love" by Whitney Houston. He has fun with it and really knows how to get interactive with the crowd (though this show's audience is probably the easiest group of people to get riled up). Personality-wise, we couldn't really ask for more, but he is somewhat forgettable in the vocals department. Simon called the whole thing a bit "desperate" and felt he needed to tone everything down. Oh Simon, how I've missed your snarky ways.
Sister C (Groups — Team Simon Cowel): Sister C — consisting of Carli Rayne Manchaca, Celbi Manchaca and Cirby Ryan Manchaca — performed "Hell on Heels" by Pistol Annies. These girls definitely have a great harmony together and know how to hit all the right notes, but they do have one very big problem: Nobody likes them… or at least that's how they feel. One of the girls said that they often get portrayed as "mean girls." Of course, this then led to me trying to figure out which of them was Regina George, which was Gretchen Wieners, and which was Karen Smith. So thanks for that. Meanwhile, L.A. and Demi failed to be impressed and found the performance incredibly stiff. Oh groups — they never fare well in competitions like these. That is so not fetch!
Jennel Garcia (Young Adults — Team Demi Lovato): Jennel chose to sing "Home Sweet Home" by Carrie Underwood and managed to really kill it (in a good way). She nailed all the vocals and completely made the song her own. L.A. said, "You just convinced me that you could win." But you had to appreciate Simon's jab at Demi when he said that she's trying to transform Jennel into a mini version of herself. It's kinda true though, especially after that makeover.
Diamond White (Teens — Team Britney Spears): Miss Diamond was up next, singing Train's "Hey Soul Sister" with pretty impressive results. For a 13-year-old, this girl sure knows how to handle some serious pressure and make it look easy. Are anyone else's middle school years looking ridiculously unimpressive right now? L.A. found the performance a little mechanical at the beginning, but Demi countered saying that she has one of the best voices in the competition.
Vino Alan (Over-25 — L.A. Reid): Vino attempted Nickelback's "Gotta Be Somebody," which got off to a pretty rocky start and didn't really improve much from there. Of course, the judges were all over him for it. Demi said she has a hard time seeing him as a pop star, while Simon took the less-harsh approach (for once) and remarked that the song choice was to blame, not his talents as an artist. His comment to L.A., and I quote: "You completely bleep, bleep, bleeped it up." I'll let you fill in the blanks (or rather, the bleeps) for yourself on this one.
Lyric 145 (Groups — Team Simon Cowell): Lyric 145 — made up of Julien Joseph, Jemelle Joseph and Lyric-Bianca Barnes — did a highly entertaining mash-up of Will Smith's "Boom! Shake the Room" and "Gangnam Style" (seriously, how is this theme "Made in America?"). Anyway, it's fun and different, but felt more like something I would see performed at a karaoke bar. But the crowd loved it, the judges loved it (except for L.A. but he doesn't like anything that isn't part of his own group), so what do I know, I guess.
Next: One act makes the ladies swoon while another makes Mario Lopez blush.Cece Frey (Young Adults — Team Demi Lovato): Demi is all about the makeovers this week. Thinking that Cece gets portrayed as a diva, she decided to change up her look (you know, because outward appearances reflect your inner personality). She ended up singing "Because the Night" by Patti Smith. You can definitely see this girl throwing a great concert: the outfit, the stage presence, all of it was great. However, the judges felt the vocals left little to be desired. Even Demi, her mentor, said she felt she could've been stronger vocally. But all-in-all it was a memorable and enjoyable performance.
Tate Stevens (Over-25 — L.A. Reid): Tate selects Craig Morgan's "Tough" as his song of choice and though I'm not a huge country fan, I was really impressed with him. He's sweet, he's talented and just so darn likable — which is something the judges seemed to agree on (for a change). Demi remarked, "You don't need dancers or a band. You stand on your own." Couldn't have said it better myself. This guy is definitely a keeper.
Beatrice Miller (Teens — Team Britney Spears): Beatrice sang Jason Mraz's "I Won't Give Up," despite the fact that she openly admitted in the intro package that she didn't think it was a right fit for her. (I bet crimping her hair wasn't her idea either, Britney.) Unfortunately, she's correct. The performance is a little rough, which sucks because I hate to criticize the youngins like that, but it just didn't suit her very well. However, the judges seemed optimistic, so hopefully she'll be given another shot to really showcase her talents. Think of the kids, mentors. They gave up trick-or-treating to do this!
Jason Brock: (Over-25 — Team L.A. Reid): Jason decided to get in touch with his inner JLo by singing her recent hit song, "Dance Again." It… was… brutal. Simon called it "utterly horrendous" and I have to agree with Mr. V-neck on this one. It was a poor song choice and did nothing to highlight his voice. Plus the Vegas showgirls and floor fog were all a little too much for my taste. Of course, L.A. loved it (surprise, surprise). But on a positive note, Jason did manage to make Mario Lopez hilariously uncomfortable by asking if he could pinch his butt. Yay for live shows!
1432 (Groups — Team Simon Cowell): Formerly known as LYLAS and made up of Ally Brooke, Camila Cabello, Normani Hamilton, Dinah Jane Hansen, and Lauren Jauregui, the group decided to sing Taylor Swift's new hit "We Are Never Ever Getting Back Together." It's always hard for me to know how to feel with songs like this. T-Swift is just so charming and adorable that she can make even the most mediocre songs seem great. But taking her out of the equation sometimes just leaves a mediocre song…like this one, for instance. Demi remarked that they need to come out of their shells a bit more and learn to work better as a group. Of course, they've only been together for three weeks, so perhaps they deserve a little leeway…at least for this week.
Willie Jones (Young Adults — Team Demi Lovato): Up next was Willie who sang "Here for the Party" by Gretchen Wilson. At first it seemed like an odd song choice, but he managed to turn it into a really great performance. His charm and deep voice (Bing Cosby anyone?) make him quite the memorable contestant. Britney loved it; Simon thought it was silly — you know, the normal drill. But I hope he sticks around a bit longer. This guy's got potential.
Carly Rose Sonenclar (Teens — Team Britney Spears): Then came Carly, who sang FloRida's hit song, "Good Feeling," to mixed results. There's no doubt this girl is a powerhouse singer, but she had absolutely no energy during the performance. It was almost like she wasn't happy to be there, and the judges could sense it. While Demi thought that maybe it just isn't her time to shine yet, Simon disagreed and thought she just wasn't connecting to the song because it was the wrong choice for her. He said it would be criminal if she leaves the competition. And coming from Simon, that should definitely mean something.
Emblem3 (Groups — Team Simon Cowell): Closing out the show was Drew Chadwick, Keaton Stromberg, and Wesley Stromberg, who took on Matisyahu's "One Day." I can totally see these guys becoming the next hot boy band someday. If you listen closely, you can already hear millions of teen girls squealing in delight. And, man, these guys are good-looking. Demi even admitted that she can't look at them when they sing for fear of flirting with them (get in line, Demi). Even L.A. had nothing but praise to give them. I have a feeling these guys will be sticking around for a long time. And on behalf of every girl in America, I thank you for that.
That's all for now, folks, but be sure to tune in Thursday night for the season's very first live elimination round, where the judges will decide which 8 acts are safe and which 8 acts will need to sing for survival. Either way, by the night's end, 4 acts will be sent packing. Who will it be? Sound off on your thoughts in the comments below!
Follow Kelly on Twitter @KellyBean0415
[Photo Credit: Ray Mickshaw/Fox]
More:
X Factor To Hit Us (Baby) One More Time With a Third Season
The X Factor Recap: Who Lived? Who Died?
X Factor: Khloe Kardashian Odom, Mario Lopez Announced as Hosts

Heidi Klum Cancels Her Annual Halloween Party Due to Superstorm Sandy
(Celebuzz)