'The X Factor' Recap: Let's Give Thanks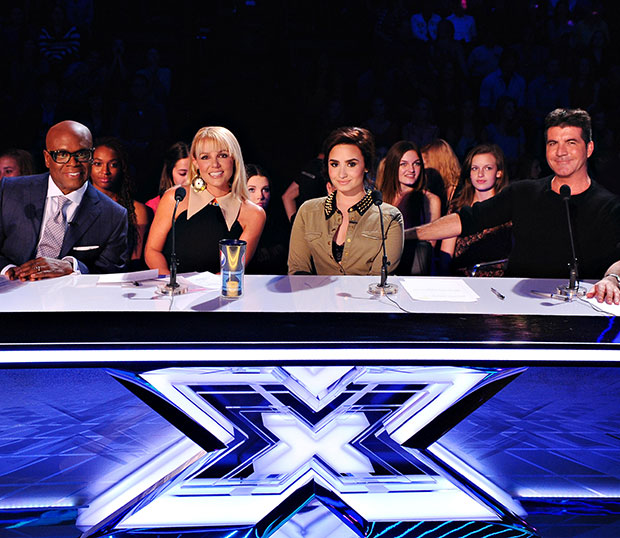 Well folks, the Thanksgiving season is officially upon us, which means we're in for a solid 24 hours of holiday feasting and family bonding, followed by copious amounts of drinking (those reunions can be taxing!). But before this annual display of merriment commences, The X Factor provided fans with an X-tra special array of holiday-themed performances (you know, because nothing says "let's give thanks" like watching Simon Cowell creepily wink at you from your television screen). Happy Holidays, everyone!
The Top 10 contestants belted out a variety of heartfelt tribute songs, all centered around people they are most thankful to have in their lives. Warning: massive amounts of crying ahead. Proceed without tissues at your own risk.
Tate Stevens (Over 25 — Team L.A. Reid): Once again, Tate found himself the leader of the pack, earning the highest number of America's votes for the second week in a row — and this week he made sure not to live up to his reputation. Dedicating his performance to his dad, Tate kicked off the night by singing "I'm Already There" by Lonestar — a classy song for a classy guy. His vocals were a little shaky at times, but only because it's such an emotional song, so we can't really fault the guy for that. Demi and Simon felt it wasn't quite up to par with his previous performances, but Simon assured Tate that there's "not a cat in hell's chance" that he'll be going home because of it. Comforting!
Diamond White (Teens — Team Britney Spears): Next up came Diamond's dedication to her mother where she sang a powerful rendition of Celine Dion's classic hit, "Because You Loved Me." Talk about an emotional overload, this girl's outstanding vocals had everyone reaching for one or two (or twenty) tissues. She believed every word she sang, making the performance all the more powerful. The judges were stunned; everyone was crying — basically, she nailed it. Hands down, the single best performance of the night.
Emblem3 (Groups — Team Simon Cowell): Then came our favorite future boy band, Emblem3, who opted to give thanks to their Youth Leaders by singing "Secrets" by OneRepublic. It's nice to see a different side to these guys — something slower and a little more tame. L.A thought that it lacked emotion, but, as always, the crowd went wild and loved everything about them. Needless to say, their performance gave Simon (and millions of young girls across America) something to be very thankful for.
Arin Ray (Teens — Team Britney Spears): In keeping with this week's Thanksgiving theme, Arin chose to pay homage to his older brother by singing "Hero" by Enrique Iglesias. Like many of the other tributes this week, his performance was incredibly moving, however, the song choice didn't seem to sit well with the judges. Demi found it boring while Simon remarked that it still doesn't feel like Arin's singing the songs that he wants to sing — almost like he's being trapped in a cage by someone (in other words…it's all your fault, Britney! Let the boy sing what he wants!). But don't worry, Arin — Mario Lopez wasn't without some words of encouragement: "Good job, buddy!" Because everybody is apparently now 11 years old.
CeCe Frey (Young Adults — Team Demi Lovato): Continuing this weep-a-thon was CeCe, who dedicated her performance to her deceased older sister by singing Bette Midler's "Wind Beneath My Wings." Yup, definitely another tear-jerker. Seriously, I was crying way before the first note was ever played (those package reels really know how to pull at your heartstrings). Emotionally and vocally, it was a sensational performance. Forget criticism — anything beyond absolute praise would've seemed cruel.
Fifth Harmony (Groups — Team Simon Cowell): Fifth Harmony decided to pay tribute to God for bringing them all together by singing "I'll Stand by You" by the Pretenders. There was lots of swaying and even more harmonizing, which left the judges with nothing but good things to say (because, come on, who's going to criticize a group singing a tribute to God?). Well done, ladies.
Beatrice Miller (Teens — Team Britney Spears): Beatrice was up next and sang Snow Patrol's hit song, "Chasing Cars" in honor of her younger, twin sisters who mean so much to her. It was yet another great performance that left fans emotionally drained and full of tears. And while Demi felt like Beatrice isn't really progressing with her performances, the rest of the judges seemed perfectly content to keep things as is. We'll just have to see if America feels the same.
Vino Alan (Over 25 — Team L.A. Reid): Vino dedicated his performance to the military and appropriately sang "God Bless the USA" by Lee Greenwood. As always, his vocals were extraordinary, which led to him receiving a standing ovation from both the audience and the judges. But even if it wasn't a top notch performance (which it was), how do you impart criticism to someone paying tribute to our country? Especially on the day right before Thanksgiving? You don't — well done Vino.
Paige Thomas (Young Adults — Team Demi Lovato): Paige paid tribute to her adopted mother by singing "Everytime" by Britney Spears. Simon felt her performance was moving, but might not be enough to get her out of the No. 10 spot this week, making her in danger of elimination. Even Demi found Paige's performance a little pitchy and off-key at times, but again — that's only because she's singing about such a sensitive topic. Don't make them sing emotional tributes if you don't want them to get affected by it.
Carly Rose Sonenclar (Teens — Team Britney Spears): Closing out the show was Carly Rose who sang "Somewhere Over the Rainbow" in tribute to brother. I'm not exaggerating when I say that it…was…incredible. I'm never going to get over the fact that this girl is only 13 years old. She's just too good! L.A. called her a force of nature while Demi referred to her as an alien (but it's okay because she loves aliens). Simon said she's blown the completion wide open and could very well end up winning this whole thing altogether. No doubt about it, this girl can sing!
What did you think of this week's round of performances? Who runs the greatest risk of elimination and who deserves to stick around? Sound off on your thoughts in the comments below and tune in for Thursday night's results show where two more acts will be shown the door.
Follow Kelly on Twitter @KellyBean0415
[Photo credit: Ray Mickshaw/FOX]
More:
The X Factor Recap: Heartbreak All Around
The X Factor Recap: And Then There Were 13
The X Factor Recap: Behold…the Top 12

Prince William Shares Personal Snapshots of Royal Air Force Life (PHOTOS)
(Celebuzz)