'The X Factor' Recap: One is the Happiest Number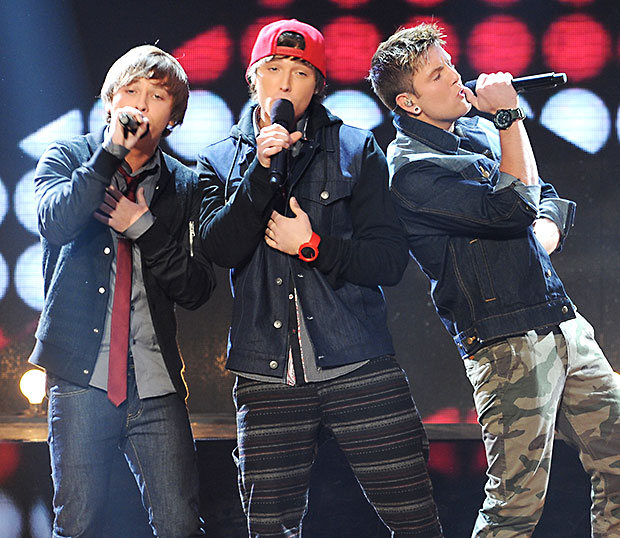 What does it mean to be No. 1? For athletes, it could mean being the fastest runner; for scientists, it could mean having the brightest idea — and in the case of many reality singing competitions, it could mean being talented enough to sing at the level of the greats. Last night, The X Factor made sure to put this theory to the test by asking the Top 8 contestants to perform songs that have hit No. 1 on the billboard charts throughout the years — courtesy of some of the greatest artists in music history. (Rock, please meet Hard Place)
So while many of you are still riding your Boy Meets World reunion high (as you very well should be), these remaining acts have been hard at work trying to replicate a legendary singer's work of art. No pressure, though!
Find out who came out on top and who's in danger of singing their swan song below!
Diamond White (Teens — Team Britney Spears): Diamond started the night off by singing Whitney Houston's "I Wanna Dance with Somebody." So far in this competition, Diamond has been at her strongest, vocally, with ballads, but she opted to go with an upbeat tempo this week and just have some fun on stage. Like always, her vocals were decent and she definitely seemed a lot more confident than she has in previous weeks. However, in my opinion, it felt like something you'd hear more in a karaoke bar than in an actual singing competition. Her voice just seems stronger with more serious songs that center more on vocals and less on theatrics… at least for the time being. L.A. gave her an A for effort, but a B for execution. Demi, of course, loved it because it's Britney's act and therefore should only be met with praise. Surprisingly, Simon also found the performance impressive and really couldn't praise her enough. So hey, what do I know?
Vino Alan (Over 25s — Team L.A. Reid): Vino chose to sing "You've Lost That Lovin' Feeling" by the Righteous Brothers, which unfortunately led to less than righteous results. It's not that he isn't a decent singer because he certainly is. It's just that he performs the same kind of songs week after week. There's no risk involved and it's leading to very little reward, at least from a listener's perspective. He's good… but not $5 million worthy. And the judges seemed to agree. Britney and Demi said he needs to freshen up his routine and do something a little different for a change. Simon remarked that he didn't like the song choice and thought the performance, as a whole, just didn't work. Agreed!
Paige Thomas (Young Adults — Team Demi Lovato): Paige opted to go against the grain (and against her mentor's advice) this week and performed a mash-up combo of Tina Turner's "Private Dancer" and Rick Astley's "Never Gonna Give You Up." Normally, I wouldn't expect two songs such as these could go together in any way, shape, or form. Paige, however, seems to make it work, which goes to show why we should never judge a book by its cover… or in this case, song title. After all, you wouldn't think such a deep voice could come out of Astley's small frame, but it totally works — and the same goes for Paige's performance. It's a unique, bold choice, and something completely different from what she's been doing recently. (But on a side note, is it cheating that she got to pick two No. 1 hit songs instead of just one? Who's in charge of the rules with these things?) Anyway, the risk certainly seemed to pay off tenfold. L.A. called it her best performance by far, while Simon said she looked and sounded like a true pop star. He also remarked that Paige should be making a lot more decisions about her performances from now on. (That jab was meant for you, Demi.)
Fifth Harmony (Groups — Team Simon Cowell): Before their performance began, we learned (courtesy of the reel package) that one of the girls in the group, Ally, lost her grandfather this past week, leaving the group pretty emotionally drained. So in honor of this unfortunate tragedy, the girls appropriately chose to sing "Stronger" by Kelly Clarkson. It's moving and powerful with equally strong vocals for all five of them. At the end, they all gathered around Ally in a huge group hug, which was absolutely sweet and adorable. The only thing that needed a little work was their dance moves. They stood in one place the entire time, even though it was an upbeat song and kinda requires some movement. Other than that, it was great. L.A., however, proved that he is truly heartless by saying that he was expecting something groundbreaking and it just… wasn't. Terrible. Everyone else loved it, though Demi agreed that they need to move around more during upbeat tempos, claiming that they looked a little awkward just standing there.
Carly Rose Sonenclar (Teens — Team Britney Spears): It's official, this girl can literally sing any song in the world. The 13-year-old contestant dared to attempt something that even the bravest adult singers cower away from: an Adele song. Carly busted out a beautiful rendition of the British songstress's No. 1 hit song, "Rolling in the Deep," leaving both the audience and the judges sufficiently wowed. Seriously, how is this girl able to sing about love and heartbreak so well? She's too young to be dating let alone knowing the pains of breakups! Simply incredible. Everyone else might as well go home right now. When you conquer an Adele song, you deserve a $5 million recording contract. L.A. said it wasn't her best performance in the competition (which is completely false), but he countered by saying that even her second best is better than everybody else's first best (which is completely true). There's no doubt in my mind that this week is going to find Miss Carly Rose rolling in some serious votes.
Tate Stevens (Over 25s — Team L.A. Reid): Next up, Tate opted to tackle Keith Urban's "Somebody Like You." And even though his country crooner approach could be seen as highly predictable, that didn't stop his performance from being just as enjoyable as ever. You can't help but like this guy and his vocals make him a very solid contender for the title. I don't even really like country music, per se, but I've enjoyed every single one of Tate's performances. His stage energy is infectious and left the crowd in a fit of girlish screams. Britney said she's sure we'll see him accept a Country Music Award someday, while Demi praised his unyielding love for his wife (whom he dedicates every song to). Simon told him that he's incredibly likeable, but that he shouldn't try to dance on stage anymore because it "just didn't work." Mean, old Simon… that guy could probably punch a teddy bear in the face and be okay with it. (But that's why we love him, right?) 
CeCe Frey (Young Adults — Team Demi Lovato): CeCe may be hanging on to this show by a thread, but I'll give her this — she's definitely going down swinging. Her performance of "Lady Marmalade" was impressive — those theatrics! Yes, the spectacle was both fun and entertaining to watch. However, an over-the-top performance may not be the best way to win the public's heart and votes (we're not that easy to impress). She's definitely got some singing talent, but I've just never found her that likeable, which can play a huge part in a competition like this. L.A. referred to the routine as a "circus" and in true Simon-fashion, his advice was straight to the point: pack a suitcase. Looks like poor CeCe may be going home this week.
Emblem3 (Groups — Team Simon Cowell): Emblem3 closed out the night's competition by singing the Monkees classic, "I'm a Believer," which of course sent a majority of the female audience into a fit of hysterics. Their harmonizing was great and even gave Fifth Harmony a run for their money. L.A. said that if he were a chairman of a record company (which he is), then he'd definitely sign them. So rest easy, ladies — even if these guys don't win the competition (and they probably won't with singing sensations like Carly Rose still around), you can rest assured that you'll still be able to cover your bedroom walls with posters of them in the near future. One way or another, these guys are getting signed — no doubt about it.
So what did you think of Wednesday night's round of performances? Who proved to be No. 1 and who is in danger of being shown the door? Sound off in the comments below and be sure to tune in for Thursday night's results show to find out which two contestants will be eliminated. And just in case you missed it, Britney Spears debuted her new music video of "Scream and Shout" with will.i.am. Check out the video below and see what you think. It's Britney, bitch!
Follow Kelly on Twitter @KellyBean0415
[Photo credit: Ray Mickshaw/FOX]
More:
The X Factor Recap: Thanks(giving), But No Thanks
The X Factor Recap: Let's Give Thanks
The X Factor Recap: Divalicious

Lindsay Lohan Arrested for Assault: Here We Go Again

'Star Wars' Spin-Offs: Could a Boba Fett Movie Happen?