'The X Factor' Recap: Seeing Fire and Rain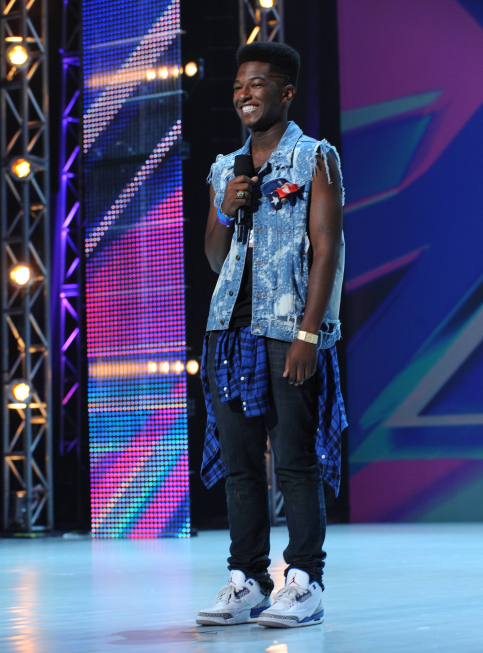 Previously, on The X Factor: An innocent panda bear was rushed to the hospital. A contestant let us know that she wasn't there to make friends. Simon Cowell got sick. Talent was discovered, maybe.
For Britney Spears, last night's auditions were the most exciting yet — mostly because they took place in Greensboro, North Carolina, which happens to be located in the American South. Britney is also from the South, and Greensboro's stewy, barbecue-scented air made her long for the days of walking around barefoot in gas stations with Jamie Lynn, far from the bright lights and big dreams that run rampant in the X-iverse.
But something was amiss in Greensboro last night. When our four heroes rolled in in their always separate luxury SUVs, all they saw were boarded up vacated shops and dust bunnies rolling through the streets. It was a ghost town. Where were its people? Where was the pulled pork? Who were these ashen, soulless vagrants wandering the empty streets, scavenging their detritus for human flesh? 
They were the vacated shells of fallen X Factor contestants, that's who. And as for the approximately 275,000 live citizens of Greensboro, well, they were all in line to audition. They were next. You can't stop the moth from fluttering to that flame, and you can't stop the non-famous masses from fluttering to the potential promise of instant fame. It's just life, man.
The first moth was a successful moth: 17-year-old Willie Jones from Shreveport, Louisiana showed up with a glorious flattop and a sleeveless, acid-wash denim jacket. "It's very Fresh Prince of Bel-Air," Demi noted. Pretty much everyone in the room and on the panel was expecting hip-hop, so when Willie debuted his booming, beautiful country drawl, the judges were shocked —  but in a good way:

He sang "Your Man," and it was simply beautiful. "I wasn't expecting that!" Britney exclaimed. (She didn't add the second part of that thought, which was, "because you're black.") Simon said he'll always want to remember the first day that he heard Willie Jones. So, he's through.
Next: Empty promises, broken dreams.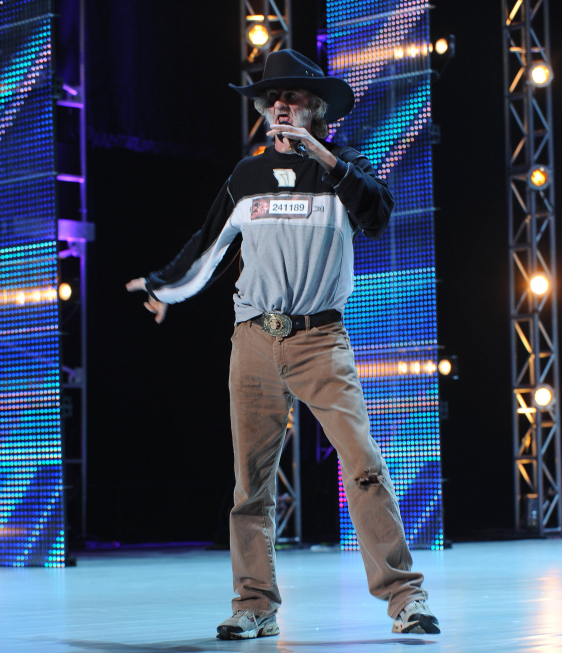 Next up was Kalvin McManigle, a 47-year-old toothless lawn mower putter-together who looked to be about 75. If you're lucky, you'll quickly forget him. Kalvin was like those Honey Boo Boo people in that he could not be understood without subtitles, and he just sort of stood there and jerked about and made a fool of himself for the sake of quality television. "Britney, I love you," he said once he was through. "I love you beautiful." Britney might actually have gone for it, but she was afraid that she might have been related to him. So, four no's. 
Then came 18-year-old Julie Bullock, who had awful hipster hair and a lovely voice. But the best part about Julie was that she was in a band, and couldn't audition with them — so if she succeeded, the band would have to break up. DRAMA! One of her bandmates was her ex-boyfriend Christian, who said that if Julie went through he'd have to do something horrible, like get a normal job. And that would be it, for him. Dreams crushed. Life over. He'd work on the farm and marry that plain but pleasant brunette from junior year homeroom — the one that had always had a crush on him, but was too afraid to say it. But he knew. He always knew.
As for Julie — the girl that got away — well, she sang "Pumped Up Kicks" by Foster the People, and it was really good. When the judges let her through, Christian was really supportive (See enthused fellow on right):

Goodbye, hopes and dreams.
Next: Interference from the Gods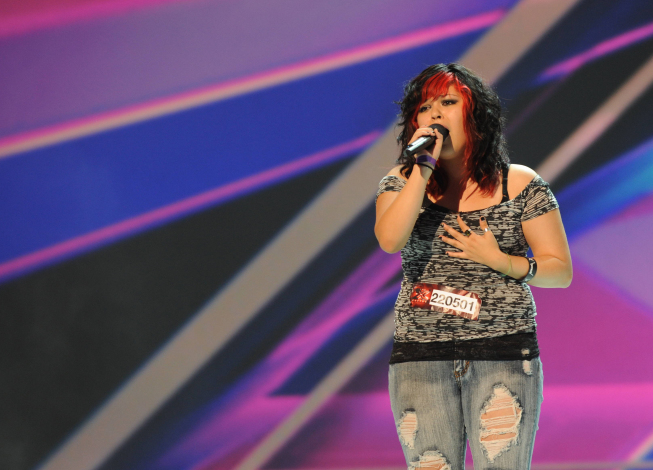 Someone has to be humiliated on every live audition episode of X Factor, and this week it was 21-year-old hairdresser Krysten Colon. Krysten came prepared with "Don't You Remember" by Adele, not knowing that Simon hates Adele. Or is just really, really sick of her songs like the rest of us. Halfway through her dreary rendition, Krysten was stopped by the judges, and the poor thing's legs were shaking like mine do every time I try to go to the gym like twice a year. "I think you need a classic song, and do your interpretation of it," Simon said. "What I'm saying is, I want to see you later, and that's a good thing." So, basically, she was given an undetermined amount of time to prepare a new song and try again. Second chances don't come easy in this X Factor business, so Krysten was clearly blessed.
Unfortunately for Krysten, her second chance was more Britney Spears at the 2007 VMAs than Britney Spears at the 2011 "Femme Fatale" comeback tour. She came back with Whitney Houston's "I Have Nothing," and it was pretty horrible. The high notes were pitchy, she was shaking like a leaf, and it was just bad, bad, bad all around. But don't take my word for it — go ahead, ask Britney: 

For a second time, Krysten was interrupted before she could finish — this time by a huge clap of thunder that the judges felt was sent from the Gods. "I was about to blow it," she said. "Sweetheart, you already blew it," L.A. replied. Harsh!
Krysten didn't take her rejection well, so of course the cameras followed her to document her total mental breakdown. She screamed at her family, at the camera operators, and at the gaggle of Dickensian orphan children begging for Pepsi products outside of the arena. "I don't want to be on camera," she screamed, before throwing a water bottle at said camera and running around with a chair. Security escorted her out of the building, and her mother apologized on her behalf. Moving on.
Let's end on a high note: 36-year-old hot dad Jeffrey Gutt gave one of the best auditions we've seen thus far. In fact, it was so good that I'm ignoring the fact that he named his son Talon, like a bird's claw. Okay, no I'm not. Talon is a stupid name. Anyway, Jeffrey sang Leonard Cohen's "Hallelujah" — a talent show audition staple — and he knocked it out of the park.
"God is even rocking out right now," Demi said. (Demi typically knows what God is up to.) Simon said it was one of the most brilliant auditions he'd ever heard — he says that all the time, but this time I'll choose to believe him. Everyone gave Jeffrey an enthusiastic yes, and Talon came running onstage for a big, adorable, totally unplanned by the producers hug. "He was like the Josh Groban of rock and roll," Demi said as he walked offstage. I have no idea what that means.
Follow Shaunna on Twitter @HWShaunna
[PHOTO CREDIT: Fox]
MORE:
'The X Factor' Recap: Trouble. Trouble, Trouble, Trouble.
'The X Factor' Premiere Part 2: You Can't Be Pretty And Talented
'X Factor' Premiere: It's Britney, [And She's Kind Of A] Bitch