'The X Factor' Recap: Shine Bright Like a Diamond (White)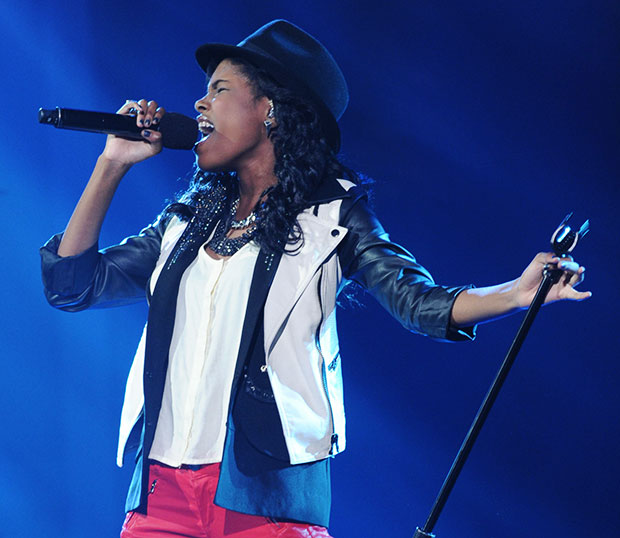 One of the biggest draws for any reality television show is inclusion of audience participation. Whether you're an A-list celebrity or your typical Average Joe (like myself), these shows allow all fans to be as actively involved in the decision-making process as they see fit. If you like a contestant obsessively badly enough, you have the power (and right) to vote for that person 100 bigillion times (if the show allows it) just to guarantee they'll make it through to the next round. (Not that I've done that myself or anything… )
Yes, there's no doubt that fans love to be put in charge. So The X Factor higher-ups (aka Simon Cowell and Simon Cowell) really knew what they were doing when they teamed up with their go-to soda God, Pepsi, to create a special challenge for fans. This week, the Top 6 performed not one, but two songs: one at the behest of the judges (completely unplugged) and another that was chosen by the viewers themselves. That means YOU, America! On top of that, fans were also given complete creative control in every aspect of the performance: the make-up, the hair, the wardrobe, the staging — everything. (Does anyone else feel drunk with power?)
So which of the contestants rose to the challenge and which failed to impress? Check out our recap below and see how it all went down:
CeCe Frey (Young Adults — Team Demi Lovato):
CeCe started the night off by singing an acoustic version of Lady Gaga's "Edge of Glory." Normally, this girl has relied heavily on big back-up numbers with eye-catching theatrics to mask her somewhat struggling vocals. But — as it turns out — when she's stripped of all the distractions, she's really not half bad. I mean, I agree with Simon about the fact that she's not worth a $5 million recording contract, but she definitely possesses some talent. My biggest problem with her is that I find her extremely unlikeable. There's just this air of condescension about her that doesn't come across well on screen. Granted, this is a singing competition and not a Miss Congeniality pageant, but still. Vocals alone won't earn you votes. Just sayin'.
CeCe's second song, however, earned less than thrilling reviews. As part of the Pepsi Challenge, fans voted for CeCe to sing Katy Perry's "Part of Me," which, of course, meant a ton of theatrics and a minimal amount of actual vocal talent. Seriously, it was painful. L.A. said it felt more like a big karaoke number (womp, womp), but Britney and Simon at least found it entertaining. Simon still called her a "trier" though, which is basically the equivalent of showing her the door. Sorry, my dear, but I doubt we'll be CeCe-ing you later (I couldn't help myself).
Emblem3 (Groups — Team Simon Cowell):
Emblem3 made every girl's heart soar by singing Bruno Mars' "Just the Way You Are." Like last week, they managed to harmonize together really well, however, their solo vocals still need a bit of work. Alright, a lot of work. In fact, it was downright scary at some points. But they're good-looking and very charming, which means they're definitely going to make it into the finals. (The teen girls of America will see to it.) Britney called it their best performance thus far, but Demi remained less than impressed, calling them a downgraded version of the Jonas Brothers five years ago. Burn! (And also kinda true.) Other things were said after that, but the girlish squeals coming from the audience made it pretty much impossible to understand any of it.
For their second song, America voted for them to perform Bob Dylan's "Forever Young." To me, it felt very much like their first performance: great harmonizing, choppy solos. (Do they sound like they're developing some weird sort of accent when they sing separately or am I completely alone in this?) They've already won over America's heart, though. So regardless of what they sing or how they sing it, fans will continue to go crazy (and vote) for them.
Carly Rose Sonenclar (Teens — Team Britney Spears):
Carly Rose played to all the Bielbers out there by performing Justin Bieber's "As Long As You Love Me." It was definitely a risky choice and one that you wouldn't expect to be sung acoustically, but — much like she does with every song she sings — she completely owned it. The performance was amazing and left everyone floored. (She's only 13, people! Thirteen!) L.A. called it her best performance to date; Demi claimed she sang it better than Justin did (Gasp! But true!); and Simon referred to her as an emerging star. If she doesn't make it to the finals, I will lose all respect for America's taste in music.
In honor of the Pepsi Challenge, fans chose for Carly to sing Beyonce's "If I Were a Boy" — because, of course, we needed to hear a Beyoncé rendition from her. Really, is there any song she can't successfully recreate and make her own? The answer is, NO. She's absolutely phenomenal and so much cooler and confident than any 13-year-old should be allowed to be. The judges loved it; the crowd loved it. That $5 million contract is practically hers already.
Fifth Harmony (Groups — Team Simon Cowell):
Fifth Harmony took on a tall order this week, singing Adele's "Set Fire to the Rain." Now, singing an Adele song is a challenge in and of itself, but having five girls sing it unplugged seems like an absolutely impossible task. And it turns out… it was. They're great singers, but, like L.A. has said repeatedly, there's never any harmonizing. They all sang separately with some "Ooos" and "Ahhs" thrown in. Britney said she isn't sure what would set them apart from other girl groups, while Demi suggested that some of them should just be solo artists. All in all, it proved to be a less than impressive performance.
For their second number of the night, fans voted for the girl group to sing Demi Lovato's "Give Your Heart a Break." And guess what? There was actual harmonizing! L.A. didn't know what to do with himself he was so shocked. He thought it was their best performance, hands down. Britney thought the performance was fantastic and Demi even said it was better than the original. There may still be hope for these girls yet.
Diamond White (Teens — Team Britney Spears):
Diamond attempted to bounce back into the competition (after coming in sixth place during last week's results show) by belting out an acoustic version of James Brown's classic hit "It's a Man's Man's Man's World." And it totally worked! It's been weeks since we've seen such a knockout performance from this girl with great vocals and an even greater stage presence. L.A. told her she brought attitude and showbiz to the show. Simon, however, wished she had chosen a different song since she already sang this song earlier in the competition. Regardless, it was great to see Diamond back in her prime. Let's hope this keeps up!
For her second performance, viewers voted for Diamond to, ironically, sing "Diamonds" by Rihanna. She even descended from the ceiling in a diamond-shaped cage (because apparently America is not without a sense of humor). Like her first musical number of the night, her vocals were solid and weren't overshadowed by the beautiful theatrics — something that her fellow contenders have struggled with (I'm looking at you, CeCe Frey). L.A. wasn't a huge fan, but Demi thought it was outstanding (after she name-dropped being good friends with Rihanna, of course). Simon thought the second half of the song was better than the first, but overall thought that she had a really good night.
Tate Stevens (Over 25s — Team L.A. Reid):
Tate wrapped up the unplugged portion of the night by singing Bon Jovi's "Livin' On a Prayer." It's a different song choice from what we're used to seeing from him and it didn't completely work in his favor. The vocals were still strong, but it just wasn't quite up to par with what we're used to hearing from him. And Demi's right — he skipped out on the high note, which is the best part of the song. Britney said he's going to be a huge country star and Simon encouraged him to start choosing his own material because this song didn't fit with who he is as an artist. We still love you, Tate!
He more than made up for it, though, during his second performance, singing America's pick, "If Tomorrow Never Comes" by Garth Brooks. This is what this guy should be singing all the time. I'm not even a country fan and I thought it sounded amazing. Britney said he was brilliant and Simon commented that Tate actually reminds him of Garth Brooks (which basically means he's the Meryl Streep of country music… he just can't go wrong).
So America, what did you think of Wednesday night's round of performances? Were you satisfied with your song choices? Who do you think is safe and who's in danger of being sent packing? Sound off in the comments below and be sure to tune in for Thursday night's results show where the Top 4 will be crowned after a double elimination.
Next week, the semi-finals!
Follow Kelly on Twitter @KellyBean0415
[Photo credit: Ray Mickshaw/FOX]
More:
The X Factor Recap: These Girls Are on Fire
The X Factor Recap: One is the Happiest Number
The X Factor Recap: Thanks(giving), But No Thanks

Harry Styles Spotted Outside Taylor Swift's Hotel Room The Morning After Their Date Night (PHOTOS)

Fall Bikini Bodies: The Good, The Great, The OMG (GALLERY)