'The X Factor' Recap: The Final Showdown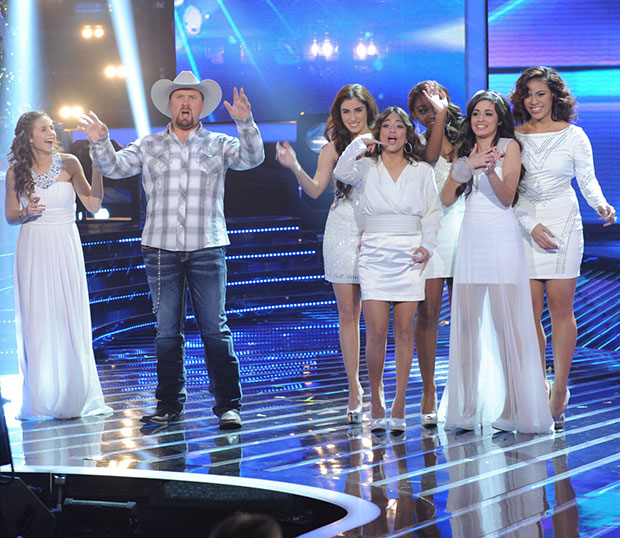 Welcome to The X Factor finals, everyone! While many of you are knee deep in present wrapping, holiday binging, and pre-apocalyptic planning, the Top 3 contestants have been cramming for their finals. Of course, I'm not referring to actual school-produced finals (though those can be equally as stressful to prep for), I'm talking about The X Factor's final round of performances. Everything has been leading up to this moment, making America's votes more important than ever. It's stressful. It's terrifying. It's the most wonderful time of the year! (At least from a viewer's standpoint)
But Wednesday night had way more to offer than a few single solos…there were a couple of surprise guests and duets along the way, along with a very touching tribute to the victims of Sandy Hook Elementary where the Top 10 reunited on stage to sing a beautiful rendition of Michael Jackson's "You Are Not Alone."
Then it was time for the competition to fully get underway. So who rose to the challenges and who cracked under pressure? Check out our recap below and see who's been deemed naughty and who's been deemed nice.
For their first round of performances, the contestants were instructed to sing their favorite songs from the season. Carly Rose Sonenclar started the ball rolling by singing the umpteenth rendition of "Feeling Good." One of the great things about Carly is she never disappoints. Week after week, she exceeds all expectations and proves that age is just a number — it holds no bearing on talent. If you were blown away the first time she sang this song, it's nothing compared to this performance. L.A. loved it; Demi called her an inspiration to aspiring singers everywhere; and Simon complemented her competitive spirit. Basically, there's nothing this 13-year-old can't do. She even made a white lace hat look cool, which is no easy feat…trust me.
America's favorite country boy, Tate Stevens, performed "Anything Goes" by Randy Houser, further proving that if you give this guy a country song, he'll absolutely crush it. Every. Single. Time. He's like the Jedi of country music (and yes, I just made a Star Wars reference. Don't judge me). Demi called it a stadium performance while Simon praised him for his authenticity and integrity throughout the competition. But it was L.A. who hit the nail on the head: "You were lovable the day we met you and you are lovable tonight." No truer words have been spoken. This guy deserves to have his name up in lights.
Girl group Fifth Harmony — the very one that beat out teen heartthrob Emblem3 in the votes department last week, might I add — sang "Anything Could Happen" by Ellie Goulding. According to Simon, this was the moment he claims to have seen something special in them as a group. And it's true, they did an incredible job and it sounded amazing (the Alice in Wonderland tea party theme aside). But come on, Simon…they just sang this song. Let's reach a little further back in time, shall we? But regardless, the judges loved it. Even L.A. — who's been pretty hard on them in the past — remarked that they've gone from being the underdogs to being the "ones to beat."
But it wouldn't be a true final without a few superstar duets. As an X-tra special treat, Round 2 found each of the Top 3 performing with a surprise celebrity guest. Carly Rose sang "How Do I Live Without You" with LeAnn Rimes; Tate Stevens sang "Party Pontoon" by Little Big Town; and Fifth Harmony sang "Give Your Heart A Break" by the show's very own judge Demi Lovato. (This show sure does love a good plug doesn't it?) I know this is supposed to be a great way to see how the acts measure up alongside the greats, but really I just think it steals focus from the actual contestants and makes it harder to judge them properly. But hey, that's just me. The crowd loved it and the judges praised all three of them. But as for whether or not this little tactic worked in their favor when it comes to votes…well that's still up to America to decide.
Round 3 brought us back to more solos and the final battle of the competition. Surprisingly probably no one, Carly sang an absolutely beautiful rendition of "Hallelujah" by Jeff Buckley. This girl is in it to win it — which at this point seems not just possible, but entirely probable. Also, she looked about 18 years old in that gorgeous white dress. It was absolutely stunning. (Is Cinna from The Hunger Games her stylist or something?) L.A. called the performance an "angelic moment" and Britney told Simon to get out his checkbook because that song alone was worth five million bucks. Zing! (And also completely true) No doubt about it, she definitely ended things on a high note (see what I did there?).
Tate sang "Tomorrow" by Chris Young for his final performance and reminded everyone why he belongs in this competition. Granted, this was a night of top-notch performances, but Tate has been spot-on all season long. Plus, he's just so incredibly sweet! It's like voting for a musically talented teddy bear. He's the guy you can't help but root for — including Simon, who predicted that he'll be hearing about Tate's record sales a year from now.
For their final song of the season, Simon's girls opted to pay homage to one of the most popular groups of singers in music history: The Beatles, performing their famous hit song "Let It Be." It was a bold choice, but the perfect way to end an amazing night of talent. L.A. called the performance magical and Britney remarked that they've really blossomed as a group. To be honest, I haven't been that impressed with this group in the past, but their performances this week have really upped the ante in this race to victory. America certainly has a tough decision on their hands.
So what did you think of Wednesday night's final round of performances? Which act do you think stands the biggest chance of being crowned the winner? Sound off on your thoughts in the comments below and don't forget to tune in for Thursday night's final results show where the victor will be revealed!
Follow Kelly on Twitter @KellyBean0415
[Photo credit: FOX]
More:
The X Factor Results Recap: A Faded Emblem
The X Factor Recap: Risky Business
The X Factor Recap: Okay, Maybe a Diamond Isn't Always Forever

'A Few Good Men': Where Are They Now? (Moviefone)

Best Mother and Son Movies: 'Forrest Gump' and More! (Moviefone)