'The X Factor' Recap: These Girls Are on Fire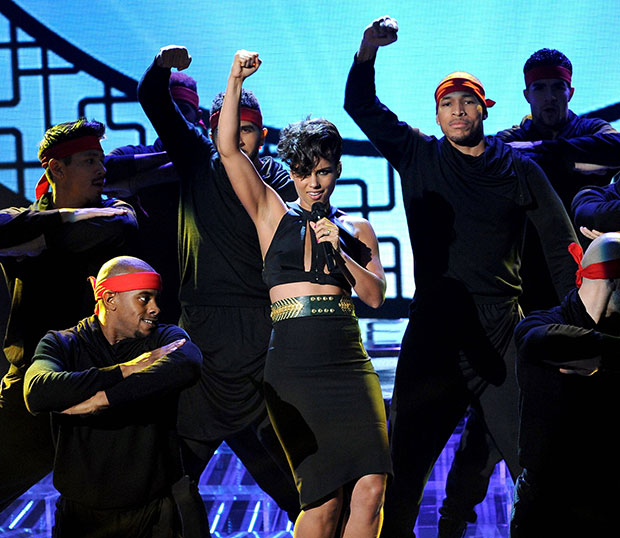 Oh X Factor, your double eliminations are merciless. How many hearts must you break? This was certainly one of the more surprising sing-offs we've had in a while. Mostly because CeCe Frey wasn't performing. Somehow America warmed to her circa-2001 rendition of "Lady Marmalade," cut-out dress, big hair, and all, and voted her safely into the Top 6. So much for L.A. Reid and Simon Cowell's powers of prognostication, huh? Giving Frey a backhanded compliment on performance night, the Epic Records chairman said, "You're going down. But you're going down fighting." And Cowell? Cowell simply said, "Pack your suitcase." No, she didn't go down nor pack her suitcase. CeCe was sent through automatically to the Top 6.
Miss Paige Thomas was not so lucky, however. Despite a lot of booing and the sight of Demi Lovato shaking her perfectly-coifed head at the news of America's decision, Paige got sent home first. Part of me thinks that if she had again worn her sea urchin hat last night the nation might have been intimidated enough to vote her through. The truth, though, is that Thomas' repertoire of all-karaoke songs had to come back to bite her at some point. In the past few weeks she's sung Berlin's "Take My Breath Away," Haddaway's "What is Love?" and Rick Astley's "Never Gonna Give You Up." (What? No "Everybody Dance Now"?) That was an untenable pattern for her to continue if she really wanted to be taken seriously. The amazing thing is how much unqualified support she received from the judges. Simon said her rendition of "Never Gonna Give You Up" on Wednesday night was like her "making the record."
Thomas passive-aggressively said she was happy about being voted off because this would allow her to move on to "bigger and better things." I wonder if, after America's rejection, she'll remove "Faith" from her fingernails? Personally, I think fingernail messages are pretty useless unless, like Sideshow Bob, you have "Luv" printed on the indices of one hand, with "Hat" on the other.
After Paige's departure, we were treated to a performance by last season's runner-up Josh Krajcik, proof that a non-winner of X Factor will fade into obscurity as quickly as…the winner of X Factor. Boom! Krajcik now looks like a schlubbier, scruffier version of Javier Bardem's Silva from Skyfall. All he's missing is blond hair dye and an ascot.
Then it was time to figure out who'd be singing for their survival. In the Top 5 were the following: the aforementioned Frey; Simon's girl-group Fifth Harmony, who I suspect got a sympathy vote for their performance of "Stronger" Wednesday night after group member Ally shared that her grandfather had just died and was dedicating the performance to him; the sleeve-challenged trio Emblem3, who paid tribute to boy-band history with their performance Wednesday of the Monkees' "I'm a Believer"; Carly Rose Sonenclar sang "Rolling in the Deep," so she was pretty much assured the No. 1 spot; and Tate Stevens is Tate Stevens, so he'll always make the cut.
That meant that Vino Alan and the previously-saved Diamond White were in the Bottom Two and had to get ready for their sing-off. The only time they had to prepare was during Alicia Keys' 13,782nd rendition of "Girl on Fire." I've long held a crush on Mrs. Swizz Beatz, so this was a welcome sonic sorbet if you ask me. Keys had her girl-power tableau lit like a Cirque Du Soleil show, complete with Japanese taiko drummers. And she was wearing an American Apparel-style rig that showed off her perfectly sculpted and bronzed shoulders and arms. Oh, yeah, she sounded pretty great too. My Mom overheard her performance in the next room and, not knowing it was Keys, said, "Wow, this contestant sounds so much better than anyone else on this show." Then she walked in and saw who was on the TV: "Oh, wait. It's Alicia Keys." So that's why!
Diamond is so cute, sparkly, and Gabby Douglas peppy, that it's easy to forget what a solid singer she is. She killed her sing-off rendition of Beyoncé's "I Was Here," looking like she'd just put herself through a major cardio workout by the time it was all over. And screw L.A. Her performance of Whitney Houston's "I Wanna Dance With Somebody" last night was fun and energetic.
Vino Alan, on the other hand, might as well have pressed our collective "snooze button" with his take on Ray LaMontagne's "Trouble," easily the most overperformed singing-competition (and pet-adoption commercial) ditty of the past eight years. This was basically Alan's strategy all along. The previous night he performed "You've Lost That Loving Feeling," the most overperformed song of all time. Also, Alan, with his cranial tats, is the scariest-looking guy to appear on TV since Kim Richards' boyfriend on the last season of The Real Housewives of Beverly Hills. This is a guy who seems to have a fedora for every occasion. (However, I was particularly pleased to see that Britney was wearing her trademark fedora again this week. That, even more than her midriff-baring poptart ensemble a couple weeks back, proved that Britney really is back, bitch.) Was there any question about who the judges would vote through?
L.A. showed support for his man Vino by choosing to send Diamond home, but all the rest, starting with Britney, voted to give Vino the boot. Diamond is safe to sparkle another week!
And here, my friends, are the rankings of the Top 6.
1. Carly Rose Sonenclar (number 1 again!)
2. Tate Stevens
3. Emblem 3
4. Fifth Harmony
5. CeCe Frey
6. Diamond White
We know you're upset about Frey, but are you happy with the rankings otherwise? I will be spending the next week trying to purge my cerebral cortex of Paige Thomas' karaoke playlist. See you then!
Follow Christian Blauvelt on Twitter @Ctblauvelt
[Photo Credit: Ray Mickshaw/FOX]
More:
'The X Factor' Recap: One Is The Happiest Number
'The X Factor': Diamond White, Tate Stevens, Emblem3 and More Talk Britney, Tattoos, and Stripping
'X Factor' Creative Director Spills on Behind the Scenes Drama and the CeCe Frey Dilemma
You Might Also Like:

Cory and Topanga Are In! Big 'Boy Meets World' Spinoff News