'The X Factor' Recap: Top Ten Contestants Perform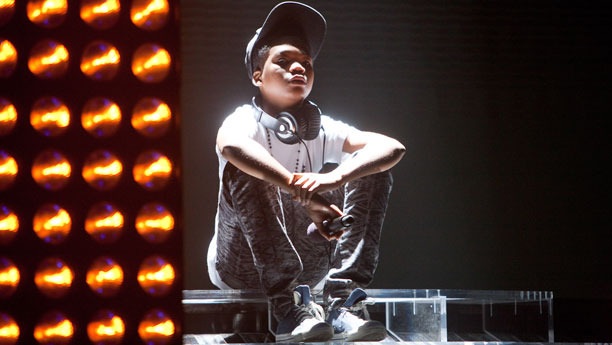 S1E14: Let me open this week's The X Factor recap by admitting that this is the very first episode of the series that I have seen, and that I picked a great week to tune in: Rock Week. I was only marginally familiar with how the show works as a whole—contestants, judges, voting—and was primarily unaware of the involvement of the judges with their respective contestants.
Going by this week's episode alone, I find this to be a fatal flaw in the show, logistically (although not necessarily from an entertainment standpoint): no judge offers anything below decorated praise for a performer that he or she is sponsoring. What's worse, it seems as though the judge bench rivalries (i.e., Simon Cowell versus L.A. Reid—I'm not sure if this is a persistent theme throughout the series, but the two really don't get along this week) heavily affect the way the contestants are judged.
Another qualm I have comes attached to the host, Steve Jones, who seems to just be there to exacerbate discomfort, bicker cattily with Simon Cowell, and read a couple of phone numbers. Ryan Seacrest at least smiles. But this commentary is likely far from any fresh review of the show, so I digress.
One aspect of the show I actually have almost nothing bad to say about is, in fact, the performers. Aside from the rampant misinterpretation of this week's theme, rock and roll (which is really the fault of the judges, not the contestants), I'd have to register very few negative criticisms with any of the contestants or their songs. Some outshine others, of course, but even the very worst are still pretty damn good…although, I guess that's why they're on a show.
The first to sing this week was Leroy Bell, who sang "We've Got Tonight," by Bob Seger (admittedly, one of my favorite love songs). It was a terrific way to open up the show. Although Bell gave a pretty straight performance of the song—not too much original spin on it—he delivered it well, and to the probable liking of any traditionalist or Seger fan.
The second performer: Rachel Crow. Young Crow gave a stylized performance of The Rolling Stones' "Satisfaction," which really won over the judges and the audience. Crow's "Satisfaction" might have been a little too "experimental" in tone for my tastes, but this isn't to say that it wasn't a very lively and engaging performance.
Chris Rene is the first to deviate from the rock theme, with Bob Marley's "No Woman No Cry." Despite the fact that the song is not rock but reggae (I agree with Simon here), Chris created a pretty fun rendition of the song, working in what was expressed to be his hip hop style with the classic song, with which he really seemed to have a personal connection.
Next, Stacy Francis performed Meat Loaf's "It's All Coming Back to Me." I disagree with the judges' conclusion that this was a poor and flavorless choice of song—Meat Loaf is the tops. But Stacy did not particularly excel at this song. It seems to me that her voice isn't tuned for this style of music, although that is not to discount her obvious talent. I'd like to see what she can do with something closer to her genre (that's my cue to keep tuning in…).
Melanie Amaro sang a strong rendition of "Everybody Hurts" by R.E.M., and this was among the best performances of the night. Although it didn't warrant as much "showmanship" as some of the other songs did, Amaro's time on stage was soulful and flavorful—she is clearly an unstoppable voice talent, and the song was a terrific choice.
All of the judges were huge fans of the next performance: Josh Krajcik and the Foo Fighters song "The Pretender." Admittedly, "Pretender" is one of my least favorite Foo Fighters hits. Furthermore, aside from breaking a mild sweat forcing his voice into the microphone, Krajcik didn't seem to put as much creativity or soul into his performance as the amount of praise he received should have dictated. He did do a good job with the song, but I think he could have done a better one.
I barely know who Astro is, but I am already on his bandwagon. The young artist sang back-when-he-was-Puff Daddy's "I'll Be Watching You." Now, this is only a rock song by proxy, but I might dare to say that Astro's performance was my absolute favorite of the night…so, I can forgive a slight genre confusion. There is little to say: Astro has style to spare and energy in spades; he loves music and music loves him. Wonderful stuff.
As an X Factor newbie, I was confused by Lakoda Rayne. First and foremost, they're more than one person. Secondly, if I'm not mistaken, they are the only performance to do a mash-up: Lakoda Rayne sang "Your Love" by The Outfield and "Go Your Own Way" by Fleetwood Mac in one amalgamated song. Quite honestly, it worked pretty well. The song was relatively seamless, and snappy. The band didn't have the same outstanding pop as some of the other singers, but they definitely did a fair job with their song(s).
I really, really loved the next performer and her song choice: Drew and U2's "With or Without You." This girl is pure, unadulterated talent. She knocked the song out of the park, both by channeling the things that make its traditional incarnation great and instilling her performance with her own style. The combination worked perfectly, and I'd like to see her go as far as this contest can take her.
Finally, another of my favorite performances of the night (although that might very well be because of my deep love for the artist of the performer's song choice): Marcus Canty sang "Another Piece of My Heart" by Janis Joplin. While the judges were a bit critical of his take on the song, I actually think he did more than justice to the late Janis' classic soulful ballad. His choreography was anything but reserved…but it's good to have a little fun, especially with such an energetic number.