'The X Factor' Recap: Trouble. Trouble, Trouble, Trouble.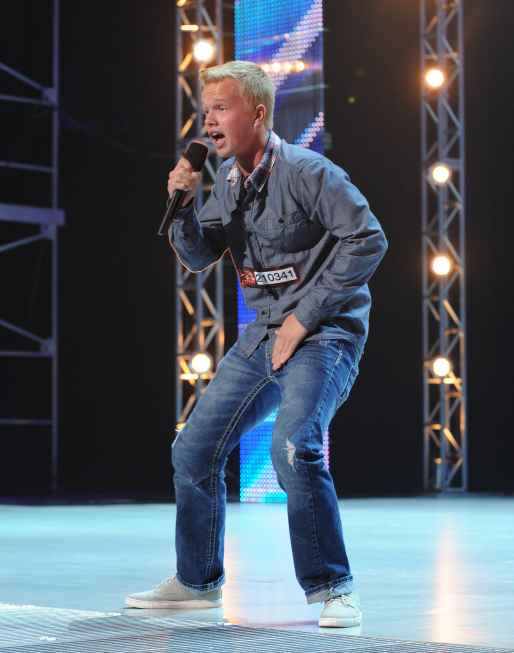 Previously, on The X Factor: L.A. Reid got out of his chair. A mentally unstable Britney Spears fanatic had his life ruined on national television. Simon Cowell ogled someone's butt. Talent was discovered, maybe.
This week, we kicked off in Kansas City, Missouri. Simon had the day off, because he contracted chlamydia from last week's failed contestant Alexa Berman, or maybe he just had a cold. Either way, he was replaced with a generic Irish man named Louis Walsh. Google tells me that the very same Louis Walsh discovered Westlife and Boyzone, so color me impressed. It was also L.A.'s birthday, and Demi Lovato was very fake excited about it. She ordered him a cake, and Britney sang the happy birthday song. "Oh, that's such a great idea!" Demi exclaimed. I know. Totes original. 
First up this week was Rizzloe Jones, an 18-year-old ADD case who referred to himself in the third person and made Blake Shelton look edgy. He was really nerdy and practically albino, so when he told L.A. that he was going to freestyle rap, the famed founder of Justin Bieber was understandably skeptical:

But L.A. gave him a chance, asking him to freestyle about X Factor, and somehow it went over well. Like, there's absolutely no way that he made this thing up on the spot, but Demi was still really excited when he incorporated both her name and marshmallows into his beats: 

"It was really good," L.A. said. "Rizzloe Jones — remember that name," Louis added. We probably won't after next week. Britney compared him to Vanilla Ice, which I think she meant as a compliment. So, he's through. This is a $5 million talent competition.
Next: Cece Frey and the ballad of Deangelo Wallace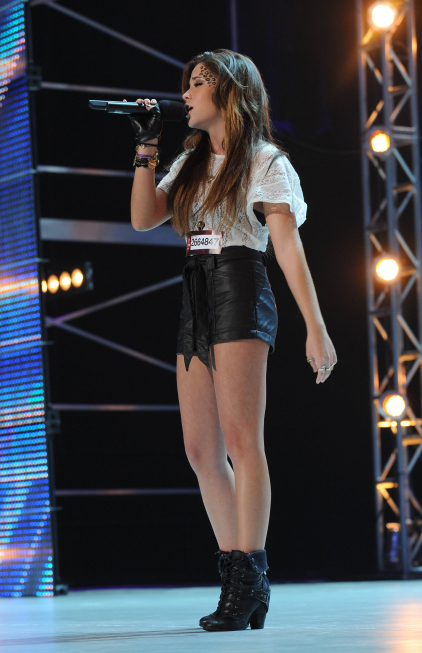 Next up was 20-year-old mail clerk Cece Frey, who tried her best to pull evil Jedi mind tricks on her competition. Her methods were questionable: She asked a boy-girl platonic singing duo if they liked each other, like, more than friends, and fake-flirted with Rizzloe. She thought she was Shakespeare's Iago, but ended up being more like Leroux's Christine — because despite the terrible fake face tattoo, she was actually very talented. Cece started out with "Unchained Melody" and it was all wrong, but luckily she kept a copy of "Ain't No Other Man" by XTina in her back pocket. Her version was sexy and vocally stunning, and Demi instantly developed a totally reciprocated girl crush. This was all well and good, but what most excited me about Cece was that she was the first contender to utter reality TV's most historically ubiquitous phrase: "I'm not in this thing to make friends." You guys, I hope that Cece goes really far in this competition. We didn't get a bitch last season, and it just wasn't fair.
Then we met this season's Josh Krajcik, a 39-year-old named Vino Allen. I was immediately drawn to him, because his name means "wine" in both Spanish and Italian, which is something I drink a lot of to get through early audition episodes of The X Factor. He sang "Trouble" by Ray LaMontagne, and it was beautiful, soulful, and thoroughly enjoyable. The judges were pleased, and he was through. So, if you like the maths, that was three yesses in a row — meaning that someone had to f*** up, and soon.
That someone ended up being 19-year-old Deangelo Wallace, who purposefully acted horrible in order to get on TV. Congratulations, you did it. He also spoke in the third person, and started off by saying he was better than Britney and the rest of the judges. If you're interested in my general feelings about Deangelo, please see below: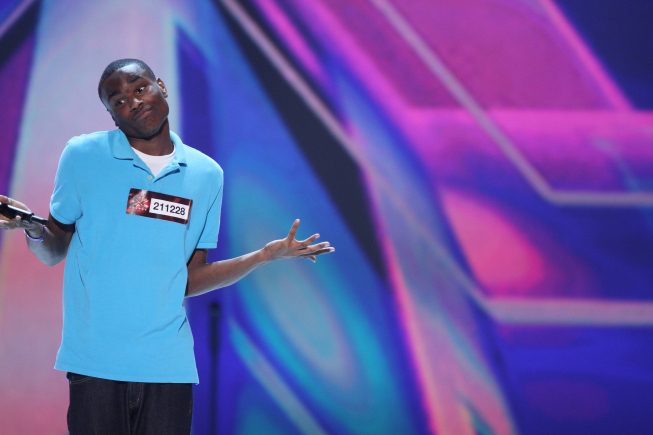 Ugh. I'll keep going. He "sang" something by beloved international humanitarian/feminist Chris Brown, and the judges dramatically left the arena to protest his general awfulness. "I think they worship the devil, all of them," he said as he marched offstage. Then he stole a body-mic that was apparently worth $3,000, and was arrested for a misdemeanor. Moving on.
Next: Talent!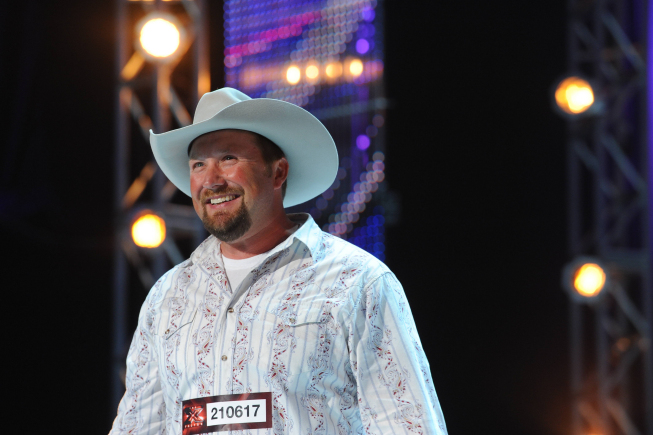 Soon we met 37-year-old road worker Tate Stevens. Tate wore a cowboy hat, so we knew right away that he was going to sing a country song. The judges asked Tate what he would do with $5 million (make a record), and Tate said that he would have "a big-ass party" —  and all of us would be invited. From the looks of things, L.A. was really excited at the prospect of being invited to Tate's party.
Tate sang "Anything Goes" by Randy Houser. It was good, but is anyone who watches this show actually going to vote for this kind of music? I know X Factor prides itself on its diverse kaleidoscope of talent, but Tate seems too niche for this kind of competition. Anyway. "You're my favorite so far," Britney gushed. "Holy cow, yes!" Tate, have fun learning how to dance at bootcamp.
Then we were back in San Francisco, again. "Is Simon still sick?" Demi wondered. Her concern/this timeline would have been believable if everyone wasn't wearing the same outfit and hairstyle from both San Francisco episodes last week. Anywho, back in  San Fran we met a group called Citizen, aged 21-25. One or all of them was probably named Justin. "The music lives within all of us," claimed Justin # 2. The boys sang "Don't Let Go" by En Vogue, and Simon really loved it:

"I didn't get it," Simon said. "It was ten years outdated. It's like you're in a time machine." A valid critique, but this is coming from the guy who prides himself on the creation of One Direction. Regardless, Citizen was through. 
13-year-old Diamond White had a baby voice and a stripper name, but she was also really poor and we heard her sob story, so I knew she'd do okay. Call it the Rachel Crow defense. "My dad doesn't really, like, associate himself with me," she said. "So yeah, I don't really have a dad." She sang "It's a Man's World," and it was pretty good. Not the best we've seen, but good enough for boot camp.
Then we journeyed back to Austin, Texas, where we were treated to a montage of actually talented singers. First was 19-year-old Ally Brooke, who claimed to have big dreams — Ally wanted to sing, act, have her own clothing line, create a perfume, own a TARDIS, solve the Goldbach conjecture, sit on the Iron Throne, and figure out the meaning of Tree of Life. She sang "On My Knees" by Jaci Velasquez, and was through.
Also through were 16-year-old Brandon Hassan, 15-year-old Normani Hamilton, teen to 20-something girl group Sister C ("We are all sisters, and our names start with a C") and cute-boy duo Jeremiah and Josh. Britney really enjoyed the inoffensively handsome J&J performance:

"I wish you could wake me up in the morning," she said. Simon was offended by Britney's vocal infidelity: "Finacee in the house!" he said, as the camera flashed to an indifferent Sam Trammell Jason Trawick. She meant like an alarm clock, bee-tee-dubs. 
NEXT: Panda.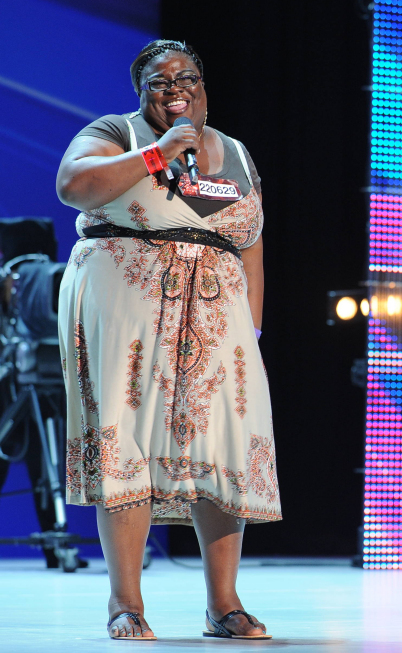 Finally, we met the highlight of the night: 42-year-old morbidly obese contestant Panda Ross. Panda was wearing a gold necklace that said "single," just for Simon. I needs to get me one of those. For Simon. Panda had also just been released from the local hospital — where she suffered from a case of "the pneumonia" — yesterday, and she busted herself out of there just to make it to the audition.
"It's Panda, like the bear," she told the judges when she marched onstage. Panda then explained that her mother was in jail when she had her, and that said mother's cell-mate was a white lady. Therefore, the name Panda totally made sense. She was sweet, silly, and enthusiastic, and her rendition of Sam Cooke's "Bring It On Home" was a soulful highlight of the evening. The judges gleefully took in her performance:

… Then let her through. Unfortunately for Panda, that's when the true drama began. She left the stage in a state of post-performance ecstasy, but it was short-lived: Her pneumonia cough made its sneaky, triumphant return. "Don't let Simon see this," she wailed, as the ambulance carried her off in a stretcher. Too late, Panda. We're still rooting for you.
Capping off the night was 22-year-old Jessica Espinoza, from the south side of San Antonio. She sang Pink's "Nobody Knows," and the judges loved it. "I honestly don't even know where to start, because you have, like, a sparkle in your eye that you only see in people that have the X factor," Demi said. Yes, but was she through? "Um, duh."
So, there you have it: Hours four and five out of nine in this X Factor live audition madness. Bear with us, here.
Follow Shaunna on Twitter @HWShaunna
[PHOTO CREDIT: Fox]
MORE:
'The X Factor' Premiere Part 2: You Can't Be Pretty And Talented
'X Factor' Premiere: It's Britney, [And She's Kind Of A] Bitch