'The X Factor' Recap: Who Lived? Who Died?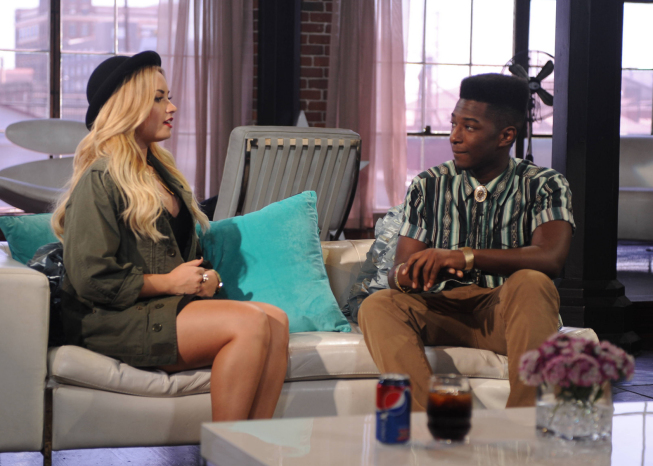 Aside: Before we get started, know that the majority of this recap — everything up to Demi's house, and slightly beyond — was written last Wednesday. I was one of the lucky few PST-ers who caught the hour or so that Fox played, accidentally, during their life-altering blunder.
Oh my God, y'all. The day is finally here! The day where 24 contestants became 16 contestants — contestants that will go on to perform live in Los Angeles with A.C. Slater and a Kardashian. The other eight were sent packing, and as punishment for their not-being-good enough sins, they will spend the rest of their days brushing out Nicole Scherzinger's hair extensions and eating awkward Thanksgiving dinners with Steve Jones. Actually, scratch that — the second part sounds like all of my dreams coming true. (Aside: As long as the Internet exists, I will keep linking to that video. Mark. My. Words.) 
To celebrate this momentous occasion, Britney Spears put pink and green streaks in her hair. "I'm about to tell them their fate," she said on "her" Malibu balcony, overlooking the vast Pacific Ocean — the Ocean that, no matter how hard it tried, could never contain the secrets buried in the factor known as X. "You pick right Britney," it whispered. "You pick right, or you'll be down here with me next year — down with the trapped souls of nine out of ten members of InTENsity, and Paula Abdul." Britney nodded, and a brief smile passed through her lips. "I'll pick right," she said. "I know I can."
And you know what? She did! Let's move on:
Diamond White, 13: Diamond had to get through, because Planet X would feel terrible if she had to keep sharing her bedroom with her two siblings, her five cousins (twice removed), and the ghost of Stacy Francis. "You just brought life to everything," Britney said. "But there were also a lot of things that weren't so good. You were a little nervous. You have to remember that this is a $5 million contract." Dramatic words from Britney — but Diamond was in, and her smile was worth the $5 million in itself. (Did I really just say that?) Result: Through
Carly Rose Sonenclar,13: Carly is a frontrunner, so nobody never really doubted that she'd make it to the final 16. "I don't want to go back to the eighth grade," she said. "That just sounds awful… just thinking about it." Dude — totally agree. If we're being honest, going back to eighth grade is what my nightmares look like. Britney told her that "her voice showed so much technique" and that she and the entity known as Will.I.Am thought Carly was a "very talented young girl." But! (And there's always a but)… She had to have the whole package. "I feel like there's going to be a lot of nerves," she continued. "I don't know if you're going to be able to handle this." But had she made her decision, and Carly was through. Result: Through
And, for the record, this is the face of a teenager who thinks her entire existence has been for naught:

Arin Ray, 17: I also basically figured that InTENsity survivor Arin Ray would make it through, because forcing one to go through that unspeakable horror only to get rejected at the judges' house round would be too evil even for X Factor standards. Also, he's cute. "You had charisma, you were charming, you had confidence… it was really nice to see," said Britney. "BUT I do feel like there's a lot of talent in this group, and you're very good, I just don't know if it's good enough." Come on. Result: Through
James Tanner, 15: I still have no clue who this person is, so I had a bad feeling about this one. Plus, there was only one spot left, and my lady Beatrice hadn't gone through yet. "I feel like your personality is very cool," Britney said. "And I feel like you know how to use that to your advantage, which would make people want to watch you, and see what you're going to do. BUT, I don't know if you're where you're supposed to be at this point… You're going home, sweetie." James took it better than I thought he would, even when he had to endure the walk of shame past the winners' circle. "It's horrible!" Britney exclaimed to the producer. Meh, me thinks she'll be okay. Result: Banished to a Life of Quiet Mediocrity 
And, for the record, this is Britney's "You're going home, sweetie," face:

Reed Deming, 13, and Beatrice Miller, 13: The camera cut back and forth between the two of them, for dramatic tension. If it hadn't been Beatrice I would have been mighty pissed, even though Reed managed to majorly depress me with the following statement: "This is the climax of my life," he said. "If I go home, that would be such a heavy burden to have to carry. I'd have to go back to my friends and family and say, 'You know what? The judges didn't believe in me.' I don't know what I'd do. I don't see any other career option for me BUT music." Reed, Reed Reed. You are 13! Stop watching so much TV! There are plenty of other jobs that don't involve being rich and famous that can provide a steady income and satisfaction, and you have many years to figure that out. Like, chill.
But I digress. Britney told Reed he had a great personality and confidence. BUT! "There's a lack of vocal training in your voice," she said. (Err, pot meet kettle?) She gave Beatrice the runaround, telling her that her live audition performances were better than the one she had put on yesterday. "Sometimes your nerves get the best of you, and it makes me worry that you can handle the pressure," said Brit. Like, you know, shaving your head and what not. Of course, it was Beatrice who went through. But, oh, poor Reed! "Life has crazy ways of working, you know," he said, holding back tears. "I respect Britney for all of her decisions." AWW you guys! My heart! It's breaking! Beatrice was thrilled, naturally — but between Beatrice, Diamond, and Carly, the teen competition is going to be fierce. Results: Beatrice Through, Reed Sent to a Child Psychologist For Clinical Anxiety
NEXT: The OldsNext up was L.A. Reid and his pack of grizzled, disgusting oldies, also known as people over the age of 25. Since I would belong in this category, I have issues with his L.A.'s depiction of my kin. "It's no secret that this is not my favorite category," L.A. said. "This is their very last chance." Cause, you know, after the age of 25, if you get a "no" on a reality show, life is over for you. Done. I think if a blind person were watching this show, this is what they'd think all of the contestants in L.A.'s category looked like: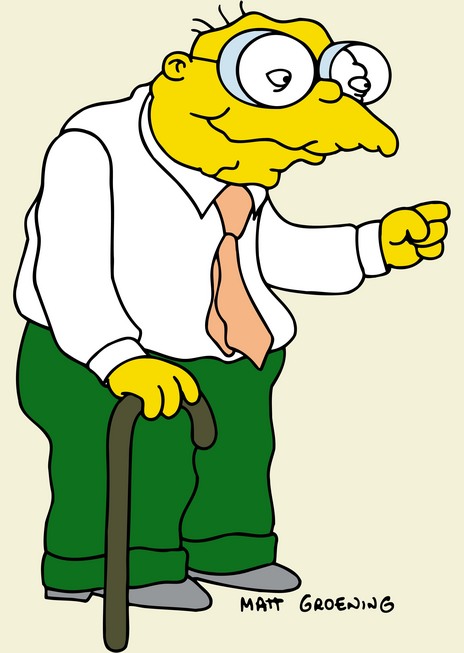 David Correy, 27: David was up first, and claimed that his life would be over if he didn't make it through to the next round. Right. "You have a great energy about you, and a really good voice," L.A. said. BUT! "Sometimes it concerns me whether you can go out there in the midst of the pop culture, and be that number one artist. I'm just not sure." David looked like he was about to have a mental breakdown, but L.A. put him through. He then awkwardly shouted out to his birth mother, AGAIN, pleading to reunite. No words. Result: Through
Also, in case you were wondering, this is what L.A. looks like when he pretends to crush someone's dreams, then doesn't:

Daryl Black, 38: Who? I had a bad feeling about this one. Apparently, so did L.A. "When you came on that stage, you reminded me of myself," said L.A. "You are truly talented. You have an amazing voice." BUT! According to L.A., Daryl doesn't have the fire, or the stardom, or the factor of X. "This is where it stops." Daryl held back tears, then gave all of us the sads again: "I'm devastated. My wife — she'll be crushed, and the kids will, too." Aw, sad kids! Result: Banished to Nursing Home
Jason Brock, 35: Please say yes, please say yes! I love goth Elton John, and his wonderful smile and infectious personality. Plus, he just lost his job, so he had to get through. "I've just lost my tech support job, this morning, of all times!" he said. Um, no, not "of all times," Jason. You haven't been showing up, because you're a contestant on The X Factor. Makes it tough to keep you on the roster. Anyway. "I'm a fan of your voice," L.A. said. "The question becomes — can you become a massive star? Do you fit? If I'm to be honest with you, you really excel in one area, and there's big question marks in the other areas." I guess I can see it. But, it was a yes! Jason made this adorable giggly face and asked L.A. if he could give him a hug, to which L.A. replied: "You better!" Result: Through
Oh, and for the record, this is one of the many reasons why I love him:

Tate Stevens, 37: I'm very "meh" on Tate Stevens. Maybe it's the hat — it reminds me too much of Carl from Walking Dead, or something. I hate that kid. But, L.A. disagrees. "You have a lovability about you," he said. BUT! "You don't have a lot of confidence about you. Stars have confidence. It makes it tough." Result: Through
Tara Simon, 27, and Vino Allen, 40: Next up was the Tara Simon/Vino Allen dramatic showdown, and I really didn't care about the outcome, since I find both of them unlikable. It would be strange to not have one lady go through, but Tara isn't talented or personable enough to be a strong candidate for X Factor's binder of women. Vino said that everyone is against him because he has tattoos, but I think it's probably more because his self hatred shines through, and it's unsettling. L.A. told Tara that she was incredible, BUT! — might not fare well against the competition. Agreed. Vino was told that his vocal tone was "so different," and "gut-wrenching,"— BUT! — L.A. has occasionally scratched his head during his performances. Again, agreed. Results: Vino Through, Tara Banished to Jumbo's Clown Room (Google it.)
NEXT: Young adults, AKA people who aren't old and decrepit 26-year-oldsDemi Lovato's "young adults" were next, because Simon ALWAYS gets to go last. Demi reported from her home in Downtown Los Angeles, which further proves that the "judges' home" round is bulls*** — because there is absolutely no way that Demi Lovato lives in Downtown Los Angeles. Nope. Downtown LA is for your hipster friends, yuppies who would rather get a nice loft for their $1200 than a crappy place in Santa Monica, and drug dealers on skid row. Not multi-millionaire famous people. Anyway, this group will be tough, since you have the Jennel/Jillian duo and the intense CeCe/Paige competition. I am intrigued. 
Jennel Garcia, 18: Jennel also said her life would be over if she didn't make it, which made me want to punch my screen because SHE IS 18 YEARS OLD! Like, you haven't even voted in your first election yet, or experienced your first frat party-related hangover. There is so much more to life than this. But, anyway: "The first time I saw you, I was blown away," Demi said. "BUT! I feel as if you're really insecure with your performance, and in order to be a pop star, the biggest thing is how you entertain people." After a dramatic pause, we learned that she was through. Yay, Jennel! She'll be fierce competition. Result: Through
Willie Jones, 17:
I hope Willie doesn't have to go back to Shreveport anytime soon, because from what they showed during his at-home montage, it looks depressing. Also, Willie is unique, and this show could use a little unique. Demi agreed: "You know that you're completely unique, and you have something going for you that a lot of people don't expect. BUT what's difficult for me, is I feel like there's this inner battle in your head." The battle she's talking about is the battle between country and R&B — I guess I sort of get it, but couldn't he mash up the two, and make the result his own? I vote yes. Demi did too, and he's through. Demi's way of telling people they're through is kind of hilarious…. she like, reaches out and tickles them. Result: Through
Aside: This is where Fox's first broadcast ended. Everything from here on out is from the version shown on Tuesday.
Nick Youngerman, 21: Sorry Nick Youngerman, Janitor: I never wanted you to get through. Your version of Ke$ha's (ugh) "TiK Tok" didn't hold a candle to anyone else in this category. "You are so much fun to watch on stage," Demi said. "You have the ability to light up a room and get everybody on their feet." BUT! "My concern is, with all of talent that I've seen, we've set a really high bar." Annnd… Nick the janitor will janit once more. Result: Banished to the Mop and Broom
Paige Thomas, 23: Please stop crying. Please. To be honest, I've never been a fan of Paige. I'm team Leapord Face, all the way. "There's nobody in the world that can say that you are not a beautiful… gorgeous… person, who has that star quality about her," Demi said. BUT! "Unfortunately, it's not just about that." Paige swore she had something in her. Demi said no matter what, she'd always be a good mother, because Demi knows these things. Motherhood. Then, Demi said she was through. There was more crying. Result: Through
For the record, this is what Paige looks like, always:

Jillian Jensen, 19, CeCe Frey, 21: The leopard hath lost her spots! CeCe took Demi's advice to heart, trading her trademark jungle cat for just a regular pretty girl look. I like both of these girls a lot, so this one was especially tough in terms of caring about X Factor. It was also sweet to see Jennel getting worked up over her hometown girl, Jill. "You are so extremely talented, and everyone can see that," Demi told Jillian. BUT! "The problem is, this competition is based on more than just incredible vocals." Uh-Ohz! "CeCe, I told you that it was going to be difficult trying to find a balance between on fire, fierce, with attitude, and a way where people can still relate to you." BUT! "Yesterday when you sang, I knew that you took my advice, but it went a little overboard." DRAMZ! Both girls were hysterical at this point. "Sometimes I have to make some really, really tough decisions," Demi said. Jillian was crying so hard she was practically choking. It was awful. 'I'm almost positive that's a good cry," Jennel said. WRONG! I almost feel bad for CeCe, since I feel that everyone else in her category wanted it to be Jillian that got through. Oh well. Result: CeCe Through, Jillian Sent to Battle Breaking Bad's Jesse Pinkman and Homeland's Carrie Matheson for Ms. Ugly Crier, 2012 (See below for example):

NEXT: It's Da Groups!Then it was time to pretend like we cared about the groups. It's so much harder to invest in the poor souls in the group category, because they simply don't get as much sob-story camera time as those who compete by themselves. Now, that doesn't mean that a group victory is impossible — see, One Direction — but they have to be pretty spectacular if they want to garner more votes than the single mom or the InTENsity survivor. Hence, Simon Cowell will do everything in his seemingly limitless power to make groups a powerful category this year. Moving on. 
Lyric 145, 19-23: First up was one of Simon's self-made super groups, Lyric 145. Before we got here, said guy, "our lives were more like Survivor than like living." (The only one from Lyric they've really introduced us to so far is Lyric Da Queen. The rest are randoms.) "When you've got five days to compete with bands who have been together for years, that's quite a daunting thing to do," Simon said. "I loved the humor you brought into it. I like the fact that you are performers, and you have fun with it." BUT! Space was limited, Simon said, and "I have to put people in who I believe are going to absolutely blow people away." He had made his decision… and it was a good decision! Result: Through
Dope Crisis, 25 & 30: Simon didn't put these guys together, and they're not Emblem3, so they were never getting through. "I thought you could not have put anything more into that performance," Simon said. BUT! "Do I see you as recording artists?" No, no. He could not. Result: No. Just No.
Emblem3, 16-19: "To go home now would just blow," said Emblem3 dude. "Our first audition was like, so epic." Hey, did you know that Emblem3 are from California? Come on, get it over with, they're through. "Simon! We're freaking out!" said Emblem3. "I've been impressed with you from the minute I first saw you," Simon said. BUT! "I didn't feel, yesterday, you were quite as rehearsed as the others." Then the guy that messed up, the guy in the middle, was all, "We did our best, right?" And Simon was all, "No, I don't think you did." The guy on the left, AKA the talented one, was pissed:

Still, Result: Through
Sister C, 17-21: Oh, come on. They've had 45 seconds of screen time. Really? Result: Through, to be Sent Home Next Week
LYLAS, 15-19, and Playback, 16-17: Ah, the battle of the Simon-made teen groups: I personally feel that LYLAS are far more talented, but Simon DOES love his boy groups. Also, has there been a popular girl group since the Spice Girls? LYLAS came out holding hands, and Playback came out looking like douchey teenagers, so I hate them all. I hate youth. Anyway, "I was very, very impressed with your vocals," Simon told LYLAS. BUT! "You do understand, when I put someone into the live shows, I have to have total, utter confidence that then can deliver under an awful lot of pressure." Hmm. "There was a great energy, and I felt a friendship and a chemistry," he told Playback. Uh-oh… no BUT?! Result: LYLAS Through, Playback to Never Play Again
So, what did you think? Were you mad, fellow west coasters, that you missed a good chunk of the show? Who do you think will be sent home next week? Sound off in the comments!
Follow Shaunna on Twitter @HWShaunna
[PHOTO CREDIT: FOX]
MORE:
'X Factor': Khloe Kardashian Odom, Mario Lopez Announced as Hosts
'The X Factor' Recap: A Very Special Episode
'The X Factor' Recap: Miss Independent
From Our Partners:

'Twilight' Star Kristen Stewart Drops 2.2M on L.A. Home Near Robert Pattinson — PHOTOS
(Celebuzz)

Rihanna to Earn $8 Million for Turning on Christmas Lights: 14 Celebrity Appearance Fees Revealed
(Celebuzz)