'The X Factor' Results Recap: A Faded Emblem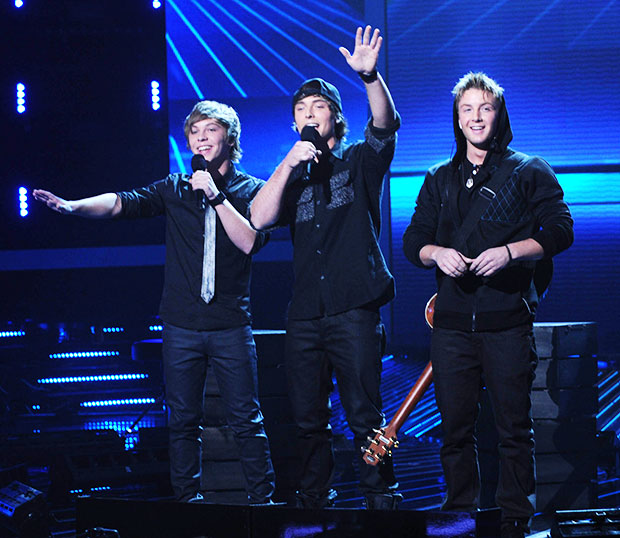 L.A. Reid is quitting on us, folks. Yep, the record mogul decided that he could not live on Pepsi ads, the possibility of a Khloe Kardashian wardrobe malfunction, and Mario Lopez' Pavlovian calls for viewers' tweets, alone. I think we all know how he feels. These X Factor results shows—stretching ten minutes' worth of content over sixty—have become an exercise in endurance and reality TV minimalism, in which we're forced to confront directly the experience of time, as if we were watching an experimental film such as Michael Snow's Wavelength in which nothing at all happens except our own act of watching it. At this point would I rather see an X Factor results show or sit through Andy Warhol's Empire, an eight-hour movie consisting solely of a single shot of the Empire State Building? I honestly cannot say.
I mean, at least the Dancing With the Stars results shows include some enjoyably kitschy dance numbers to liven things up. X Factor's sole attempt at a musical extravaganza was to have the four remaining contestants perform Dirty Money's "Coming Home." Sleeve-challenged boy band Emblem 3 ineptly rhymed their way through Diddy's rap verses, while Carly Rose Sonenclar took over the Skylar Grey part. I'm afraid, Carly, that your destiny will be much like Skylar Grey's: to linger in the shadows intoning a soothing, siren-song chorus, only to be blasted off stage by a motormouth rapper and his testosterone-fueled lyrics. But hey, at least they didn't perform "I Need a Doctor."
Unlike previous weeks, Thursday night's results show featured only one elimination. Hence the extra filler. With only one more act set to get the boot, we'd then be all set for the showdown of the Top 3 during the finale. Khloe and Mario announced first that Fifth Harmony was safe. The abject loathing on Britney Spears' face upon hearing that Simon's girl group had survived was palpable…and hilarious. While the pop tart has only one real positive critique to add at any given time—"amazing!"—her negative commentary is so refined, so precisely calibrated that words are in fact too imprecise to convey the subtle shades of her meaning. Pantomime is the only way to directly convey her emotional response. Have any of you guys ever since David Lynch's Twin Peaks: Fire Walk With Me? In the movie, Lynch's FBI officer has a secretary named Lil, who can only communicate via a complex, highly ritualized repertoire of facial expressions. That's pretty much Britney, who must boast at least fifty different shades of stinkface alone at this point. Truly, the greatest music to emerge from The X Factor this whole season is the symphony of emotion writ-large across Britney's face.
One of those slightly more restrained stinkface expressions she saved for Tate Stevens, who was next saved. Britney is really, really not a country music fan. Yes, she's from Louisiana. But you know what they say: this is a woman you can take out of the country, just don't you dare put country in her earbuds.
L.A. Reid, however, remained Tate's biggest supporter. "I can't even claim to have been a country music fan," the record mogul confessed. "But you know what I am now? I am a Tate Stevens fan." I'm sure that when Stevens' album makes its debut exclusively at Cracker Barrel—the restaurant chain that is to country music what Starbucks is to easy listening—alongside the latest offerings from Wynonna Judd and the Oak Ridge Boys, Reid will be in line.
So that left Carly Rose Sonenclar and Emblem3 in the bottom two. And Emblem3 got the boot. America just isn't ready for our own Stateside version of One Direction. Especially since Cowell, devoted to micromanaging the boy band's image, hasn't allowed them to perform any of their original material in weeks. "I'm gutted, really, for them," Cowell said. "But I really mean this. You are gonna have a huge career on the back of this." We'll see about that. I'm just sad their departure here in the semifinals means we'll never get to see them compare biceps with Mario Lopez.
And so that's our Top 3: Fifth Harmony, Tate Stevens, and Carly Rose Sonenclar. Do you think America made the right choice by sending Emblem3 packing? And do you think Cowell's right about their future career prospects? See you next week for the finale!
Follow Christian Blauvelt on Twitter @Ctblauvelt
[Photo Credit: Fox]
More:
L.A. Reid Leaving 'The X Factor'
'The X Factor': Tate Stevens, Emblem3, Fifth Harmony Talk the Beatles…and Winning
The X Factor Recap: Risky Business

Justin Bieber Murder Plot Foiled: Two Men Had Planned on Castrating and Strangling the Pop Star (REPORT)

Kim Kardashians Best Bikini Moments (PHOTOS)