The Year in 'Sesame Street': Mitt Romney Sought Big Bird's Head, 'Birdwalk Empire' & More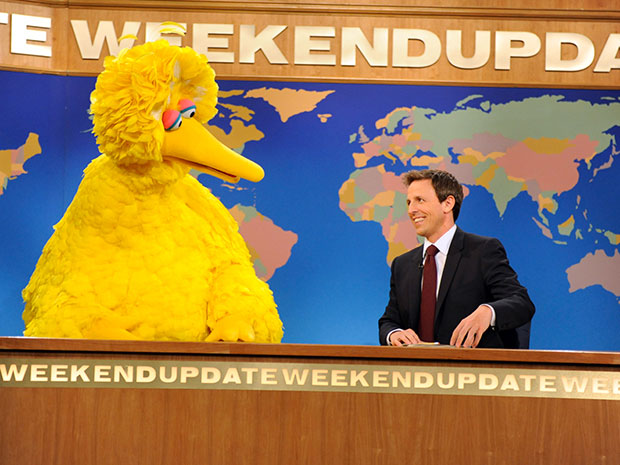 Wall Street and Main Street weren't the only thoroughfares, real or metaphorical, that were a topic of discussion during the 2012 presidential race. Sesame Street became an unexpected flashpoint during the first of Barack Obama and Mitt Romney's debates, with Big Bird suddenly turned into a symbol of the educational public service that is PBS. But that wasn't the only time Sesame Street broke out into the pop culture discourse in 2012. Recognizing that children learn best from TV when watching with their parents, he 43-year-old franchise offered up some of its smartest parodies yet and continued its remarkable tradition of landing A-List talent to lure adult viewers. "Children are the most important audience you will ever perform for," says Derek Manson, a performer based out of Atlanta and Los Angeles with years of experience in children's theater. "They're honest. They know what they like, what they don't, and they will unequivocally tell you. And they'll soon be everyone's future audience.  Sesame Street has never taken its audience for granted, and is well aware that adults notice when their children enjoy something."
GALLERY: 15 Biggest Letdowns of 2012
Also this year, Sesame Street also launched a substantive outreach initiative geared to children of families dealing with divorce. The show also garnered some attention its producers undoubtedly didn't want, however. Such as when unauthorized "Sexy Big Bird" costumes began to be sold for Halloween. And, most distressingly, when 29-year Sesame Workshop vet Kevin Clash, the puppeteer who's given life to Elmo and turned him into money-making juggernaut, resigned in the wake of multiple accusers alleging he'd engaged in underage sex.
So why do we still care? Why does Sesame Street still cast such a large shadow over our experience of pop culture years, or maybe even decades, after we last watched it? Let's take a closer look at this year in Sesame Street.
2012's CELEBRITY GUESTS & SPOOFS
It's hard to imagine any other franchises on screens big or small assembling as much starpower as Sesame Street does on a regular basis. Not any DC or Marvel comic book movie. Nor any project based on a young adult novel. Nor the latest offering from Steven Soderbergh or Quentin Tarantino. During their 43rd season, which began in September, Sesame Street has featured, among others, Halle Berry, Charlize Theron, Jon Hamm, Melissa McCarthy, and Joseph Gordon-Levitt. Dr. Jeanette Betancourt, Sesame Workshop's senior vice president for outreach and educational practices, says, "The secret of all that we do is to bring in the engagement of children at their level but also to bring in things that are amusing to adults, with the effort of creating that bond between parents and children." If a celebrity is on the show, adults are more likely to watch. And if adults watch with their kids, studies show that kids learn better.
PICS: 10 Reasons to Be Excited for 2013
The stars who stopped by Sesame Street in 2012 are just a drop in the bucket, though, compared to the more than 400 celebrity guests who've been on since its debut in 1969. "I recently saw a Stevie Wonder appearance circa 1973," Manson says. "Here's a musician at the height of his creative powers, and as a child I probably took that for granted. As an adult, understanding the context of who Wonder was in 1973, all I can think is how remarkably cool that was. There's something so natural and joyous about it, and yet you also can't help thinking what an amazing booking it is. What was the producer's pitch, I wonder? I mean, Richard Pryor? Lily Tomlin? These were only a few of the remarkable guest performers the show brought on set back then, and never once do I get the impression anyone's phoning it in because they're on a television show for 'children.'" 
In 2012, Sesame Street also continued its long tradition of pop culture spoofs, which have proven to be massive click-bait on YouTube. "Birdwalk Empire," their recent parody of a certain HBO show about 1920s gangsters, has gotten more than 300,000 views.