They Do: Ashley Hebert's 'Bachelorette' Special And The Appeal Of Reality TV Weddings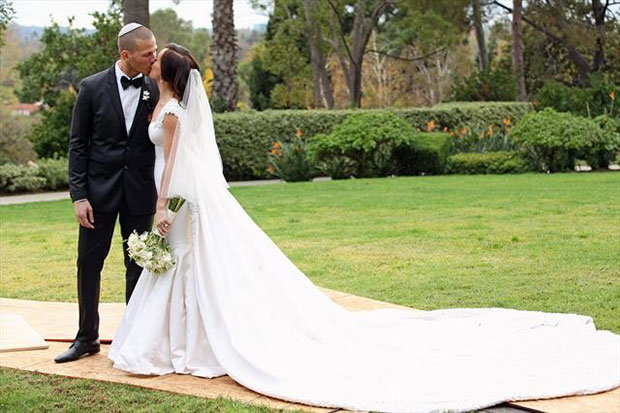 Luke and Laura. David and Donna. Jim and Pam. If TV soap operas and dramas have proven anything over the past few decades, it's that weddings make for appointment television. And, in recent years, reality TV has realized the power of nuptials, offering fans countless wedding-related series. Now, with wedding television programming at a fever pitch on networks like WE tv, TLC, and even E! (as much as we'd like to forget about Kim Kardashian's wedding special), fans are about to be subjected to yet another round of glossy scenes when The Bachelorette star Ashley Hebert and J.P. Rosenbaum's nuptials air as a special this Sunday on ABC. And as much as many reality TV detractors would like to roll their eyes, there's no denying the guilty pleasure has become a legitimate franchise.
But what's behind the televised wedding obsession? If you ask David Tutera, celebrity wedding planner and star of WE tv's My Fair Wedding, specials like Hebert and Rosenbaum's give fans the opportunity to live vicariously through stars' own dream weddings. "It's truly about seeing the things that you just don't get to see in every day lives," Tutera tells Hollywood.com. 
GALLERY: 15 Most Surprising Celebrity Weddings
Then, factor in the romance that appeals to our most intimate senses. "Everyone just likes a good love story," Trista Sutter — who met her husband while starring on the first season on The Bachelorette and who then went on to have her own TV wedding special — says. "People love to fall in love. People love to watch it. That's why it's a huge ratings boost…The bottom line is that people love love stories."
And that's precisely why Hebert and Rosenbaum opted to televise their own wedding — for the fans. "I know for us, we went back and forth — we weren't sure we wanted to do it," Hebert tells Hollywood.com. "One of the main reasons why we wanted to is because we had so much great support from people that have watched the show [The Bachelorette], that we kind of felt like it would all come full circle. And it kind of allowed people that spent so much of their emotion going through the relationship with me and with J.P. to really kind of celebrate and enjoy a happy ending."
Ratings
If you ever needed concrete proof that TV weddings draw in the masses, look no further than the ratings. Sutter's three-hour wedding special Trista & Ryan's Wedding attracted 17.1 million viewers to ABC in 2003, according to the Hollywood Reporter. And the franchise did it again in March 2010 when Bachelor star Jason Mesnick's two-hour Bachelor special, The Bachelor: Jason and Molly's Wedding, pulled in an impressive 9.3 million viewers in March 2010. 
When reality star Kim Kardashian and her basketball player beau Kris Humphries tied the knot in 2011, their two-part, four-hour marathon bonanza brought in 4.4 million watchers on the first night alone. (The second part of Kim's Fairytale Wedding: A Kardashian Event averaged 4 million.) While this paled in comparison to the ratings the Bachelor weddings scored, it's clear fans still love a good celebrity wedding. Or any TV wedding, for that matter. In 2008, the Season 5 premiere of WE tv's Bridezillas earned 1 million viewers, according TVWeek.com. By Season 9, those numbers quadrupled, with 4.4 million viewers watching the series, according to Lauren Gellert, SVP, Production & Development at WE tv.
Additionally, My Fair Wedding — hosted by Tutera (who has become something of a celebrity in his own right) — has attracted fans in the niche market. The series has grown from premiering to 710,000 viewers in Season 3 to 2.2 million viewers in Season 5, according to Gellert. Indeed, "Our wedding programming has done really well in the ratings," she says.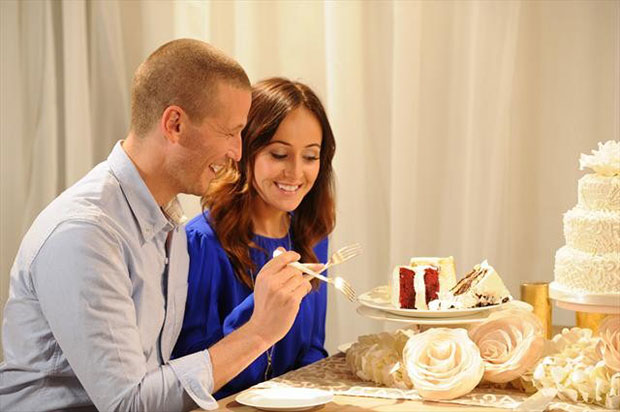 The Power of Celebrity
Weddings themselves are enough of a sell for audiences. Add a celebrity into the equation, and viewers are racing to the TV faster than they hope to race down the aisle. "[Celebrities] just come with some fan base," Gellert says. "So of course you'll expect it to resonate throughout the viewers and beyond."  
Case in point:  Bethenny Frankel, who built her empire off The Real Housewives of New York City franchise, landed her own nuptial-focused spinoff, Bethenny Getting Married?. According to the Hollywood Reporter, the premiere episode scored 2.1 million viewers. "It's a voyeuristic approach. People want to see what celebrities do," Tutera says. "These celebrity weddings are so secretive. We're finding out about them when they're over. Whenever we get a celebrity that wants to showcase their big day, it's a bigger deal now because the celebrities are hiding from the press. So, when we see it on TV, these viewers want to see what they never thought they'd have an invitation to see before." 
GALLERY: 9 Boy Band Wedding Details
Some people even use these celebrity weddings to pick up tabs on how to throw a wedding. "I watched Kim Kardashian's wedding just to get ideas for my own," Zena Pinnella, a 25 year-old bride-to-be and self-proclaimed TV wedding fan admits. "I like that she changed her hairstyle three different times. I also like how she had everyone wear black and white. I thought that was very unique because most people can't wear white to the weddings … [Celebrities] always have a cool twist to their wedding or a unique idea."
Entertaining Characters and Drama
But celebrities aren't the only ones who offer ratings for TV networks. For shows like Bridezillas and My Fair Wedding, a lot of the success depends on non-famous (but still dramatic) subjects. "The one thing we focus on with every show are the characters within them," Gellert says. "We go through extensive casting for these shows. We look at a lot of different options because you can't put everybody who wants their wedding [televised] on TV. It's really about the personalities."
Plus, weddings always come with heightened drama — and an intriguing cast of characters. "In a heightened state of 'I'm getting married right now,' it really doesn't get any more intense for people than that," Gellert says. "We focus on the character and what they have to overcome every step of the way. Villains are constantly lashing out. It's who they are, so we're focusing on their drama and their tensions. Their tensions can be as small as an issue with a hair extension [or] a bridesmaid to as big as this season we actually had a groom walk away on the wedding."
The rawness of characters and their stories keeps viewers coming back for more. "[It's the] drama that unfolds without it being planned," Tutera says. "It's real. It's not forced. If something that's got conflict, it is because it is really there. We're not making it up."  
Tutera even tried to give his audience more of that authenticity on this season on My Fair Wedding. "I really wanted the viewers to see that the world of weddings isn't this picture-perfect moment where the fairytale comes true," he says. "I still give them a beautiful dream wedding at the end, but the journey from the beginning to the end has its bumps, has its challenges, drama, conflict, has everything that we haven't seen in the past."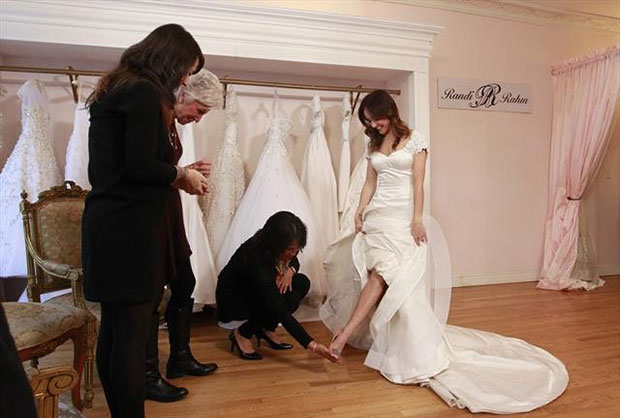 Perks for the Stars
So why would anyone in their right mind actually sign up to appear on a high-profile series, allowing the world to scrutinize your big day? If you're going to have a white wedding, why not add some green? Sutter made $1 million alone for her wedding special while ABC footed the bill for the whole shindig and allowed the star to work with her dream wedding planner, Mindy Weiss. "One of the big perks was being able to allow my parents to celebrate without having to spend a penny," Sutter says. "They actually got flown there. My mom was wearing jewelry from Tacori. It was kind of a fairytale for everyone else, and that was a huge part for me. That was a huge perk." 
Sutter reaped the benefits when it came to getting the perfect gown as well. "I couldn't have personally called Badgley Mischka and said, 'Hey, can you throw a private fitting for me?'" Sutter says. "I had private fittings with them. They had models in their gowns walking like a runway in their showroom for me; Basically [it was] a personal show for me. And then I chose different parts of their gowns to create my gown."
Not only that, but ABC let Sutter take the reigns when it came to planning her wedding. "They gave me full control over making the decisions over who was involved from the get go." While Sutter says ABC wanted the wedding to take place in December, they had one demand that was met: "It [had] to be somewhere warm."
Hebert and Rosenbaum were allowed the same freedom when planning their special day. "It was kind of all a collaborative effort," Rosenbaum says. "Whenever there was an idea that came up, we all talked about it and decisions were made in everybody's best interests. There was never any sort of road block between all of us. They really wanted us to have the wedding of our dreams," Hebert says. "We were relatively easy going. I was never the girl that dreamed about her wedding."
Perks For The Little People 
While other shows may not pay their contestants, both Bridezillas and My Fair Wedding help pay for the weddings of the participants. "We've got brides brought in who have $5,000 weddings, and we're giving them $500,000 weddings and getting there obviously because we have venders who want to participate," Tutera says. "[It] gives the vendors on air time to promote their businesses. The incentives [the brides have] are that they get this incredible, over-the-top wedding. Many people get honeymoons, jewelry, beautiful fashion. At the end of the day, [it] is this dream wedding." 
Picture Perfect… Kind Of.
Still, there is a downside to all of the perks that come with television weddings. You have to cope with having cameras in your face… and, in some cases, coming face-to-face with your ex. "The one thing that was very awkward with the wedding day was they said, 'We're either going to have to be there 24/7 from the time you wake up, filming every single second, because we want to make sure we get all of it. Or, we can have someone kind of be a correspondent of sorts and be with each of you for specific parts of the day," Sutter says. "Charlie [Maher], the guy who was my runner-up, ended up actually being the guy who was our correspondent. They felt like it was a natural fit. That was definitely weird — but I didn't want the cameras to be there every single second."
And the sheer number of cameras made Hebert and Rosenbaum nervous for their guests. "We obviously had other people involved in our wedding that had not been on camera before, so there was like a little bit of anxiety on their part that I wish I could've relieved for them," Hebert says. "I just hope that everybody was still able to enjoy it and not be anxious about the camera."
Happily Ever After
In the end, those disadvantages hardly outweigh the benefits. "I would have been happy marrying Ryan on the side of our street," Sutter says. "But it was a fairytale for me, my family, Ryan [Sutter's husband], and my friends."
Rosenbaum agrees. "There are very few people in this world [who] get to have a fantasy wedding, the wedding of their dreams. I think in 20 years from now, if we didn't do it, we would look back and say, 'You know what? We should have done it.' We were given a gift and why not do it?"
You can watch Hebert and Rosenbaum's wedding special when it airs on ABC Sunday night at 9 PM EST.
Follow Lindsey on Twitter @LDiMat.
[Photo Credit: Adam Taylor/ABC]
More:
'Bachelorette' Newlyweds Ashley Hebert and J.P. Rosenbaum Reveal Baby Plans
Move Over, Trista and Ryan: 'Bachelorette' Ashley Hebert Headed For a TV Wedding
'Bachelorette' Couple Ashley Hebert and J.P. Rosenbaum: Married!

Bar Refaeli Strips Down for New Underwear Campaign (PHOTOS, VIDEOS)

Kim Kardashians Best Bikini Moments (PHOTOS)