25 Things You Didn't Know About 'Gilmore Girls'
You might be familiar with Emily Gilmore's best burns, but do you know everything there is to know about Gilmore Girls? It's time to brush up on everything you probably didn't know or realize about the awesome series.
1. Jared Padalecki wasn't the first Dean.
Tumblr/Warner Bros.
There were two people cast as Dean before Jared Padalecki, and they were Canadian. Obviously they didn't work out and they had to recast the role a third time.
2. There's a cool reason why Brad's character was on Broadway
Tumblr/Shepperton Studios
Adam Wylie's character was in Into The Woods on Broadway. The real actor was in an actual production of the musical while playing Brad Langford. So this whole reference is pretty meta.
3. There are a lot of Family Guy crossovers.
Tumblr/Warner Bros.
Alex Borstein is best known as the voice of Lois on the cartoon comedy. Family Guy creator Seth MacFarlane also gets to graduate with Lorelai in a later season.
4. Jared seemed to good to be true.
Tumblr/Warner Bros.
Jared Padalecki was the first Dean to audition in his round of casting. However show-creator Amy Sherman-Palladino couldn't believe it could be that easy, so they auditioned others anyways only to go back to him.
5. Alex Borstein is married to Jack Douglas, who plays Jackson, our favorite produce guy.
Tumblr/Warner Bros.
6. Stars Hollow is based on Washington Depot, Connecticut.
Tumblr/Warner Bros.
7. Matt Jones's (known as Badger on Breaking Bad) first paying gig on television was being in "A Deep-Fried Korean Thanksgiving."
Tumblr/Warner Bros.
He has one line and is one of the many people excited for Jackson to deep fry the turkey.
8. The "Here Comes The Son" episode is a backdoor pilot. The show would have been called "Windward Circle."
Tumblr/Warner Bros.
The episode where Jess goes to California to find his dad is a pilot for a spin-off show following Jess and their relationship on the West Coast. That show never took off.
9. Lane's very controversial ending is due to her character being based off of Helena Pai's life at the time.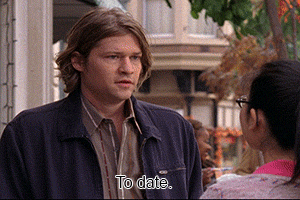 Giphy/Warner Bros.
She had a musician boyfriend who she moved in with so why couldn't Lane have the same thing?
10. Alexis Bledel is half Argentinian and her first language is Spanish.
Tumblr/Warner Bros.
11. Scott Patterson pitched in minor league baseball for seven years before going onto acting.
Tumblr/Warner Bros.
12. Lane's band Hep Alien is an anagram for Helen Pai.
Tumblr/Warner Bros.
13. Rumor has it that Luke's character was originally going to be a female named Daisy.
Tumblr/Warner Bros.
14. The show's theme song "Where You Lead" is sung by Carole King and her daughter.
Tumblr/Warner Bros.
15. In season one Alexis Bledel would always miss her mark of where she was supposed to be.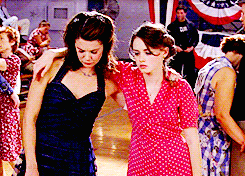 Giphy/Warner Bros.
Lauren Graham is often walking with her with her arm around Alexis to physically keep the actress on mark.
16. Usually a script for a TV episode is 45-50 pages, but Gilmore Girls had 75-80 pages and actors would have to talk fast to fit every word in.
Tumblr/Warner Bros.
17. Although actors were constantly told to speed up their talking, often editing would cut things to speed it up even faster!
Tumblr/Warner Bros.
18. Scott Patterson liked pranking Milo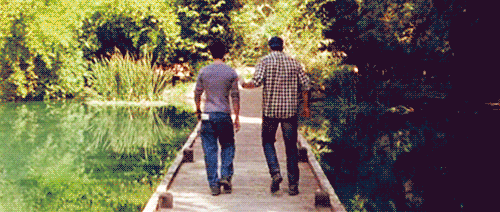 Giphy/Warner Bros.
He nailed Milo's shoes down to a floor one time, another time he filled Milo's shoes with shaving cream. He also put Vaseline on Milo's toilet seat in his trailer.
20. Milo Ventimiglia and Alexis Bledel really did date and continued to after their characters broke up.
Giphy/Warner Bros.
21. Alexis Bledel actually doesn't like coffee.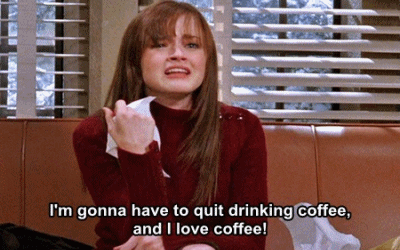 Giphy/Warner Bros.
22. Town Meeting scenes would take all day to film.
Tumblr/Warner Bros.
This is due to so many people being in the scene and the need to have so many takes to get everything right.
23. Amy Sherman-Palladino already knew what the last two words of the show was going to be.
Tumblr/Warner Bros.
However since she wasn't around for the last season we never got to find out what they were.
24. Scott Patterson has revealed that he is very much team Dean.
Tumblr/Warner Bros.
25. Chris Pine auditioned to play Christopher and was a runner up for the role.
Tumblr/Warner Bros.