10 Things You Never Knew About 'Doug'
Doug is definitely one of the most underrated cartoons from the '90s. The show followed Douglas Yancy Funnie, the new kid in town with a big imagination, who often imagined himself to be a superhero sometimes. He was so in love with the amazing Patti Mayonnaise. But what don't you know about the show? Here are ten things you never knew about Doug.
1. Doug's television debut was in a Florida Grapefruit commercial.
2. Vice Principle Mr. Bone was based on actor, Don Knotts.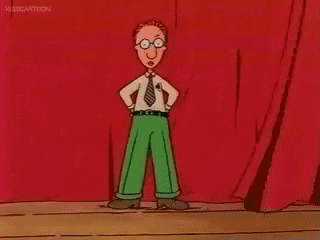 3. The Beets is based off of the Beatles.
4. The creator is fine with fans thinking Skeeter was African-American.
The creator of the show, Jim Jinkins decided to make character all different colors but that doesn't mean race wasn't part of the show.
"It's pretty common knowledge that Skeeter was African-American," he said according to College Candy. "And I love that, because I did not consciously set out for that to be the case. I just thought he looked good blue."
5. Doug's name at first was going to be Brian.
Jinkins however thought Brian was too fancy, so he came up with Doug. "If you think about what that sounds like," Jinkins told The Huffington Post "it sounds incredibly average, and that's what I was trying to do: express from that point of view."
6. Every character in the show is based on a real person.
Doug is based on Jim Jinkins himself. He also had a childhood crush who Patti is inspired by. His childhood bully and best friend also formed the characters of the show.
7. Constance Shulman who plays Yoga Jones on Orange Is the New Black is the voice of Patti Mayonnaise.
8. Billy West was the original voice of Doug and later did the voice of Fry, Dr. Hubert J. Farnsworth, and Dr. Zoidberg on Futurama.
9. Judy Funnie's name is from "Shakespeare's Sister".
The poem says that if Shakespeare had a sister her name would be Judith.
10. Doug's address is 21 Jumbo Street named after Jumbo Productions.