This Is the Best Emmy Acceptance Speech Ever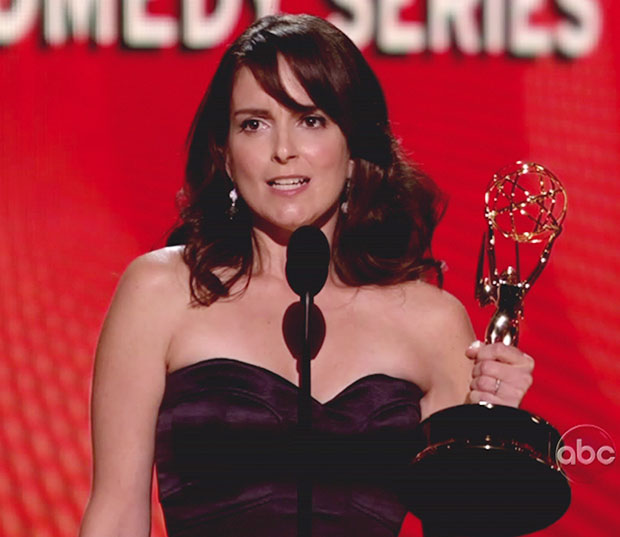 It happened. You did it. You've finally won an Emmy. And as the camera pans to your face, awe-stricken as you stand from your auditorium seat and manage your way to the stage, trembling all the while, many a thought zooms through your head: "Now's my time," you say to yourself. "Now's my time to pour out all the thoughts I've been bottling up since I first decided to get into show business as a way of sticking it to everyone I went to high school with. Now's my time of gushing sentimentally on the support of my grandparents, and preaching emphatically on whatever international crisis everybody seems to be ignoring. Now's my time to say everything I've always wanted to say!" Well, no. It's not. You can't do that.
Correction: you can do that (until they yank you off the stage with the musical interlude version of a hook-cane). But you shouldn't. It makes for bad television. See, there are very specific components that go into a halfway decent Emmy's speech. You need a bit of humor. You need a bit of schmaltz. And if the mood strikes, a political maxim can find its way into your delivery. And no need to worry if you don't actually have any genuine thoughts of your own to make up a speech — there are enough scattered pieces out there to comprise a whole new sermon with which to address your esteemed small screen peers. Individual great moments that, together, with their distinct styles and sensibilities, might just form the greatest Emmy acceptance speech of all time.
You've got to start off with something humble. An introduction that will assure the audience that you haven't quite let this glory go to your head just yet (even though you most certainly will have… it's an Emmy! The popular clique was wrong about you!). Something along the lines of Robert Guillaume's 1985 Outstanding Lead Actor in a Comedy series win for Benson.
"I'd like to thank Bill Cosby for not being here."
After a spirited laugh from the audience (what are they gonna do, not crack up obligatorily?), you can move on to something a bit more grounded. A meaningful tribute to the parents that encouraged you to follow your dreams — but don't use the humor just yet! A 2008 Tina Fey, after having just snagged the Outstanding Lead Actress in a Comedy Series Award for 30 Rock, balanced the funny with the moving in her expression of gratitude to her mother and father.
"I want to thank my parents for somehow raising me to have confidence that is disproportionate with my looks and abilities. Well done."
Following this, you're going to have to drive down the mood a bit. Not too heavy yet, just a bit sweeter and more sincere. A good focal point for this kind of ambiance would be a significant other — it works especially well if you're romantic life has been the subject of many a headline, so try and strive for that. Oprah Winfrey mastered the feat with her Lifetime Achievement Award acceptance speech in 1998 (yes, yes, this was a Daytime Emmy Award… but come on. It's Oprah!), when the icon poured her heart out to longtime boyfriend Stedman Graham.
"You're the sweetest man. With the greatest integrity. Thank you for helping to be everything I am, and all that is to come."
Then comes the real power of the speech. Your opportunity to shock and awe with a bombastic statement about the world and its follies, a challenge to the human race to be better. You're an Emmy winner now. You're the right person to point out the problems with society. And the great Sally Field — who corners the market on acceptance speeches of all kinds (Emmy, Oscar… she must have torn down the house after her "Best Dressed: Class of '64" win at Birmingham High School) — can give you a lesson. In 2007, Field nabbed Outstanding Lead Actress in a Drama Series for Brothers and Sisters, delivering a heartrending diatribe that capped with a fervent declaration.
"If the mothers ruled the world, there would be no g******ed wars in the first place!"
And in flow the cheers. The applause should last for quite a while, so you'll have a few seconds to kill. Now, there are two ways to handle this. You can stand with dignity, nodding and welling up, beaming with delight over your victory and celebrating the opportunity to express this message… or you can do something more fun. Something along the lines of what Steve Carell did at the 2007 Awards, when he accepted the Outstanding Lead Actor in a Comedy Series on behalf of Ricky Gervais for the latter's starring role on Extras. Carell and awards presenters Jon Stewart and Stephen Colbert (old friends and collaborators of Carell's from his The Daily Show days) devised a most vivid visual depiction of joy… even though none of them had actually won anything.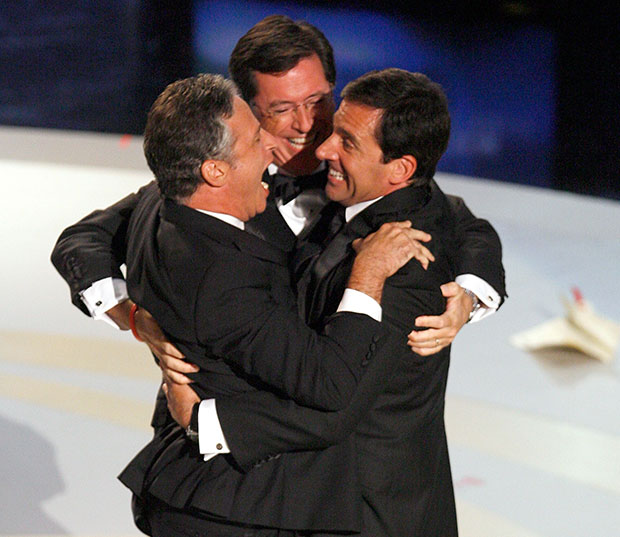 Following this, you'll have the room's energy up to 11, and just the right blend of lightheartedness and sincerity to deliver your ka-pow moment. You know, the real drive-it-home, I'm-the-greatest, look-at-me-now-Dad exclamation of your newly achieved glory. In this category, you should look to Julia Louis-Dreyfus, who had solidified her defeat over the dreaded "Seinfeld curse" that was said to follow her and all of her fellow former cast members after the conclusion of their hit show. In 2006, Louis-Dreyfus took home the Outstanding Lead Actress in a Comedy Series Award for The New Adventures of Old Christine, driving home one hell of a ka-pow with her speech.
"I'm not somebody who really believes in curses… but curse this, baby!"
Finally, it's about time to wrap up, and nothing stays with an audience better than one last laugh. A mean-spirited jab at your less-than-victorious opponents? A snarky bit of social commentary about the sitting president? The one about the priest and the rabbi? No. This one has to remind them that you're still on Earth with the rest of us. An undercut of this achievement you know to be well beyond anything that anyone else has ever earned. A take-down of your own spotlit swagger. Some good old fashioned self-deprecating humor. And there are few who top the great Larry David when it comes to this art form. The 1992 Emmy Awards offered David a platform for his patented self-directed mockery. Even after winning Outstanding Writing in a Comedy Series for Seinfeld's memorable fourth season episode "The Contest," David wasn't able to steer his mind away from his own personal shortcomings.
"This is all very well and good, but I'm still bald."
Boom. Mic drop. Off the stage. You're done here. Your 15 minutes (contracted into about 90 seconds, give or take) are over, but if you follow this guidelines, you'll have made it through like a champ. You'll be able to hold onto the fact that you delivered what might well be the greatest Emmys acceptance speech of all time. And who cares if you won for Reality Competition Program? An Emmy's an Emmy! Mazel tov — you've showed 'em all!
[Photo Credit: WENN, Vince Bucci/Getty Images]
More:
Creative Arts Emmys 2012: The Winners!