TV Throwback Thursday: The Best 'Real World' Housemates, Ever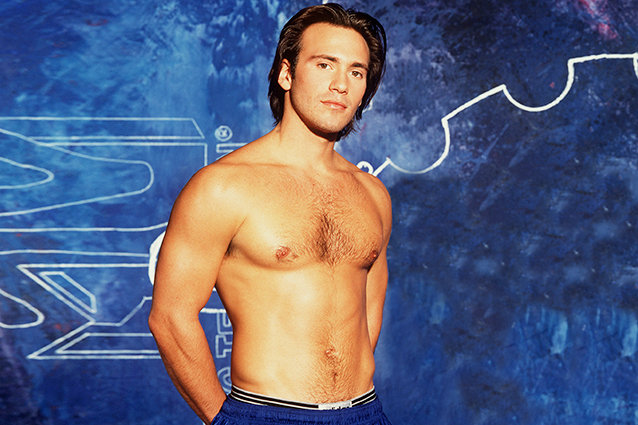 In our quest to bring you the best TV content, sometimes we have to look… backwards. That's why we have Thursday TV Throwback, wherein each week our staff of pop culture enthusiasts will be tasked with bringing back some of the best television clips that have been forgotten by time, space and the general zeitgeist.
In honor of MTV airing the New York, San Francisco, and Las Vegas seasons of The Real World this season, we've put our heads together to cast OUR dream Real World house. From crushes to heroes to just plain psychos, here's who we'd want to watch if they ever did an "All Star" type of thing…
Brian Moylan (Tie): One of the most revolutionary aspects of the Real World was its inclusion of gay people, and none is more memorable than Danny Roberts from New Orleans. First we had Norm from New York who hid behind being "bisexual" and asexual saint Pedro from San Francisco, but Danny was something else entirely. He was just a guy. A hot guy. A hot guy who was in love with another guy who happened to be in the military. His story was less about activism and more about wanting to be allowed to live like everyone else on the show, and that ended up being the most effective activism of all.
TV Throwback Thursday: Best Drunk Scenes
Eric Nies was the original Real World pretty boy who wanted to be an actor. The only native New Yorker on the original season of the show set in a SoHo loft (back when SoHo was something other than an outdoor mall) Eric was as famous for his hot temper as he was his hot abs. His acting career never took off (shocker!) but he did secure a gig hosting MTV's ridiculous dance show The Grind. And, guess what, he still has those abs even today.
Shaunna Murphy: I think the only person who loves David Broom's "Come on Be My Baby Tonight" more than I do is Dave Chappelle, or maybe my colleague Aly Semigran. Either way, as soon as they showed his casting tape (remember when they had casting specials because people actually cared?) and he broke out the squee-da-boo-dee-da-boo-dees, I knew we were in for a great season. It was, and he was one of the worst parts of it, but this song alone earns him a spot in my ultimate Real World house — even if he might get busted with a $10 hooker while he's there.
Michelle Lee: Years ago, I got hooked on a marathon of Real World: Hawaii and since then, I've always thought Ruthie Alcaide has got to be the ultimate Real Worlder. She was a drunk mess before Snooki and Amber Portwood were even a twinkle in MTV's eye. But she was more than just a ridiculous trainwreck. She had a real story arc and evolved into a solid, likable — sober — cast member on six seasons of The Challenge.
Kate Ward: It's impossible to forget Brooke LaBarbera from Real World: Denver because, well, The Soup will never let us forget this moment.
Aly Semigran: With the exception of the Stephen and Irene (they were both exceptionally annoying in my book) I loved the entire cast of The Real World: Seattle (the best Real World season, and don't let anyone tell you otherwise) but as a teenager, I couldn't help but fall for VMI buddies David and Nathan. My crushes for them always swayed, but after David flipped out on his girlfriend in the car, it had to be Nathan Blackburn who had an adorable quasi-soul patch and was an all-around good guy. I know by today's 'Real World' standards, that's boring, but I miss the good old days when they picked relatable, decent people like Nathan. (See his reaction to the "slap heard round the world" below.)
Alicia Lutes: If there was anyone who embodied the motto "stop being polite and start getting real" it was 100% Coral Smith from the Real World" Back to New York. She was outspoken, audacious, outrageous, and hilarious. Her relationship with Mike "The Miz" was intense but eye-opening, her opinions were loud, and she carried herself like the hilarious reality queen that she is. No one has really quite done it like Coral. Besides, has there ever been a moment more hilarious in RW/RR history than when Coral proclaimed "I don't wrestle, I f**king beat bitches up!" when egged on by Julie to take it to the grass? Nope. And that's why she's the best.
Follow Shaunna on Twitter @HWShaunna
[Photo Credit: Frank Micelotta/ImageDirect/Getty Images]
---
You Might Also Like:


Topanga's Revealing Lingerie Shoot: Hello '90s!


25 Stars Before They Were Famous