Thursday TV Throwback: Jennifer Lawrence as a Mascot, and More Old Footage of Oscar Nominees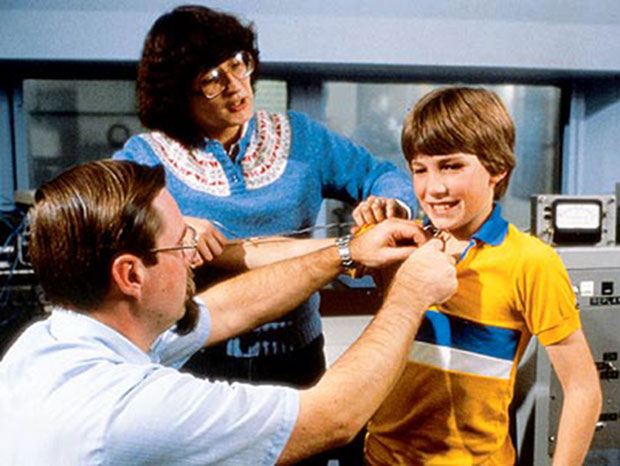 In our quest to bring you the best TV content, sometimes we have to look… backwards. That's why we have Thursday TV Throwback, wherein each week our staff of pop culture enthusiasts will be tasked with bringing back some of the best television clips that have been forgotten by time, space and the general zeitgeist. This week, it's time for our first annual Oscar Edition — where we take on the task of locating the humble, small screen beginnings of Oscar nominees. 
Quentin Tarantino, Best Writing, Original Screenplay: Golden Girls
Before Tarantino made film history with Reservoir Dogs, Pulp Fiction, and the like, he made an appearance as an Elvis impersonator on Golden Girls. Check out 04:38 and 05:23 for proof:
(
Christoph Waltz, Best Supporting Actor, Parole Chicago
This is probably our favorite. Christopher Waltz starred in a German TV series called Parole Chicago back in 1979. It took place in 1920's Berlin, with Waltz starring as a stupid criminal. Below, he demonstrates the stupid as he tries to catch a cat, for some reason:
Naomi Watts, Best Actress: Hey Dad…!
Watts played Simon's girlfriend Belinda on a few episodes of the Australian sitcom Hey Dad…! back in '90: 
Ben Affleck, Snubbed director of Argo: Voyage of the Mimi
This is one for the ages. Little Affleck starred as Clement Tyler (C.T.) Granville on Voyage of the Mimi, an educational series filmed on the high seas. So before he schooled us on the 1979 Iran Hostage Crisis, Affleck taught us all about humpback whales. Here he is, in the Arctic test chamber for the United States Army Research Institute of Environmental Medicine. He was a bit worried when he learned about filming in the Arctic wind tunnel, but luckily his bowl cut kept his ears warm: 
Tommy Lee Jones, Best Supporting Actor: Charlie's Angels
Youthful Tommy Lee Jones was quite the looker! He appeared in the pilot of the hit series as Aram, a man who becomes entwined with an undercover Sabrina (Kate Jackson). Check out the sideburns: 
Anne Hathaway, Best Supporting Actress: Get Real
Before she hit the big screen and never looked back with The Princess Diaries, Hathaway starred alongside Jesse Eisenberg in the short-lived Fox drama-comedy Get Real. Here are her feet:
Helen Hunt, Best Supporting Actress: Desperate Lives (PCP Commercial)
This one is a classic — Hunt later mocked it herself on Saturday Night Live — but the list wouldn't be complete without the 1982 video of Hunt flipping out on crank. Enjoy: 
Jennifer Lawrence, Best Actress: Monk
Just when you thought Jennifer Lawrence couldn't get any more badass — you find out she took on the scene-stealing role of "Mascot" on an episode of Monk back in 2006. Her dedication to the role is very apparent when she bites him in the arm: 
Bradley Cooper, Best Actor: Alias
Cooper starred as Will Tippin, Sydney Bristow's (Jennifer Garner) overlooked, nerdy best friend on Alias from 2001-2003. He was more than a little surprised when he found out she was a spy:
Additionally, Cooper appeared as a love interest for Carrie Bradshaw (Sarah Jessica Parker) on Sex and the City in 2009:
Hugh Jackman, Best Actor: Correlli
Jackman met his future wife, Deborra-Lee Furness, on the set of a short-lived Australian series called Correlli. The following footage depicts Jean Valjean's first days as an inmate:
Joaquin Phoenix, Best Actor: ABC Afterschool Specials — Backwards: The Riddle of Dyslexia
Both Phoenix brothers — nominee Joaquin, and the late River — appeared in this 1984 after-school special. Behold its greatness:
Alan Arkin, Best Supporting Actor: Sesame Street
Anyone remember Larry? Hopefully this will jog your memory:
Follow Shaunna on Twitter @HWShaunna
[PHOTO CREDIT: PBS]
MORE:
2013 Oscar Nominations: See the Full List of Nominees Here!
Kathryn Bigelow and Ben Affleck Lead This Year's Oscar Snubs. Who Else Was Ignored?
Hugh Jackman, Steven Spielberg, Naomi Watts & More React to Their Oscar Nominations

Megan Fox's 12 Hottest Moments (Moviefone)

Ryan Gosling's 'Airbrushed' Abs: Plus 19 More Reasons We Love the Actor (Moviefone)