Thursday TV Throwback: The 'Parks and Rec' Nuptials Makes Us Reflect On Favorite TV Weddings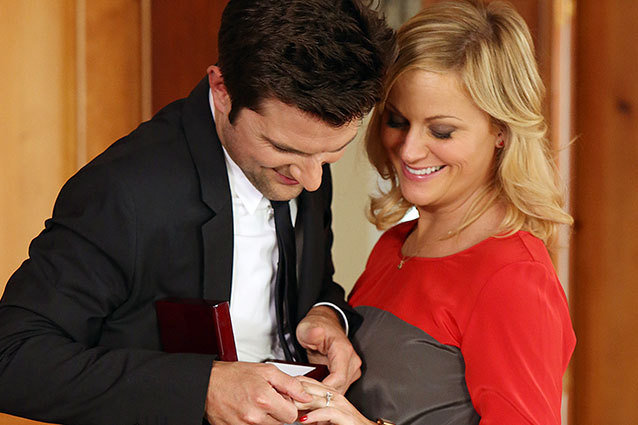 In our quest to bring you the best TV content, sometimes we have to look… backwards. That's why we have Thursday TV Throwback, wherein each week our staff of pop culture enthusiasts will be tasked with bringing back some of the best television clips that have been forgotten by time, space and the general zeitgeist.
This week, just in time for heart-meltingly wonderful Parks and Rec's wedding, we're remembering our favorite past TV nuptials. Ben and Leslie's "I do's" are sure to be an instant TV classic, so what better way to honor their love then by taking a look back the best and brightest moment of wedded television bliss. From a Shaft-themed dance, to a snow-covered NYC wonderland, read on for all our favorite TV walks down the aisle.
Leanne Aguilera, Friends: We certainly cannot have a list of the best TV weddings without this perfection of a ceremony. Monica and Chandler's wedding was the epitome of what made Friends such a classic and heart-warming show. There are too many amazing things to write about this scene, so I suggest you sit back, relax, and just watch all the wonderment unfold below.
Michael Arbeiter, Taxi: Unlike the rest of the entries on this list, Andy Kaufman's first Taxi wedding did not in fact introduce a heartwarming marriage into the canon of the show. In need of a green card, Caspiar-born Latka Gravas endured a quick hitch to a good-natured prostitute… one whom he would never see again. But luckily, we would be seeing more of another new character present at the ceremony: Jim Ignatowski, the drugged-out reverend played by Christopher Lloyd who'd become a series regular from that point on.
Sydney Bucksbaum, Boy Meets World: Corey and Topanga may have gotten married in Season 7 Episode 7 of Boy Meets World, but the relationship at the center of the episode was Corey and Shawn. Both were afraid that the marriage would change their friendship, and the pent-up and unresolved issue resulted in a physical fight at the nuptials! Of course, their friendship survived the major step of Corey and Topanga's marriage, and the wedding was beautiful and moving – but honestly, would you expect anything less from the brilliance that was BMW?
Alicia Lutes, Dr.Quinn, Medicine Woman: I spent many a Friday night tucked in at my grandparents' house, a plate of chicken and broccoli on my lap and Dr. Quinn, Medicine Woman on the TV. My grandmother & I were obsessed. So when CBS presented its two-hour, two-part epic where — finally! — Dr. Michaela Quinn (Jane Seymour) and Harlequin-esque "friend of the Cheyenne" Byron Sully (Joe Lando) got hitched, it was big doings. Any show where your favorite lead characters take a stroll down the aisle is going to be The Best, but turns out the town of Colorado Springs (circa 1870) also thought it was The Best, as it was the biggest thing to happen in that tiny frontier town. Plus Dr. Quinn was a lady doctor in a time where lady-doctors were not exactly de rigueur — a career woman getting to have it all! Sure there was plenty (plenty!) wrong about the show, but '93 was a simpler time, my friends. And thus my unrealistic expectations about life and love were born.
Aly Semigran, Everybody Loves Raymond: Maybe it's because TBS reruns it every other week (ditto the episodes where they go to Italy) that I've just watched it more than any other TV wedding but I always get a kick out of Robert and Amy's nuptials on Everybody Loves Raymond. It wasn't just nice that the big lunk finally got his act together and married Amy, but their wedding had all the elements of a great sitcom wedding: funny (of course their mother was going to butt in) and sweet (who knew Ray had such a touching speech in him?) and a choreographed Elvis dance number.
Kelsea Stahler, Friends: I've never been a fan of over-the-top TV weddings. They always feel more contrived than the first kisses and last-minute, exasperated declarations of love. But on Friends, when free spirit Phoebe married wonderful weirdo Mike, they did so with Calypso drums in the middle of a freezing street with Ross holding an impossibly smelly old dog. It was sweet, awkward, and practically perfect in every way.
Abbey Stone, Full House: I still firmly believe there is no love purer than that between Jesse Katsopolis and Rebecca Donaldson (the only except might be the aforementioned bond between Leslie Knope and Ben Wyatt). When I watched Jesse — thankfully sans the Monkey Puppets — serenade Rebecca with his song "Forever" during their ceremony on Full House, I firmly set my wedding expectations at an unrealistic level. Although, come to think of it, John Stamos is single again…
Kate Ward, The Fresh Prince of Bel-Air: Now this is a story all about how… Isaac Hayes appeared at Will Smith's wedding? Well, at least his first attempt at a wedding with Lisa. Angry that Phillip wouldn't allow the pair a small ceremony, Will and Lisa escape to Las Vegas for some funky nuptials. Can you dig it?
Which TV wedding was your favorite? Sound off in the comments below!
Follow Leanne on Twitter @LeanneAguilera
[Photo Credit: NBC]
---
From Our Partners:


25 Forgotten Celebrity Crushes of the '90s (Vh1)


30 Stars Who Have Gone Topless (Celebuzz)