Thursday TV Throwback: Super Bowl Edition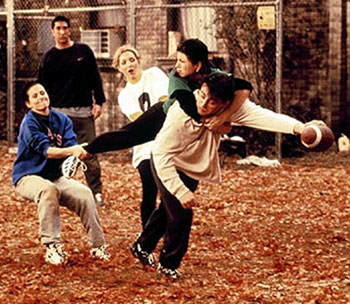 In our quest to bring you the best TV content, sometimes we have to look… backwards. That's why we have Thursday TV Throwback, wherein each week our staff of pop culture enthusiasts will be tasked with bringing back some of the best television clips that have been forgotten by time, space and the general zeitgeist. This week, just in time for the Super Bowl, we're remembering our favorite TV "athletes" who have long since been forgotten. Because who wants to watch a bunch of dudes from that city where Full House took place and that other city where The Wire took place play ball when we could watch Rachel Green maybe score a touchdown? Behold, our favorite televised sporting matches of yore (or is it yesteryear?).
Aly Semigran: Super Bowl? Pssssh. The best televised football rivalry is the Geller Cup, introduced in the classic Friends Thanksgiving episode titled, fittingly, "The One With the Football." The competition pitted Geller against Geller and friend against friend, and the debate still rages on today amongst Friends purists whether or not Rachel was actually in the end zone when she spiked a victory touchdown.
Kate Ward: George Costanza hit a home run when he realized swapping the Yankees' polyester uniforms for cotton would help the players feel five degrees cooler than their competition. Less cool, however, were the players' waddle in the fabric after their uniforms went through a laundry cycle. Poor George — how many times must he cope with shrinkage?
Abbey Stone: My name is Abbey and I was a 7th Heaven watcher. Get all your laughter out of the way now. But is there a moment in all of TV sports more inspirational than when Mary scored the winning basket (in slow motion) in her first game back since having knee surgery? No, no there's not. And now Mary is Mrs. Timberlake, so take that all you 7th Heaven haters.
Michael Arbeiter: As a "valued" member of many a track team throughout my youth and young adulthood, I always found the idea of "the big race" to be particularly compelling. And when Seinfeld showcased Jerry's ultimate succumbing to high school rival Duncan's countless rematch challenges (Jerry had beaten Duncan years ago, in a feat that Duncan insists must have been aided by cheating), the thrills were launching at rocket speed. The pair even brought back their old coach, Mr. Bevilacqua, to officiate… as clearly, high school coaches have nothing better to do than settle battles of ego between former students.
Sydney Bucksbaum: All the basketball knowledge I have is from High School Musical. Thank you, Zac Efron, for all the helpful pointers on how to play the game. You've got to fake right, and break left. Watch out for the pick and keep an eye on defense! And remember, don't be afraid to shoot the outside, Jay.
Shaunna Murphy: This is the only sporting event that has ever mattered. The only thing that sucked was how the girls never won.
[PHOTO CREDIT: NBC]
MORE:
Thursday TV Throwback: Face, Snuggle, and Other Childhood TV Terrors
Thursday TV Throwback: Jennifer Lawrence as a Mascot, and More Old Footage of Oscar Nominees
Thursday TV Throwback: Why 'Popular' is Still Popular 10 Years Later

'Hunger Games: Catching Fire': Spoilery Pics From Google Maps