Thursday TV Throwback: Valentine's Day Edition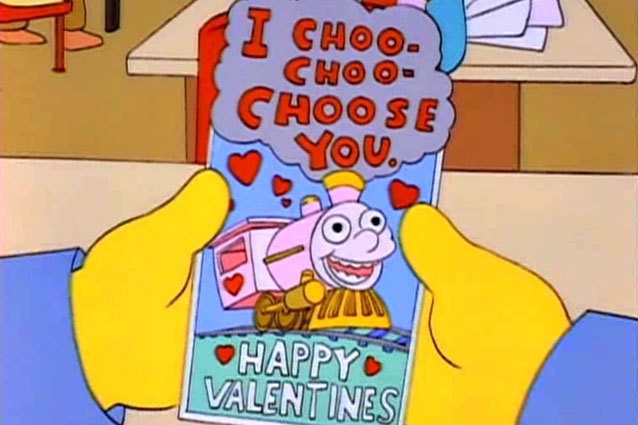 In our quest to bring you the best TV content, sometimes we have to look… backwards. That's why we have Thursday TV Throwback, wherein each week our staff of pop culture enthusiasts will be tasked with bringing back some of the best television clips that have been forgotten by time, space and the general zeitgeist. This week, just in time for Valentine's Day, we're remembering our favorite romantic TV moments of yore: A classic Simpson's valentine; a super-sweet first kiss on Boy Meets World; a tear-jerking Friends scene. Read on for all our favorite lovey-dovey TV moments of the past!
Aly Semigran, The Simpsons: The all-time greatest Valentines episode in the history of television was when Ralph choo-choo-choosed Lisa Simpson to be his Valentine. Despite the fact that she broke his heart (riiiiiiiight here) when the two pals patched things up, they hit the swing set to the sweet sounds of "The Monster Mash." That's how young love should look.
Leanne Aguilera, Boy Meets World: Growing up I completely idolized Topanga (Danielle Fishel) — she was smart, eccentric, and never afraid to go after what she wanted. This kiss is perfect proof of that. Not only did Topanga take charge and snatch her first kiss from the lips of Mr. Matthews, she also taught Cory a ridiculously sweet lesson in the process. Always and forever my favorite TV couple.
Michael Arbeiter, Valentine's Day: My favorite Valentine's Day episode? It'd have to be the one where Tony Fanciosa's character Val, family man and New York City publishing executive, gets paid a visit by an old army buddy who has a big surprise in store for the Farrow clan. But why are we compiling favorite episodes from a barely known 1964 sitcom that only lasted one season? … Oh, wait, did I misunderstand this?
Christian Blauvelt, Frasier: Everyone knows Frasier was a triumph of intellectual comedy on TV. In fact, you could argue that the 11-season hit raised the bar on what audiences expect out of a sitcom, paving the way for brainy humor on shows as diverse as Arrested Development, 30 Rock, and Community. But what people don't recognize as much is how David Hyde Pierce—master of snappy quips and subtle wordplay—is also a genius at slapstick. In the episode "Three Valentines," a triptych of vignettes about shattered Feb. 14 expectations, he wordlessly reveals his desperation to have the perfect Valentine's Day date by obsessing over every last detail…and nearly burns down Frasier's apartment in the process. Niles really blurs the line between being romantic and having an acute case of OCD.
Sydney Bucksbaum, Smallville: When Clark made the decision to finally reveal his secret identity as the last son of Krypton to Lana — and propose to her — it was a beautiful culmination of an epic, five-season-long love story between Clark and Lana. It could've been their happy ending, but their happiness was short-lived — after she accepted his proposal, Lana got in a car crash and died. When Clark turned back time he decided to save her life by not proposing. Instead they broke up, changing the course of events of the day. Clark's father ended up dying instead, and Lana began a relationship with Lex Luthor.
Abbey Stone, My So Called Life: Before Claire Danes was CLAIRE DANES she was Angela Chase. And before she had Hugh Dancy, she had Jordan Catalano (played by Jared Leto). Jordan and Angela's relationship wasn't perfect by any stretch of the imagination — often it was downright heartbreaking — but for me it was a window into teenage romance… and it was everything.
Shaunna Murphy, Buffy The Vampire Slayer: I was 12 when this episode aired (go ahead… age me) and this clearly was the most beautiful and romantic and horrible thing to happen since Jack couldn't fit on that door. First they had the most epic courtship of all time ever (for a 12-year-old), then he turned evil after they finally had sex (which was such an obvious metaphor for the disappointment of losing your virginity for a female/the awfulness of men, but I didn't know that back then), and then finally, FINALLY, after we got used to hating him, he turned from Angelus into Angel again once more and gave his love to Buffy… moments before she was forced to send him straight to hell. Guys, I can't. I just can't.
Kate Ward, Friends: Last weekend, I watched Beasts of Southern Wild and bawled like a baby. But still not as hard as I do every time I watch Monica propose to Chandler. As Janice would say: Oh… My… God!
What's your favorite romantic moment of TV's past? Share your thoughts in the comments below!
Follow Leanne on Twitter @LeanneAguilera
[Photo Credit: FOX]